Melbourne is home to some of Australia's largest companies and the Top 50 is an eclectic mix of establishment heavyweights and some surprise businesses that appear to be punching well above their weight.
Most of the Top 50 have a significant international footprint, or arenow trying to establish one, and these 10 companies are making their mark both here and overseas.
This group highlights the diversity of what's happening out of Melbourne. From a traditional gold miner to a plumbing supplier, Australia's top food producer to health care, cleaning, travel and even a four-wheel drive parts supplier, these companies are stimulating Australia's economy and combined they provide tens of thousands of jobs.
---
41. RELIANCE WORLDWIDE CORPORATION LIMITED (RWC)
INDUSTRIALS
Market Cap 26 May 2017: $1.79b
1H17 revenue: $282.7m
1H17 profit: $35.3m
Staff: 800

Listed: 2016
CEO & MD: Heath Sharp
CEO salary: $341,928
RELIANCE Worldwide Corporation burst onto the ASX in April 2016, and was one of the hottest floats of the year with shares surging more than 18 per cent in its first day of trade as a global plumbing supplies business.
Following the $900 million float, profits are exceeding expectations for the company and it has reported strong growth in the first half of 2017.
Reliance is performing well overseas with its leading product SharkBite which is a device which connects 'behind the wall' plumbing, and this is being sold in the US at retail giant The Home Depot.
---
42. VIVA ENERGY REIT (VVR)
REAL ESTATE
Market Cap 26 May 2017: $1.65b
1H17 revenue: $61.7m
1H17 profit: $1m
Staff: 2,000+

Listed: 2016
MD: Margaret Kennedy
VIVA is another newbie to the ASX with a portfolio of 425 service station properties which have 100 per cent occupancy and are concentrated in the populous eastern states of Australia.
The REIT was created when Viva, Australia's largest private fuel company, spun off its property assets and as such Viva is its own sole tenant.
It sublea\ses its petrol stations to Coles Express and under the agreement, Viva supplies the oil products and Coles runs the retail side.
It also recently acquired four more stations in Northern Territory, Queensland and New South Wales for $26.2 million and is attractive to investors with a 6 per cent yield.
---
43. BAPCOR LIMITED (BAP)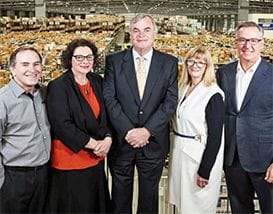 DISTRIBUTOR OF AUTOMOTIVE PARTS
Market Cap 26 May 2017: $1.5b
1H17 revenue: $435.1 million
1H17 profit: $25.3 million
Staff: 2600+

Listed: 2014
CEO & MD: Darryl Abotomey
CEO salary: $1.7m
Not only did Bapcor achieve financial growth across the board in 1H17, it proved its strength in the automotive wholesale market via a successful capital raising which resulted in an international takeover bid.
In February, the company acquired 100 per cent of shares in Hellaby Holdings, the New Zealand-based company responsible for automotive brands including BNT, Autolign and Diesel Distributors.
This added to Bapcor's already solid portfolio of Australian auto brands including Autobarn, ABS and Midas, driving the company to a 34 per cent increased revenue.
Bapcor also boosted its net profit by more than 30 per cent, a result which CEO Darryl Abotomey says is "very pleasing" for the company.
"The first half of FY2017 has been very pleasing in what we have been able to achieve both financially and strategically," said Abotomey.
"We have added quality businesses to our specialist wholesale group. This culminated with the successful takeover of Hellaby Holdings in January 2017."
During the period, Bapcor opened 11 stores nationwide. A string of additional new stores is also in the pipeline as the company aims to hit its target of 200 stores soon.
---
44. COSTA GROUP HOLDINGS LIMITED (CGC)
FOOD BEVERAGE & TOBACCO
Market Cap 26 May 2017: $1.42b
HY17 revenue: $445.6m
HY17 profit: $15m
Staff: 6,000+

Listed: 2015
CEO: Harry Debney
CEO salary: $1.34m
Australia's top producer, grower and packager of fresh fruit and vegetables enjoyed strong revenue growth of 9 per cent for the first half and was boosted by improved conditions for its berry and tomato business.
In fact, most of the group's core produce categories have been performing strongly with blueberry volume growth up 75 per cent year-on-year while retail sales for mushrooms and tomatoes also helped drive revenue growth.
In December 2016, the company acquired Avocado Ridge orchards and packaging operations, which has 275 hectares of high quality avocados in the Childers and Kumbia regions of central Queensland.
Costa will also expand its South Australian Monarto mushroom farm by doubling its production capacity from 120 tonnes to 240 tonnes per week.
The company has predicted its NPAT will grow approximately 25 per cent for the full year, up from previous guidance of 15 per cent and has entered into an agreement with Macquarie Agricultural Funds Management to jointly investigate and fund M&A activities.
---
45. ST BARBARA LIMITED (SBM)
GOLD MINING
Market Cap 26 May 2017: $1.42b
1H17 revenue: $319.8m
1H17 profit: $82.6m
Staff: 1,900

Listed: 1969
CEO & MD: Bob Vassie
CEO salary: $1,913,359
The resources sector in Australia may be on the decline, but gold miner St Barbara is showing no signs of slowing down as the company not only reported significant financial improvement, but also wiped its debts clean in March.
St Barbara committed a whopping $173 million to repayments in the last half to completely pay down its debt facility.
The company also bought a 9.5 per cent stake in Peel Mining last month, worth $3.28 million, and upped the ante on its Gwalia project in Western Australia and Simbari project in Papua New Guinea.
CEO Bob Vassie is pleased with the group's achievements and consistency in the face of a down-turning industry.
"We have had a very successful first half, continuing to operate at the record levels of production, costs, cash flow and safety that we set last financial year," said Vassie.
---
46. ARB CORPORATION LIMITED (ARB)
CONSUMER DISCRETIONARY
Market Cap 26 May 2017: $1.3b
HY17 revenue: $185.15m
HY17 profit: $23.36m
Staff: 1,000

Listed: 2015
MD: Andrew Brown
CEO salary: $378,000
ARB delivered weaker-than-expected results with sales up by 6.2 per cent over the prior corresponding period and its underlying profit rose by 8 per cent and the company is exposed to fluctuating exchange rates.
ARB designs, manufactures, distributes and sells high-quality four-wheel drive vehicle accessories and light metal engineering works around the world, has also forecast that economic conditions in their main markets remain uncertain.
However, this company runs a healthy balance sheet and has zero debt and its long-term success should be achieved thanks to an increase in the amount of four-wheel drive vehicles on the roads which is expected to create a strong revenue stream for the company in the next few years.
ARB also established a new sales and distribution facility in Dubai in June 2016 which will give it a footprint in the region.
The US accounts for two thirds of Reliance's profits.
These results are fantastic for the company which only listed early in 2016, but it's been around since 1949 in the hands of the Melbourne-based Munz family which holds 30 per cent of the shares.
---
47. REGIS HEALTHCARE LIMITED (REG)
HEALTH CARE EQUIPMENT & SERVICES
Market Cap 26 May 2017: $1.27b
1H17 revenue: $284.7m
1H17 profit: $30.9m
Staff: 750

Listed: 2014
CEO: Ross Johnston
CEO salary: $833,000
Aged care provider Regis Healthcare operates 54 facilities and has lifted half-year net profit by nine per cent to $30.9 million, helped by increased inflows and the acquisition of facilities from Masonic Care Queensland.
Revenue per occupied bed rose to $281 per day compared to $271for the priorcorresponding position and this helped revenue for the six months to December 31 rise by 20 per cent to $284.7 million, and the company declared a fully-franked interim dividend of 10.3 cents a share.
The company said it expects second-half earnings tobe in line with those in the first half of the fiscal year, and has reaffirmed its previous guidance.
---
48. SPOTLESS GROUP HOLDINGS LIMITED (SPO)
COMMERCIAL & PROFESSIONAL SERVICES
Market Cap 26 May 2017: $1.23b
1H17 revenue: $1.45 billion
1H17 loss: $358 million
Staff: 36,000

Listed: 2014
CEO & MD: Martin Sheppard
CEO salary: $1.3m
IT HAS been a tough year for cleaning and catering service company Spotless Group (ASX: SPO) following a string of events which has blemished both its reputation and financial results.
Disgruntled SPO shareholders, both current and former, came out of the woodwork in January to accuse the group of sweeping its financials under the rug, claiming that results released on 25 August 2015 were misleading.
Two class actions were filed against Spotless Group, one by William Roberts Lawyers and IMF Bentham, and the other by Slater and Gordon Lawyers financed by Therium Australia Ltd, which contributed to a 9.4 per cent revenue drop from the prior year.
Slater and Gordon practice group leader Tim Finney said his firm alleges Spotless misled the market by releasing FY16 results which were seriously overestimated.
In February, Spotless axed a collection of shoddy contracts which resulted in a massive $423 million write down, stripping the last dividends from already dissatisfied shareholders.
The final straw came in April when Spotless rejected Downer's $1.2 billion "hostile" takeover bid.
Despite its rough year, Spotless is getting back to square one, currently boasting a market cap of almost $1.23 million. It is aiming to refill its contract book with new and well-performing agreements.
---
49. WEBJET LIMITED (WEB)
RETAIL/TRAVEL
Market Cap 26 May 2017: $1.2b
1H17 revenue: $92m
1H17 profit: $20m
Staff: 530

Listed: 1997
MD: John Guscic
CEO salary: $850,000
MARKET darling Webjet didn't disappoint its admirers with a pretty spectacular half year result which included a net profit rise of 87 percent to $20 million and a 48 per cent rise in revenue to $92 million.
The travel booking website which sells flights, hotels, holiday packages, cruises, car hire and travel insurance recorded its 33rd consecutive record month of total transactional value.
Webjet's core business is selling flights and travel in Australia and New Zealand but it also has business to business websites for hotels in the Middle East, Africa, North America Europe and Asia.
Word on the street is that Webjet is now working with Credit Suisse to scout for acquisitions in North America and Europe and the company is reportedly running the numbers on potential funding sources including both debt and equity.
---
50. MCMILLAN SHAKESPEARE LIMITED (MMS)
COMMERCIAL & PROFESSIONAL SERVICES/SALARY PACKAGING & LEASING
Market Cap May 26 2017: $1.19b
1H17 revenue: $251.2m
1H17 Profit: $40.4m
Staff: 1,200
Listed: 2004
MD & CEO: Mike Salisbury
A STRONG performance from its asset management segment is driving some solid numbers out of McMillan Shakespeare, Australia's largest provider of salary packaging and novated leasing services.
The company is also a leading provider of fleet and asset management and consumer and fleet financing and it booked a 4 per cent rise in net profit after tax of $40.4 million for the half year, compared to the prior period.
Revenue rose 3 per cent to $251.2 million, and while these numbers didn't grab the headlines when released, McMillan Shakespeare shares provide investors with a generous fully franked dividend of around 5 per cent.
---
READ MORE
Never miss a Top Companies update or news story: Sign up to Business News Australia's free news updates
Follow us on Twitter, Facebook, LinkedIn and Instagram
Get our daily business news
Sign up to our free email news updates.
Help us deliver quality journalism to you.
As a free and independent news site providing daily updates
during a period of unprecedented challenges for businesses everywhere
we call on your support