Without realising, most of us are already part of a co-op. Whether it be a credit union, a mutual health fund, or one of the automotive associations, co-ops hover on the periphery of the Australian business landscape just out of sight.
The unusual structure of the co-op, being neither private or public companies (utilising membership models instead of shareholdings), has pushed the structure out of popular use and reserved commonly for farming co-ops and workers unions.
However, with the business landscape in Australia dramatically changing since the last financial crisis, cooperative models are becoming more attractive as time goes by.
Public dissatisfaction with large corporations that exist purely to profit off employee labour and hardly reinvest capital back into the communities they exploit is just one major aspect of the reignition of co-operative models overseas and in Australia.
This is especially the case in a state like South Australia. Over the last few years, most major Australian and international corporations have fled the state in favour of lower-cost countries. This has left a significant scar on the state's business landscape, impacting small businesses, leaving many without jobs, and draining the state's economy.
At South Australian Entrepreneurs Week 2018 experts in the co-operative model and the business concept of mutuality came together for a panel discussion called 'Cooperatives & New Market Opportunities'.
UK co-op legend Guy Turnbull (pictured right), founder of Care & Share Associates Limited (an employee owned social enterprise) spoke alongside Paul Amos (pictured left), people relations manager and co-operator at the Barossa Co-op, and Mark Kulinksi, CEO of Community Living Australia, about how the co-op model has potential in a state like SA.
"We've got the same problems in the UK," says Turnbull.
"Lots of our pubs are closing, but the community is buying them back & transforming them, as well as village shops."
"Entrepreneurship is all about solving problems. If you stick co-ops & entrepreneurship together you get a fantastic result."
The co-operative model, according to Turnbull, is ideal for three reasons: financial transparency (thanks to the 'membership' model similar to a public company), co-production (members and employees work together more productively as it benefits everyone), and no external shareholders.
"In addition to businesses and employees working together to get a mutual benefit is that it creates a fantastic place for employees to work."
The Barossa Co-op (The Co-op) is a cooperative general store based in SA's Barossa region. In 1938, the Co-op was the main general store in Nuriootpa, but following WWII the owners could no longer afford to run the business.
In 1944, local residents, realising the importance of having a local general store, banded together and bought the general store and transformed it into a co-op.
Since then, the co-op has continued to flourish. Thanks to the unique model, Paul Amos says every member is involved in ensuring the facility can be the best it can possibly be.
"We exist to enable the community as a whole to prosper," says Amos.
"As we are a for-profit co-op, the money gets recycled back to members through donations to community groups and support for regional employment."
The profit made by the co-op is used to enhance the business as a whole. A recent refurbishment of the facility included a massive beautification program which involved hiring a local artist to paint a mural along the side of the building.
"You wouldn't be able to find a commercial business that would do this," says Amos.
"Being a co-op is about purpose, and engaging the community too."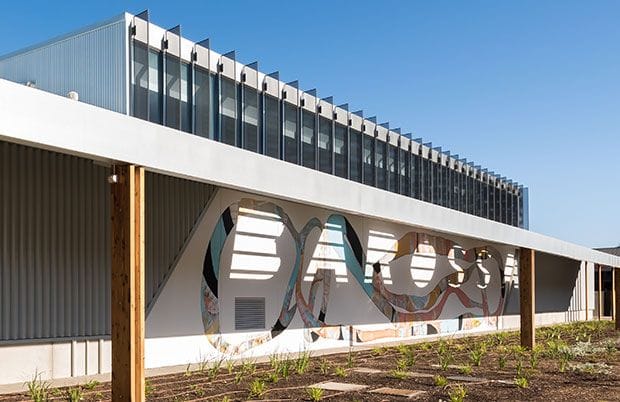 The figures don't lie either. A 2013 study on The Co-op found that the business generated $48 million in revenue, $25 million of which was recycled back into the community.
The panel encouraged more entrepreneurs to consider the co-op structure as a way to solve community problems, emphasising there was never a bad time to get a co-op started.
In terms of ways to get started, the panel said it is as simple as selling the business to employees or establishing a succession plan. If you're starting from scratch Amos recommends reaching out to the Business Council for co-ops and looking into the rules governing co-ops in Australia.
As a final remark, Turnbull emphasised the potential that working together can bring to a business, whether that be through giving purpose to employees, gathering market intelligence, or simply banding the community together to solve a common problem.
"Never underestimate the power of mutuality," says Turnbull.
Never miss a news update, subscribe here. Follow us on Facebook, LinkedIn, Instagram and Twitter.
Business News Australia
Get our daily business news
Sign up to our free email news updates.
Help us deliver quality journalism to you.
As a free and independent news site providing daily updates
during a period of unprecedented challenges for businesses everywhere
we call on your support