THEIR mission is to change the face of cancer care with an app that empowers and connects patients and care givers and a trio of doctors has landed a $500,000 investment for a 10 per cent stake in their new business.

Their aim is to take CancerAid and turn it into a global enterprise and they now have a chance to achieve that after securing the investment, which values their business at $5 million, from "shark" and investor Andrew Banks on the series three premiere of Shark Tank last night.

The three doctors, Nikhil Pooviah, Raghav Murali-Ganesh and Martin Seneviratne studied at medical school and worked together as oncologists and came up with the idea as a way of helping cancer patients through their difficult journey.
"We've had some investment coming in through a few different ways but what we really wanted to do was scale our company into the US, and that's where we really wanted to open some doors," Dr Pooviah says.
"It's the largest market for us and a fast moving one and we really believe the app is more suited to the US market.
"Australia overall has an excellent public health system but in the US, there are a lot of inefficiencies there and this app should really take hold as a result."
On the Shark Tank program, entrepreneurs pitch to the five "sharks" who either fund or "maul" the startups and inventors who are looking to take their ideas to the next level.
The three doctors pitched their idea to Banks, internet pioneer
Steve Baxter
, Boost Juice founder
Janine Allis
, RedBalloon founder
Naomi Simson
and Greencross founder Dr
Glen Richards
. Four of the sharks were very interested with only Baxter backing away from the business.
After a series of offers and counter offers, Los Angeles-based Andrew Banks emerged with the 10 per cent at $500,000.
"One of the main reasons we wanted to work with Andrew was that he has a vision to scale up businesses and that's exactly what we want to achieve," says Dr Murali-Ganesh.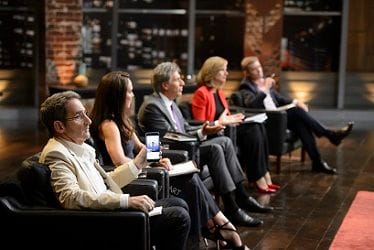 "He has the contacts in the US which we need and his reputation is such that if Andrew backs you, it also gives you validation in the market," he says.
"We were also looking for mentorship and that's one of the reasons we wanted to get onto Shark Tank. We really felt that Andrew was the guy who can take us into the US," Dr Pooviah says.
And as for the whole Shark Tank pitching experience, Nikhil Pooviah says it was the "second most difficult" pitch he has had to make.
"We've been pitching solidly now for three years and my mother has been the most difficult person to pitch to, to be honest, but we've put in a lot of preparation," Dr Pooviah says.
"For me, this has been the most challenging pitch, without a doubt," says Dr Murali-Ganesh.
"It's quite daunting as you have no chance to prepare for the show, you have no knowledge of what is going to happen or how it is going to be structured," he says.
"You literally walk out a tunnel into a bank of lights with the sharks in front of you and 'X marks the spot' of where you must stand on the floor.
"You have no idea of what the questions are going to be, and maybe people don't realise that this is not scripted and there are no second takes.
"If you say something incorrect there is no going back from that and it can make or break you."
As for the app itself, it was developed from the doctors' own personal experiences, when they realised patients are often overwhelmed by what they need to deal with.
CancerAid is designed to provide a highly personalised information portal to help people keep a track of their treatments and provide support.
It also allows them to access peer reviewed information, keep a journal of symptoms and progress, connect through a community of other patients and be kept up to date with a news feed of latest developments and research.
The doctors are also looking to add new features including one called "Champions" in which patients can nominate family, friends or medical staff as a champion who can follow their progress and provide support and advice.
"Cancer patients and carers experience anxiety, feel disorganised, have limited access to care and can feel isolated during their journey," Dr Pooviah says.
"CancerAid was developed to address each of these issues and become the go-to resource for anyone affected by cancer."
The app has a unique business model, in that it makes its money through annual licensing fees to larger organisations like hospitals and cancer centres which means it is "free to use" for patients.
It already has 30,000 downloads, with 7,200 active users in 24 countries and their plan is to have 500,000 users by the end of 2017.
Never miss a story:
Sign up to Business News Australia's free news updates
Follow us on
Twitter
,
Facebook
,
LinkedIn
and
Instagram
Get our daily business news
Sign up to our free email news updates.
Help us deliver quality journalism to you.
As a free and independent news site providing daily updates
during a period of unprecedented challenges for businesses everywhere
we call on your support