THEY call it the white ninja; that one friend who always conveniently leaves their wallet in the car, or forgets their credit card when it's time to foot the drinks bill.
Fortunately, Brisbane-based tech entrepreneur Rodney Cohan (pictured) developed smartphone app Drinkz to combat the antics of the white ninja, all while keeping track of the night's bar tab.
Drinkz is an original concept designed to track who's 'shout' it is for the next round of drinks, with groups of up to eight people able to simultaneously link for a session.
Members in the group can also list their preferred beverages so the round buyer always gets the right drop, with the app keeping a tally of the amount of drinks bought during a session, which person bought them and who's turn it is for the next round.
Cohan says he came up with the idea for Drinkz while searching for a career transition, after taking stock of the things he enjoyed outside the work and family environment.
"When I actually thought about it and broke it down, I've got a young family, I go to work, come home and look after the kids I don't have much time for myself other than the occasional beer with mates on the weekend," says Cohan.
"So I was thinking back on all my years, and some of the best times I had were sitting around with my mates in a pub, having a shout and a few laughs.
"I had what you could say was a lightning bolt moment, an app to keep track of a shout which allowed you to meet other like-minded people if you were drinking alone in a venue."
Cohan is happy that Drinkz has also quickly become the white ninja's kryptonite.
"We all have a white ninja in our social circle, the one who always forgets their wallet, or the bank card isn't working but now they can be held accountable," he says.
An extra feature of the Drinkz app is the chat function, which allows users to schedule a session with friends, chat within the group or meet other users of the app nearby.
Drinkz is also built with the shout randomiser; a kind of credit card roulette where users in a group take a chance on the entire shout for each round of drinks.
Cohan is proud to have created something which is both fun, and promotes social responsibility.
"In a way Drinkz does promote responsible drinking, which is exactly what I'm trying to get across," he says.
"People keeping track of how much they drink is important irresponsible drinking is a problem in our society which I think we would like to address, and I'd like to contribute to that as well."
He plans to explore the monetisation of his app through several different avenues.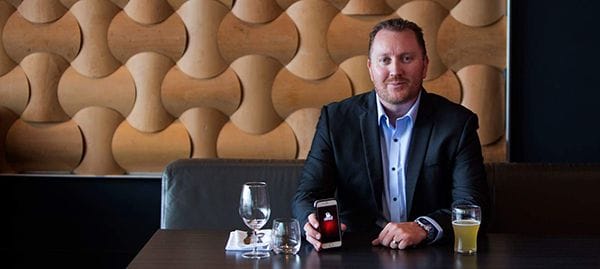 Want more news about young entrepreneurs?
Get our daily business news
Sign up to our free email news updates.
Help us deliver quality journalism to you.
As a free and independent news site providing daily updates
during a period of unprecedented challenges for businesses everywhere
we call on your support