The Australian film industry was heading into a record year in FY20 before COVID knocked the wind out of feature and television projects.
With the rebound now in full swing, Screen Australia sees the industry playing a massive catch-up that has led to an explosion of new productions from both domestic and international players.
The data was clear last year as Screen Australia's annual Drama Report showed a marked fall in both the number and value of feature films in FY20.
The report actually measures the full value of a production once it starts filming during the period, so it's no surprise that the figures slumped as the world shut down over the final quarter.
Despite this disruption, the combined spend on feature film and TV drama production still managed to hit $991 million, down from $1.21 billion in an unencumbered FY19.
"We were on track to have a record year last year in local productions and in most areas, so if you look at the Drama Report, to still be at almost $1 billion worth of drama spend in the country with an entire quarter taken out is pretty amazing," says Screen Australia CEO Graeme Mason.
He says the true measure of the industry will be found in the combined value of productions over the past two years.
"Together they will be significantly above the five-year average drama spend," says Mason.
"We are aware of $250 million worth of local feature films alone that were pushed into the current year, so if we add that in, that's a huge shift in the numbers we've seen.
"Every production we know of except for one has resumed, been completed or rescheduled for a later date."
For Brisbane-based mid-tier production house The Steve Jaggi Company, its "COVID boom" began in June when shooting started on the rom-com This Little Love of Mine, followed up by the thriller Kidnapped and the Christmas romance Sit. Stay. Love.
"We ended last year year, and started this year, with Dive Club, a 12-episode teen mystery series for Netflix and Network 10," says Steve Jaggi.
"That's a little under $15 million worth of production expenditure in under six months - a record for us.
"On the surface, this year looks to be even busier. We are aiming to double our output across 2021."
Not a pretty picture
As upbeat as the data appears, Jaggi is concerned that the industry could face challenges after a few years making hay in these good times.
"Taking a look under the bonnet quickly reveals that the outlook isn't quite as rosy as it would appear," says Jaggi.
Jaggi's comments are not intended to diminish what he says have been the "excellent handling" by federal and state governments alongside action by Screen Australia and state agencies such as Screen Queensland to keep productions shooting during lockdowns.
"The current production boom has created a perfect storm for Australian content producers," he says.
Jaggi is expecting this to result in a "mini boom" of two to three years followed by a sharp downturn.
"The Australian production landscape (then) will closely mirror Canada - one or two big players, half a dozen or so medium-sized businesses dedicated to service producing American content, and the masses begging for agency scraps," he says. \
"Not a pretty picture."
For Mason, whose role at Screen Australia is to ensure production activity continues at a sustainable pace, there are enormous benefits from the renewed interest from Hollywood producers in Australia which he says goes well beyond a reputation for being COVID-safe. Yet, he is reluctant to call it a boom.
"That implies there might be a bust at the other side of it. The inbound sector is doing really well but local production continues to be the mainstay for us."
Aussie stars flexing their muscle
Among the reasons Mason sees sustainable growth ahead is the influence of Australian industry heavyweights such as Chris Hemsworth and Nicole Kidman. They are among a slew of industry stars who are turning foreign productions into hybrid local projects.
"Chris Hemsworth has been involved in three projects back-to-back in Australia, using his 'muscle' to make that work here."
The combination of Nicole Kidman and Bruna Papandrea, two names behind the Hollywood hit Big Little Lies, has reunited for TV series Nine Perfect Strangers, featuring Kidman, Asher Keddie and Melissa McCarthy and shot on the NSW north coast.
"I don't really count that as a foreign production," says Mason.
The film, based on Australian author Liane Moriarty's book of the same name, was originally planned for the US but is now being undertaken in Australia.
"Nicole Kidman bringing a $100 million-plus project from northern California to northern NSW, that is an incredible feat," says Mason.
Some Hollywood stars are also taking the opportunity to work on multiple projects while they're here. Melissa McCarthy will also produce and star alongside Ben Falcone in the Netflix comedy God's Favorite Idiot, to be shot in New South Wales with a $10 million grant from the Federal Government's $540 million Location Incentive program.
"God's Favorite Idiot will continue the pipeline of Netflix productions being made in Australia with support from the Government's Location Incentive, building on the success of Clickbait, Escape from Spiderhead and Pieces of Her," says Minister for Communications Paul Fletcher.
Pieces of Her is being shot by Papandrea, as an eight-episode thriller starring Toni Collette set in a sleepy Georgia town but filmed in Sydney.
"With George Miller making his current film (Three Thousand Years of Longing) at the same time as Bruna is making the Toni Collette series, these are three major projects going on at once," says Mason.
"Economically it isn't just Sydney and Melbourne that are benefitting. We have shows all over the country. Local productions Aftertaste (starring Erik Thomson) is being filmed in Adelaide, Harrow (starring Ioan Gruffudd) has completed filming in Queensland, while in feature film terms Baz Luhrmann's Elvis film is all but finished on the Gold Coast.
Mason says the low visibility of the industry at that production stage belies the value of the sector to the economy.
"Our sector is not just about creative and cultural pursuits, as there are crews out there renting cars and eating out at a time when we need more tourism.
"We don't build office buildings where we have 1,000 people over several years working on a single site. Our people come and go. They may be working on Elvis movie now and then later on the new Ron Howard film in Queensland.
"They're seen as temporary employees rather than full time, but they're full time. It's just that they move around with the work, and my job is to ensure they have new jobs to go to."
The filming of God's Favorite Idiot alone is expected to engage the services of approximately 1,000 Australian businesses, including screen industry vendors, construction, hotels, restaurants, and rental car services.
"To have the opportunity to safely film our show in a beautiful country like Australia is a dream come true. We love this country, and the talented people who live and work here," producers Ben Falcone and Melissa McCarthy said.
"A special thank you to Chris, Luke, and Liam Hemsworth for volunteering to carry us to and from work with their wonderful powerful arms."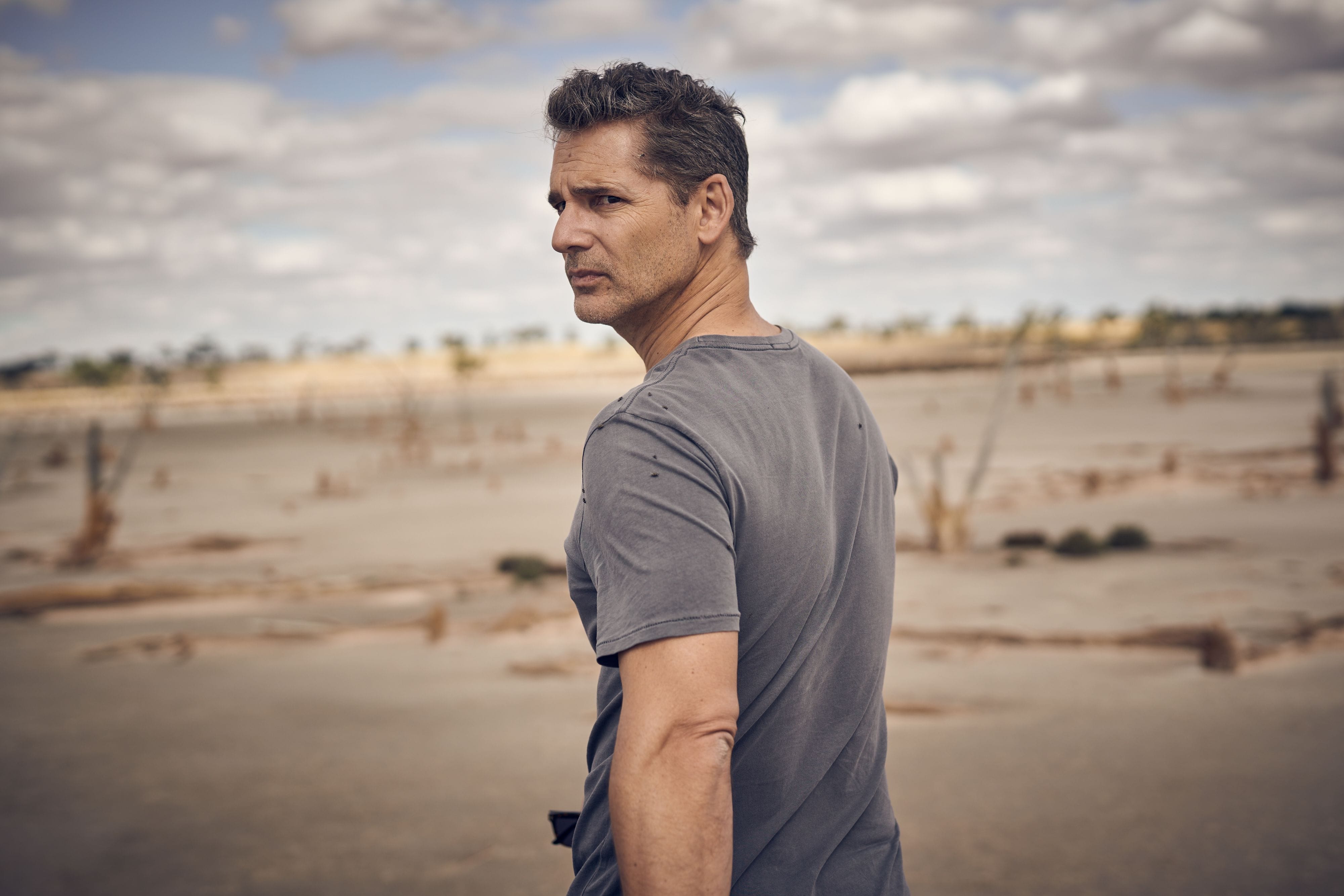 Eric Bana (above) is another Australian actor starring in Screen Australia-supported feature film The Dry
Studio capacity under pressure
While the scale and number of projects currently under way pushing the industry's available infrastructure to capacity, the question is whether Australia has the capacity to grow the industry further. Fox Studios in Sydney, for example, is currently at capacity.
Mason sees this as an opportunity for the industry to grow further.
"In Melbourne, the Docklands Studios are expanding, new studios are being discussed for Alstonville in northern NSW and the Western Australian government has a tender out at the moment for a studio to be built," he says.
This comes on the heels of Screen Queensland opening a new studio complex in Brisbane in 2019 to complement the Village Roadshow Studios on the Gold Coast to cater for a growing list of productions scheduled in Queensland.
For Jaggi, the short-term challenge for his company is "finding sufficient crew and studio space to facilitate our already financed product".
"The extreme influx of foreign production has pushed up the rates of crew and ancillary services beyond what most Australian productions can afford - and there is virtually no studio space available for the foreseeable future.
"Up here in Queensland, crazy as it sounds, we're toying with the idea of building our own interim studio to ensure that our production pipeline can stay on schedule."
While a $400 million support package from the federal government announced last year is likely to bring more foreign productions to Australia, Jaggi sees larger production companies winning at the expense of smaller outfits.
"Some larger companies have benefited from this production migration by acting as service producers. This is a segment of the industry that will see large-scale expansion over the next couple of years.
"Some mid-tier companies with strong foreign buyer relations, such as ours, have leveraged their production advantage and the historic demand for content and will experience a bountiful couple of years.
"However, this boom is very much two-tiered. Smaller independent producers, alongside a majority of writers and directors are likely to lose out."
Taxing times ahead
The storm clouds for Jaggi are also forming around federal government's looming changes on 1 July this year to the producer offset, which currently stands at a 40 per cent tax incentive for producers of Australian films.
The feature film offset will be reduced to 30 per cent, harmonised with offsets for television productions, a move that has raised fears among producers that it will impact the viability of locally produced feature films.
Jaggi describes it as a "head scratching decision" amid a global pandemic.
"It will result in this two-tier domestic production economy where companies of scale with access to lines of credit and foreign output deals, alongside businesses dedicated to servicing offshore production, will thrive while the bulk of Australian content producers, save the few agency darlings, are snuffed out.
"For the record, whilst we can't speak for other businesses, our last seven feature films have sold to studios and/or streamers as well as major broadcasters and have been viewed by millions across the globe. So, I think it's a bit rich to say that Australian feature content doesn't perform."
As the government-funded Screen Australia adminsiters the offset, Mason can't offer an opinion on the changes.
However, despite these challenges, Mason remains confident the domestic production industry will continue growing organically, driven by the strength of local productions, the influx of foreign-funded features and the hybrid combination of local and international productions.
"We have the depth of talent in Australia," says Mason.
"We've always had brilliant crew and facilities and we also have an enormous number of people coming back, perhaps from America who want to return here and work.
"While the world is now looking at us to discover how they can make their shows here, they also know we have incredible local producers, writers and directors that they can work with. I think that's where the long-term opportunities lie."
Never miss a news update, subscribe here. Follow us on LinkedIn, Instagram and Twitter.
Business News Australia
Get our daily business news
Sign up to our free email news updates.
Help us deliver quality journalism to you.
As a free and independent news site providing daily updates
during a period of unprecedented challenges for businesses everywhere
we call on your support