IT'S not every day you hear of a company trying to own and embrace the 'fast food' label, with many trying to rid themselves of the stigma associated with the industry.
However, a group of ex-McDonald's staff, together with Australian born and bred Guzman y Gomez (GYG), is going against the grain, hoping to own and change the meaning of fast food.
GYG started as a single Mexican taqueria in 2006 and has beefed up its turnover to more than $150 million. It boasts 70 stores across the country with an additional four in Singapore and a lone restaurant in Japan.
In the next 12 months it has plans to open another 20 in Australia and expand its international footprint, while the ultimate vision is to have around 500 stores globally.
Founded by Robert Hazan (pictured below) and Steven Marks, GYG aims to prove that fast food doesn't have to be bad food.
CEO Mark Hawthorne (pictured above), who previously worked as the McDonald's managing director in the UK, says getting food conveniently and quickly doesn't have to negatively impact ones' health, and that is what GYG is trying to prove.
"At first we were nervous about calling it fast food because there is a genuine perception that fast food is bad food, probably because it is," says Hawthorne.
"We asked ourselves: if we call ourselves fast food, does that automatically change the perception of our brand?
"We were up to the challenge and we wanted to create a movement around fast food. It is about clean food, nutritious food, responsible food, and it has to be accessible. There needs to be enough units available but also keep pricing to a range that is not too much more expensive than the traditional fast-food competitors."
More than 50 per cent of GYG's menu includes two serves of vegetables and the company continues to innovate with its healthy offering, looking to diversify its menu to include more plant-based options.
Veganism is a growing trend in Australia and the world, and one on which GYG wants to capitalise.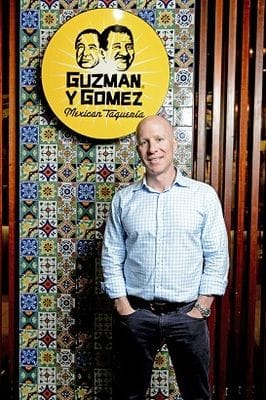 While the restaurant only has one vegetarian option, it is looking at what role a bigger plant menu will have on the overall mix of the business.
"Our current vegetarian option outsells our barramundi; it is actually quite a large seller for us, and the only complaint we have from our vegetarians is that we don't give them enough options," says Hawthorne.
"It seems like that is a growing trend, the vegan space, and we wouldn't be displeased if we had half our menu being protein and half being plant."
Hawthorne worked at McDonald's for close to 30 years, much of that in leadership roles overseas.
Once he returned to home soil, the businessman admits he was hoping to get out of the food industry.
However, it wasn't long before he was swayed into working for GYG, alongside a handful of other ex-McDonald's staff including Peter Ritchie - the founder and first employee of McDonald's Australia, who during his time as chief executive saw McDonald's Australia grow to more than 500 stores and 50,000 employees.
Guy Russo, former CEO of McDonald's Australia and current boss of Kmart, joins Ritchie on the board, as well as private equity king Simon Moore.
"I must admit the first day I went to GYG and ordered the food, I was quite shocked at the genuine, authentic Latino feel and how fast the food came out," says Hawthorne.
"My first reaction was that the food was not going to be very good because you can't have fast-food that is good. Then I tasted it and thought the food was outstanding.
"For the first time, after 27 years at McDonald's and looking at so many other brands in the competition and understanding trends in food, I can honestly say that I had never seen a brand with that quality of food do it so quickly. I wanted to get out of food, but I needed to have a piece of this."
Founder of GYG Robert Hazan says Hawthorne, and the board, have breathed new life into the business.
"From the beginning my co-founder Steven and I always knew we wanted to create a remarkable food company and I think we have," says Hazan.
"We got to a point where we were really proud of what we had done, but to go from 70 to 700 (taquerias), we knew we needed to bring in someone who had been there and done that."
Hazan says GYG now claims the best of both worlds, with the company sticking to its founding principles but still adapting and learning from what McDonald's does well.
"We are keeping our culture and food the same but we are now leveraging off of McDonald's for the disciplines that they are best in the world at - finance, supply chain, operations," says Hazan.
Hawthorne supports this strategy.
"We are leveraging what is really great about McDonald's and we are matching it with the food and culture created by Rob and Steven and that feels like it is something special," he says.
"And commercially, matching that food with that convenience and speed and systems and processes is something exciting."
Over time GYG will be looking at other distribution channels including catering and delivery.
The company plans to have 200-500 restaurants in Australia, while looking at other global markets.
It aims to boost its portfolio in Australia through the delivery of drive-thru stores.
GYG currently has one drive-thru in Nerang on the Gold Coast, which does double the volume of sales than average stores.
It has an average service time of three minutes and 11 seconds with 50 per cent of Gold Coasters now choosing to use the drive-thru instead of walking through the store. The Nerang location has processed 75 cars in an hour and 465 cars in a day.
"I honestly believe that if we get the drive-thru model working, I don't think there will be any reason why we couldn't have 500 stores in Australia," says Hawthorne.
GYG was the fastest-growing fast-food chain in 2015, according to data from market research firm NPD.
Get our daily business news
Sign up to our free email news updates.
Help us deliver quality journalism to you.
As a free and independent news site providing daily updates
during a period of unprecedented challenges for businesses everywhere
we call on your support