CREATIVE marketplace TheRight.Fit has scored $750,000 in seed funding from AirTree Ventures.

The website, which connects brands and agencies with freelancers and talent, is looking to become the number one alternative to the traditional talent agency model.

It was founded by Sydney entrepreneur Taryn Williams (pictured), a former model and owner of WINK Models.

"AirTree Ventures have partnered with many of Australia's leading marketplace businesses and have the expertise to help us grow rapidly," says Williams.

"Working with them will allow us to ensure we are developing the best possible team for our Australian and New York offices as well as maximise other opportunities."

Williams believes the idea behind TheRight.Fit is the future for advertising and media.

The platform is a community of influencers, videographers, photographers, models, actors, stylists and makeup artists, where brands and agencies can search, book and pay in one seamless, online transaction.

Since launching in December 2015, over 3000 talent and 1000 brands and agencies have signed up to the platform. Users include General Pants, Boost Juice and Fitness First.

"TheRight.Fit is the future for the advertising and media industry to find skilled professionals, especially at short notice," says Williams.

"It puts the control back into the users' hands. Brands and agencies are able to select industry professionals, set budgets, and have transparency in the payment process. For creative talent, they now have the power to more effectively manage their projects, payments and relationships."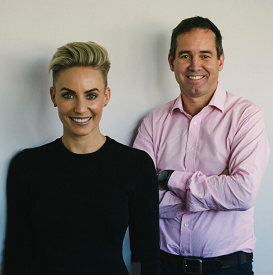 Sydney-based AirTree Ventures co-founder Craig Blair (pictured right with Williams), who has previously backed fashion rental startup GlamCorner and design startup Canva, praised Williams as 'one of the best founders in the startup community'.

"She has deep experience in the industry which still operates in a very traditional way when it comes to finding skilled professionals - there is huge scope for disruption and growth," says Blair.

"TheRight.Fit has already shown strong organic growth via word of mouth marketing, which we take as a great sign of a strong product that people really want."

Williams is still overseeing WINK Models, which in nine years has grown into a national business with more than 650 talent and turnover in the millions.

However, she says her focus is firmly set on building TheRight.Fit into a global platform.
Taryn Williams' model approach to capital raising:
Be prepared. Have your pitch deck, IM, financial model, all ready to go. Make sure these are comprehensive and present the best possible perspective. They are the first impression of your business. You also need to make sure you understand each section because this gives potential investors confidence.

Make time. Accessing venture capital is a serious play and you need to allocate the time accordingly. As a startup or small business you often don't have the resources to just go around hiring for positions so you need to be ready to accept wearing multiple 'hats' and put in the long hours. You need to do your due diligence and meet with potential investors and then make the time to do the follow up.

Decide on your dream team. Think about who you would love as a potential investor/s. A few questions to ask yourself include: 'Aside from capital, what value can they add? What areas do we need the most support with? Can they assist with this?' Make a hit list and start reaching out to them. Don't necessarily wait for them to come to you.

Ask questions. Do your research, ask lots of questions and make sure you understand every single element of your term sheet and what you are agreeing to - both short term and long term implications.

Get a good lawyer. It's imperative to have someone in your corner who can ensure you're legally covered and also help with the negotiations and execution of contracts. You may think you have everything covered but often a trained eye will go one step further and point out any anomalies you might miss.
Get our daily business news
Sign up to our free email news updates.