WHEN friends Bruce Lennon and Simon Dennis approached Thomas Foods International CEO Darren Thomas two years ago with ideas for an online distribution deal, nobody expected them to transform into a booming national venture.
Thomas Farms Kitchen (TFK) was born from the trio's desire to stake their claim in the online market for ready-to-cook pre-portioned meal kits after meticulous research suggested it to be a natural choice for progression.
"Simon and I approached Darren after watching where the online space was moving in the areas of real estate, cars, clothing; you name it," says Lennon.
"We thought that food had to start heading that way at some stage.
"Initially we proposed getting the Thomas Foods product and taking it straight to the consumer through an online channel. After piloting that for about two years and researching the market, the meal delivery box kits really jumped out as a fast growing and active area."
Within four weeks of the company's official launch in Adelaide, TFK delivered its first boxes of fresh pre-portioned ingredients to Sydney and Melbourne, and after eight weeks it began trading in Brisbane.
Lennon puts part of the rapid expansion down to the seamless national agreements the company executed with packaging providers the Bedford Group regarding the food packing and distribution process.
He also believes the business model, inspired by companies such as America's Blue Apron and Plated, has successfully engaged customers with a major twist to the way meal-kit providers usually sign people up for services.
"Unlike a lot of other meal-kit providers, customers don't have to subscribe to order TFK product," says Lennon.
"Buyers can choose to sign up for a membership where they can pay a small annual or monthly fee to receive 10 per cent off all store items, but everyone can still buy the product without the membership."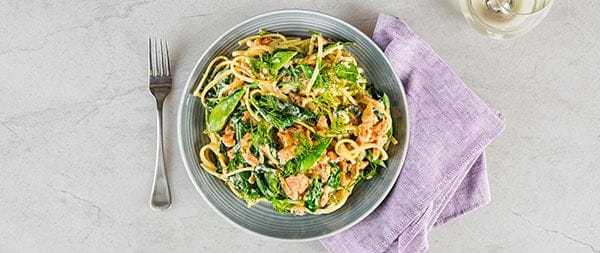 TFK may be a relatively fresh-faced competitor when it comes to home-delivered meal kits, but Lennon believes the founding trio have also carved out a unique section of the market by closely targeting the needs of the average professional.
"The reason we allow a minimum order of three meals instead of anything larger is because we have been looking into the eastern seaboard market of busy professionals who are perhaps living by themselves," says Lennon.
"We couldn't see those kinds of customers ordering six to eight meals with us every week, because their lifestyles are completely different to those of an entire family."
TFK have recently launched an online store to complement its cornerstone meal delivery service, which offers extras including Thomas Foods' premium produce, Maggie Beer products and Circulon cookware.
According to Lennon, the wholly Australian-owned enterprise will continue to be particularly focused on giving back to the local farming community.
"That's what we're all about, trying to support Australian farmers and give them the field where possible of bringing their product from paddock to plate.
"We're looking to once again start up regional filming that we have done in the past, trying to highlight the effort that it takes for some of these local farmers to bring their food to people's plates."
Within the next 12 months, TFK plans to take the market pulse of other major Australian cities including Perth and Darwin, locations that Lennon says are still relatively untapped by competitors.
The company will put more effort into bolstering its eastern-city presence now it has established a presence in its home state of South Australia.
Help us deliver quality journalism to you.
As a free and independent news site providing daily updates
during a period of unprecedented challenges for businesses everywhere
we call on your support