THE end of the financial year (EOFY) can be a taxing time for businesses, and often it takes a toll on staff.
Accounts wrap up, major deals get finalised and sales begin to peak, making it vital for any team to be on top of their game.
According to organisers at Corporate Challenge Events, it's a time when even the most seasoned workforce can feel the pinch.
Corporate Challenge Events, a company dedicated to ensuring that teams stay energised throughout EOFY and beyond, suggests three key strategies for businesses to keep spirits and motivation high through the EOFY period. It says tailored team-building events can help in all areas.
1. INVIGORATE THE TEAM EARLY
Prior to the EOFY spike, businesses will want their teams performing at optimum levels to drive last-minute sales and results, create fresh strategies for the year ahead and to finalise all figures for the previous period.
A team-building event in either May or June can be an ideal way to freshen the group, and have some fun before a period of high-intensity work.
It's an ideal way for businesses to boost morale, while at the same time inspiring team communication, strategic thinking, problem solving and creative planning.
2. MAKE AN EFFORT TO REWARD GOOD WORK
Once a team can happily say the EOFY period is done and dusted, it's definitely a time for celebration.
For the hard yards they have put in over a number of draining months, teams should be rewarded and acknowledged for the goals that have been achieved.
Late June or July is an ideal time for businesses to engage with fun, social and impactful team-building events that can definitely take the edge off after a gruelling slog.
3. USE THE PRIME TIME TO GIVE BACK
The EOFY period is one of the best throughout the year to begin giving back to the community, considering it's a time when businesses are encouraged to take stock of their full finances, including charitable contributions.
Consider a unique way to meet corporate social responsibilities (CSR), involve the entire office and commit to a cause, by engaging with a CSR-focused team-building program.
These are ideal ways for businesses to put their most charitable feet forward while simultaneously encouraging workplace bonding.
The experts at Corporate Challenge Events are ready to help your team power through EOFY with fresh energy and enthusiasm.
To view the array of team-building options that can be tailored to suit your company's needs, click here.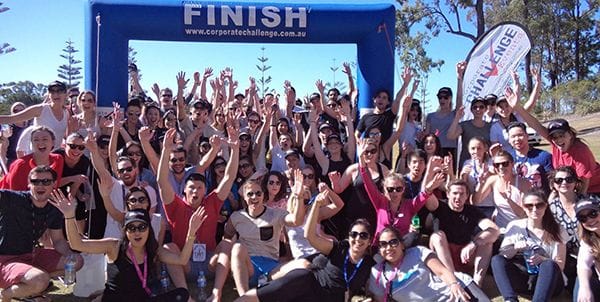 Get our daily business news
Sign up to our free email news updates.