When James and Adam Gilmour were kids, they didn't necessarily have any wild dreams of one day becoming astronauts.
But, now that the brothers are all grown up, these days you'd be lucky to find a more enthusiastic pair of stargazers.
James and Adam are the engineers and entrepreneurs behind Gilmour Space Technologies, a company which made headlines this week after it secured $19 million worth of funding to help launch its first commercial hybrid rocket to space in 2020.
Gilmour Space designs and manufactures propulsion systems which deliver low-cost small satellites into space. In layman's term, as described by Adam, the company "puts stuff into orbit".
After spending their early years building space ships out of Lego and watching Star Wars on repeat, it's safe to say the Gilmours have not only made an impression on the world of space engineering, but also made their 10-year-old selves very proud.
Gilmour Space is well on track to becoming Australia's first ever commercial space company and soaking up every opportunity during what the brothers have dubbed a global "space renaissance".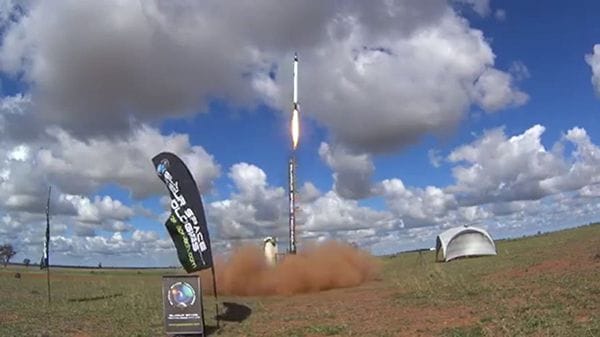 Gilmour Space Technologies test a rocket
Adam says the recently established Australian Space Agency (ASA) is a prime example of just how dedicated Australia has become to the space race over the past 12 months.
"I'm just loving what's going on, there's a lot of attention in the industry and the Space Agency in particular is getting a lot of attention," he says.
"Karen Andrews is the minister for space what a magnificent change that was. Her first speech in parliament was about space, as was her first speech as a minister. You just can't get any better than that.
"Space has gone from obscurity in the government to almost centrepiece. What a change we've seen in the past 12 months - we've gone from being out in the wilderness to being in with the pack."
ASA signs agreements with Canada and the UK: A good start, but the opportunity is infant
On Wednesday morning, Karen Andrews announced Australia had formed memorandums of understanding (MoU) with counterpart agencies in Canada and the United Kingdom.
According to the minister, the MoUs seek to help all three countries develop their respective programs and take advantage of the rapidly growing industry.
Andrews said the agreements would help grow existing relationships with the UK on the likes of CSIRO's NovaSar satellite project, Airbus' Zephyr solar-powered unmanned aircraft and Canada's cooperation in Earth Observation with Geoscience Australia.
While the Gilmours are excited about these international prospects, Adam says the devil will be in the details as the MoUs take a more formal shape.
"It's early days yet, there are many times where agreements have been signed where people want to cooperate with each other without getting down to specifics," he says.
"Those specifics can take months to years to work out exactly what you want to do."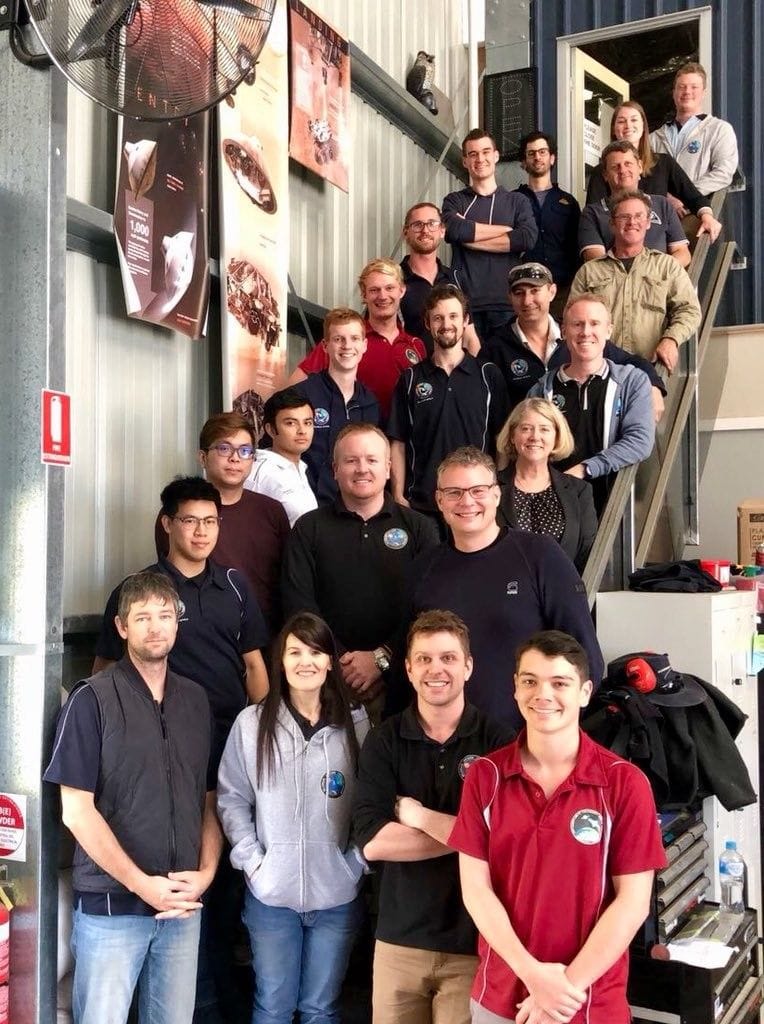 The Gilmour Space Technologies team
The Gilmours believe a more immediate boost to Australia's space entrepreneurs will come via the budget.
"What I'm more excited about is that the budget announced $5 million a year for three years which will allow Australia to do a collaborative space mission with other space agencies," says Adam.
"I presented some ideas to the Australian Space Research Conference on the Gold Coast last week we could potentially do a very cool space mission with either ESA (Europe), JAXA (Japan) or NASA (USA)."
"That will get a lot of different Australian technology companies working on it, inspire a lot of people and really put our name on the map to say we really are a space station."
Gilmour Space to go gangbusters following capital injection
Gilmour Space is fresh from its latest capital raising which was led by top-tier venture capital firms Main Sequence Ventures and Blackbird Ventures.
The Series B investment round was oversubscribed and raised $19 million which the company plans to put towards getting its Eris-100 rocket off the ground by 2020.
The Eris-100 is a three-stage commercial vehicle which is capable of launching 100 kilograms into low-Earth orbit (LEO).
While it's a huge achievement for the company, Adam says the competition is hot and Gilmour Space plans to step up the R&D to stay ahead.
"The small satellite revolution is gaining momentum globally, with thousands of small satellites slated to launch into LEO over the next five years," he says.
"To address the bottleneck, Gilmour Space is developing a new breed of hybrid rockets that will offer dedicated LEO launches to small satellite customers at very competitive prices."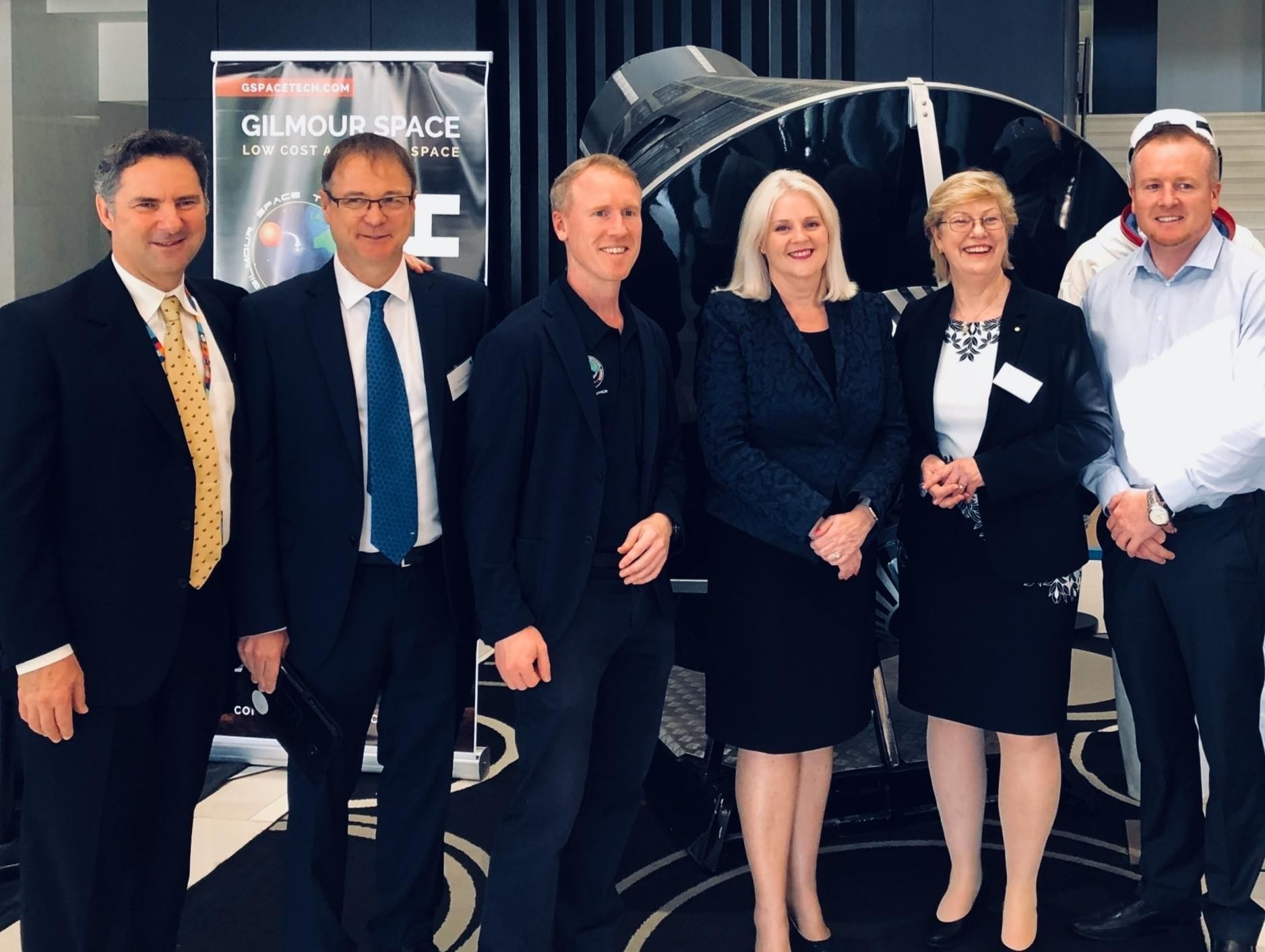 James and Adam with dignitaries at the 2018 Australian Space Research Conference
Martin Duursma, who is a partner at one of Gilmour Space's cornerstone investors Main Sequence Ventures, says the journey of Gilmour Space represents the rise of innovation in the Aussie Space industry as a whole.
"No longer is Australia only focussing on so-called downstream applications, but now with Gilmour will also have the capability of launching satellites for both commercial and national benefit," says Duursma.
James is excited that the company is finally starting to reap significant benefits after it first established in 2013.
"I'm pretty humbled that we are starting to bear some fruit from all our hard work, but we still have such a long way to go," he says.
"If everything goes well we hope to be employing 1,500-1,700 people within the next five to seven years and making huge amounts of revenue."
Why the Gold Coast is a perfect place to do space business
James has been named as a finalist in the 2018 Gold Coast Young Entrepreneur Awards for his game-changing work with Gilmour Space Technologies.
He says that while the USA, Europe or Asia immediately come to mind when people often talk about space, the Gold Coast is a perfect place to call his company home.
"There's a number of factors about the Gold Coast that are conducive for operations," says James.
"First of all, it's a great place to actually reside. To have access to the mountains behind us like tambourine great community country areas like the scenic rim, also we get 290 clear days in the year. That's a great start.
"Holistically, Queensland is very much known for being involved in aerospace. Guys like Boeing and Northrop, they already have a lot of activities they do in Queensland mainly centred around maintenance repair, overhaul of jet aircraft and other aviation things.
"We see a logical transition for Queensland to move more into the space domain and given that we're the leading propulsion company in the country, we are hoping to bring a lot of the industry and general public with us."
Never miss a news update, subscribe here. Follow us on Facebook, LinkedIn, Instagram and Twitter.
Business News Australia
Get our daily business news
Sign up to our free email news updates.