Since listing on the ASX in mid-2021, analytical sciences company Trajan Group (ASX: TRJ) has been deploying freshly raised capital into acquisition after acquisition, bolstering its portfolio of companies it believes are on the precipice of medtech breakthroughs.
From the very beginning co-founders Stephen Tomisich and wife Angela have scaled up via an aggressive M&A strategy in order to fulfil their ultimate mission to democratise healthcare.
By controlling every step of the analytical process from manufacturing laboratory equipment and instruments, to processing complex samples and finally a consumer-facing portal, Stephen and Angela intend to create an end-to-end model whereby patients can better understand their biology and preempt illness without needing any technical knowhow.
Seven months on from its $90 million IPO, Business News Australia spoke with Stephen about the company's ultimate goals and the wild ride it has been seeing Trajan more than double its share price to be worth more than $585 million.
---
As Roman emperor from 98 to 117 AD, Trajan developed a lasting reputation for philanthropic rule, leading his empire into prosperity by building core infrastructure and distributing considerable wealth.
His leadership model is one the founders of Trajan Group (ASX: TRJ) take considerable inspiration from - after all, the company is directly named after him.
Founded in 2011 by husband and wife team Stephen and Angela Tomisich, Trajan Group is a life sciences company on a mission to build a vertically integrated business that manufactures analytical tools like microscope slides, automates complex scientific processes, analyses biological data and, finally, presents it to a patient.
However, it was the duo's history-buff daughter who actually named the business around the family's kitchen table more than a decade ago as her parents contemplated their next move beyond roles in analytical sciences companies.
"There we were, at the kitchen table, we have no business but we have an idea," CEO and co-founder Stephen Tomisich tells Business News Australia.
"Our daughter was there and she said 'well you need a name - you'll need a brand'. She was interested in Roman history, she flipped through some of her text books and said 'what about Trajan?'.
"Trajan was the 13th Emperor of Rome, he led Rome to its peak, is recorded in history as being one of the four emperors of excellence, he built global infrastructure, he did social good. And I thought, you know what - that sounds pretty good to me."
Stephen says his Melbourne-based company's mission is "science that benefits people" - and with Trajan as his vehicle he hopes to build a business that will truly democratise healthcare and science by giving everyone, no matter their knowledge of science, access to tools that can help them better themselves.
"If we think we have a really good way of doing something, we don't stop people from using it," Stephen said.
"Why would you deny someone that access, if you think you have a tool that's going to benefit people?"

Aggressive M&A? No, this is collaboration
To achieve their lofty ambitions, the Tomisiches have pursued a path of regular merger and acquisition (M&A) activity over the company's 11 year history.
The ultimate aim is to create what Stephen calls an "end-to-end" model, where Trajan is the laboratory, the instrument manufacturer, and the interface to the consumer in order to drive adoption and tap into the disruptive impact of these new technologies.
The company origins were in manufacturing components and consumables that allowed laboratory equipment to function - think microscope slides and pipettes. From there, Trajan has branched out into sampling, and is looking to move into consumer portals and information processing soon.
To facilitate this dream, the company listed on the ASX last year with a $220 million market capitalisation, giving the company $90 million to play with. Now, Trajan is worth more than double its initial valuation, trading at around $4.30, giving it a market cap of $585 million.
"Ultimately, we decided to go to IPO because it meant that we were pitching to potential investors 'this is who we are, this is what we want to achieve, is that something you want to invest in?', rather than necessarily being subservient to somebody else's investment agenda," explains Stephen.
As part of the ASX debut, the Tomisichs sold down approximately 22 per cent of their holding in the company, leaving them with around 60 per cent of the group's outstanding shares. As of the time of writing, the family owns 56.82 per cent of Trajan after their holding was diluted following share issues.
"Once we went to IPO, the shackles came off," Tomisich said.
"We just ramped everything up. We started dealing with the backlog of M&A activity that we had on our agenda, we accelerated some of the new commercialisation of technologies, and we've been running pretty hard ever since and thoroughly enjoying it."
In the months since listing the company has certainly been spending that cash, having completed three acquisitions including two finalised on the last two days of the year.
On 30 December, Trajan announced the acquisition of US microsampling devices group Neoteryx, LLC, via the combination of US$5.05 million in cash and a share swap, with Trajan acquiring 100 per cent of the US-based company.
At the time, Trajan said it represented its commitment to making healthcare and information more accessible to patients, through acceleration of the global commercialisation and adoption of microsampling at scale.
As a result of this transaction, Trajan expects to see its microsampling portfolio contribute significantly to both Trajan's top line and EBITDA growth over the next three to five years.
"A large chunk of Trajan's R&D investment over recent years has been in microsampling - how do you facilitate the non-technical to take a viable analytical sample outside of the clinical setting that can be then used to monitor [a patient's] wellbeing?" Stephen said.
"We had developed a technology called hemaPEN that allows a non-technical person to take a microsample of blood with the accuracy and the integrity that a scientist would in a lab. While we've been doing that, Neoteryx, based in California, has had an alternative technology for doing something quite similar, but very complementary in terms of the types of applications - so [the acquisition] was more complementary than competitive.
"Neoteryx has done a wonderful job of building up a global commercial team, and paving the way for the adoption of microsampling around the world. So we combine Trajan's technology developments with Neoteryx's product and also the global Neoteryx team and it catapults us forward by a couple of years from where we would otherwise be."
One day later, on 31 December, Trajan announced the acquisition of LEAP PAL Parts (LPP) for US$7.7 million.
LPP is a specialised parts and supplies distribution company, supporting customers operating automated laboratory workflows by delivering sample vials, syringes, repair parts and more.
Stephen said the LPP acquisition was complementary to an acquisition completed in November 2021, that being the purchase of Axel Semrau GmbH & Co and Semrau Immobilien GmbH & Co for €14.75 million and €2.25 million respectively.
"[Axel Semrau's] area of specialisation is laboratory automation - so they deliver systems to laboratories around the world that automate the workflow," Stephen said.
"In a laboratory, you have a sample that comes in, and it might be a blood sample, an environmental sample, and that sample gets processed in some way - it might get diluted, might get mixed, stirred, you might have reagents that you use.
"It is then processed in a way that is put into some sort of rack or series of vials or tubes that are then fed into an analytical instrument, that's when the analytical instrument does it's magic and looks at the sample, separates it out into components and gives you some sort of results.
"Axel Semrau is a specialist in that laboratory automation; the stuff that happens before the instrument sees the sample. And they have a core competency in the underlying software; they own the software that allows the smart scheduling of events in the lab."
This activity to date is indicative of Trajan's path; it is building up its core competencies at every step of the analytical process in order to build this end-to-end model Stephen is so passionate about.
But acquisitions are costly, so in order to keep Trajan at the front of the queue investments have proven important for the company. Notably, Stephen points to the 10 per cent investment made in UK business FORTH With Life on 4 November 2021.
Founded in 2014, FORTH With Life sends at-home blood tests to those wanting to monitor biomarkers, allowing individuals to track things like hormone imbalances, vitamins and minerals levels, thyroid function and more. As part of the investment Trajan secured a board seat and equity in FORTH.
"Here you've got some of our vision playing out, where you're delivering to consumers a predictive model that allows people to understand changes that are happening in their biochemistry," Stephen said.
"What we liked about FORTH With Life was that they have traction with non-technical customers, and that's not an easy thing to do.
"So that's why we're really interested in taking the initial stake, understanding that business more deeply, and then thinking about what comes next after that."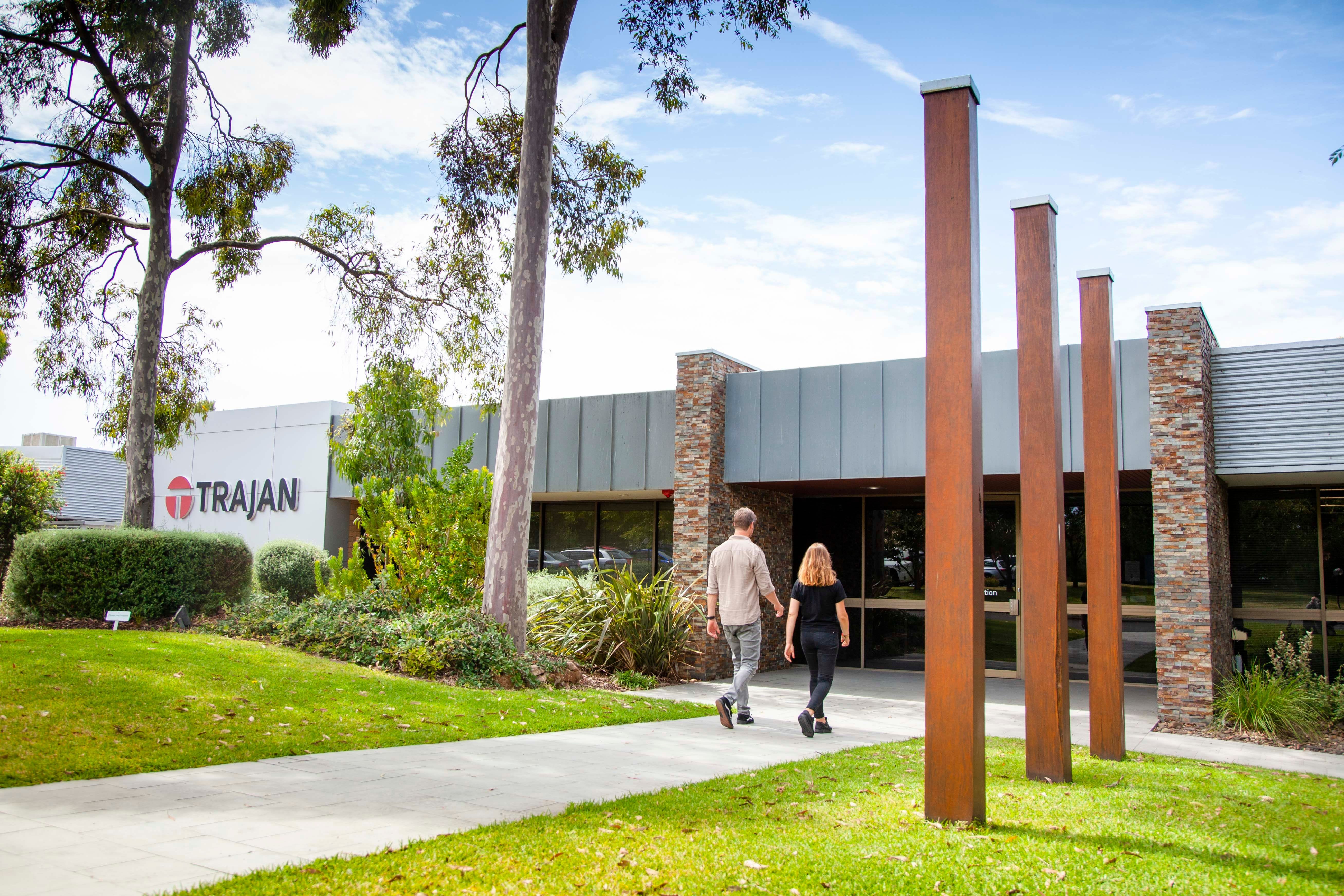 The future of Australian health tech and Trajan
Last year marked a decade in business for Stephen and Angela. When asked if they'll still be around in 10 more years Stephen said he had no plans to be going anywhere anytime soon.
"I would like to think that even within five years that we will be globally meaningful and globally significant," he said.
"For me and Angela that fulfils the dream - that Trajan came along and it left a mark, it left a legacy. We want to be able to say that through our initiative what we've done has actually made a difference.
"It sounds pretty cliche, but that's far more satisfying than seeing the bank balance go up, or the share price go up, or whatever it might be. To me, it's far more satisfying to know that we're doing something that is meaningful."
As for general investment in Australian scientific endeavours and med tech breakthroughs, Stephen believes much of the focus this year will be on building sovereign manufacturing capabilities, considering how the pandemic has exposed supply chain weaknesses.
"Just look at the recent mRNA investment here in Australia - that wasn't contemplated two years ago and that's come about because of that moment of 'okay - we don't have that capability'," Stephen said.
"But that played out at many levels, even down to plastic consumables for laboratories.
"I think the other area that I will be watching is the areas that have been under-invested in or have been neglected during the pandemic, because there's quite a bit of catch up and quite a bit of tension that's going to happen in those areas, whether it's undiagnosed illnesses or the impact of significant delays of elective surgeries and so forth."
Get our daily business news
Sign up to our free email news updates.