Australia may not be one of the 14 countries that plan to ban sales of gasoline-fuelled cars by 2040, but it is home to one company in the driver's seat of the electric vehicle (EV) revolution.
Tritium has the potential to become a Brisbane and national icon following the opening of its EV R&D centre in May, while its offices in Australia, the USA and the Netherlands continue to secure new supply deals worldwide.
Co-founder and CEO David Finn tells Business News Australia the company now accounts for a fifth of all direct current (DC) fast-chargers for EVs sold in Western countries, with 3,000 systems distributed to date and a sales pipeline of at least $200 million.
In Australia, Tritium will supply its Veefil-RT 50kW DC Fast Chargers to major electric highway infrastructure developments undertaken by Evie Networks and Chargefox.
"This technology is able to let you drive from Brisbane to Sydney - two stops, 15 minutes each - so it really will enable mass market adoption," says Finn.
"After the highways are covered, then movement into the metropolitan areas is key as well because it lets you use the vehicle in the same way you'd use a petrol-powered vehicle.
"You stop in once a fortnight for 15 minutes, time for a cup of coffee, and you're charged up for the next two weeks."
He notes while there still aren't a huge number of EVs in Australia yet, they will be coming.
"A lot of luxury brands have brought vehicles here," he says.
"In three years alone there's going to be an additional 50 new makes and models of electric vehicle in the marketplace and the price of batteries continues to drop.
"We're just under $100 per kilowatt hour and in the next few years it's going to halve again, so at that point in time you really start to reach parity with even just a mid-range type sedan."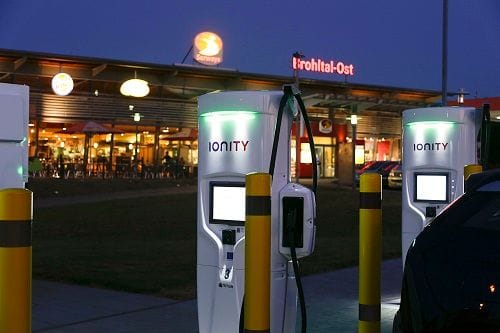 As nations look to ban sales of gasoline and diesel-fuelled cars, manufacturers will follow suit. Japan, South Korea, China, India and Germany are amongst the carmaking countries where transition timelines are already in place or in discussion.
"We're seeing over 10 countries that I'm aware of that have set mandates to have all new car sales be zero emissions, so not diesel or gasoline, by the year 2030," says Finn.
Of course there will still be conventional cars on the road, and Finn expects there could still be long tails after bans before any country switches to a full EV-based transportation system.
"If you are a vehicle manufacturer and you don't have an electric vehicle offering, you are looking at declining revenues. And that's not a good place for a business to be," he says.
Blue-sky thinking
The journey to create what is now Tritium began two decades ago when Finn along with co-founders Paul Sernia and James Kennedy built a motor inverter for solar-powered race cars; a technology that is still used to this day around the world.
"Like most Australian startups we go overseas first. We were born global in some respects so it didn't seem strange to us that most of our markets - 99 per cent of our markets - were overseas," he says.
"We started the company back in 2001 and we pivoted in 2011 to focus entirely on DC fast charging infrastructure because we saw that as a really critical piece of infrastructure that's needed for the mass market adoption of e-mobility."
That pivot was made possible by an investment from Varley Specialised Vehicles of Newcastle, NSW, while the Commonwealth Government matched that funding for a total of $2.5 million to boost development.
"That took us to the point where we had a proof of concept where commercially it looked like what it looks like today. It was pretty much ready for sale in Australia but we needed to get all the compliance work done, build up supply channels and distribution channels through US and Europe."
It was at this point that Trevor St Baker of ERM Power (ASX: EPW) got involved with St Baker Innovation Fund joining as a stakeholder and putting up "several more million dollars".
"We managed to get some really good traction through US and Europe. And from there, it's just sort of been strength to strength in terms of raising further funds and growing furhter market share," says Finn.
"To date we're about 20 per cent of all DC fast chargers sold globally in Western markets. That's a pretty good stat for a small startup from Brisbane."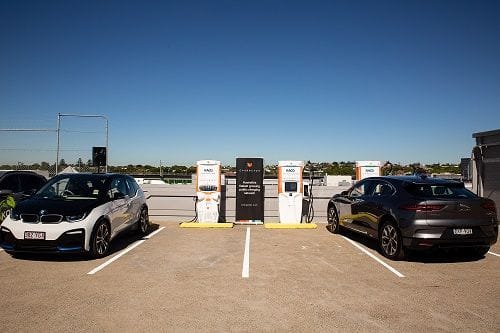 Beyond cars
Finn says public transit operators are starting to electrify very quickly with a great deal of interest in the US in particular.
"It's quite interesting how quickly they're showing interest in electrifying that - last mile delivery vehicles, port side, all these sort of businesses where you can you tell an accountant's done the math and is going 'OK, this is cheaper to run an electric fleet than it is to run a diesel fleet so it's time to change'," he says.
"All they're lacking is enough vehicles to be able to implement this so it's not going to be long.
"There are some challenges around getting the power to these depots where they have these fleets but they're all going to be overcome with time."
But Finn's and indeed the EV industry's ambitions are much greater than just charging up vehicles. He says the business also involves maintenance and services, and could give rise to new complementary businesses and even the possibility of using the same technology to power people's homes.
"It's going to be a real interesting ride ahead. We're already seeing the convergence of big oil, utility electric utilities, vehicle manufacturers and also startups. Private equity is coming in and they're all competing for this charging infrastructure space," he says.
"What that means in terms of adjacent business, convenience stores and so forth, is going to be interesting to see in terms of building new greenfield sites.
"A lot of these zero emission vehicles can be charging inside, so in hot climates it's air-conditioned and in cold climates it's heated, and there are a lot of different opportunities that are going to emerge here."
The co-founder explains there is a lot of flexibility in how electric charging business models can work.
"We are no longer bound to having a tank under the ground and having a forecourt per se. This infrastructure can be a little bit more spread, like in carparks where you'd pull into Woolworths or whatever and it's there while you do your shopping.
"You can have lower power versions sitting in the Westfields the world I think, and you can charge at home and the workplace as well.
"Once you do have a battery in your electric car, you can do so much more with it...you can even use it to power your home."
It may sound overly ambitious and no doubt without its fair share of problems, but you certainly cannot say Finn and his leadership team don't have vision.
In the interview he doesn't mention Tritium's role in providing the management system for James Cameron's Deep Sea Challenger that travelled to the bottom of the Marion Trench, but that feat almost seems a trifle in the face of the technological change that's to come.
Never miss a news update, subscribe here. Follow us on Facebook, LinkedIn, Instagram and Twitter.
Business News Australia
Get our daily business news
Sign up to our free email news updates.