WYNDHAM Hotel Group has laid bold plans to expand boutique offering TRYP across the Asia Pacific, after putting its Fortitude Valley property up for sale less than a year since it was launched.
The accommodation provider launched TRYP Fortitude Valley with developer and owner Jay McPhee in October last year.
The hotel brand, already established in Paris, Barcelona, Berlin, Lisbon and New York, is the first TRYP in the Asia Pacific region.
Wyndham Hotel Group South East Asia and Pacific Rim managing director Barry Robinson says the sale is nothing but positive for the group.
"The owner of the hotel has his sights set on new development plans, which for us heralds exciting new opportunities to continue our partnership with him and develop more TRYP hotels in desirable locations," Robinson says.
"We would love to see a TRYP property in each of the main cities in South-East Asia, Australia and New Zealand that house a dynamic urban entertainment precinct.
"TRYP is all about feeling like you are part of an exciting city and each property should be an extension of that showcasing each city's most interesting elements."
TRYP Fortitude Valley is being sold with the brand as a going concern, and Robinson says the decision was "not anticipated so soon" but its strong performance prompted the sale.
"In our dynamic and constantly evolving industry, it is important to capitalise on unique opportunities like this, especially if they fit into a wider investment strategy," he says.
"We are committed to expanding the TRYP brand throughout the South-East Asia and Pacific Rim region, so the sale of TRYP Fortitude Valley Hotel and the future partnership opportunities it generates definitely aligns with our overall investment strategy."
The four-star boutique hotel features 65 rooms, library-style conference room, rooftop bar 'Up on Constance' and restaurant Chur Burger from award-winning chef Warren Turnbull.
However, its competitive edge in the market are edgy murals that adorn the façade and interior created by street artists Magee, Numskull, Rone and Beastman - a nod to its previously long-time vacant lot.
"Uniqueness is vital."
Robinson says rather than a carbon copy, the new properties will celebrate the essence of each city to help guests immerse themselves in the local culture.
"TRYP's tagline is 'Own the City' and we need to make sure that the design concepts of each new TRYP hotel reflect the city is located in. Uniqueness is vital," he says.
"The design must adjust and evolve for each site so that we deliver on that promise of uniqueness the whole point is not to be formula-driven but profoundly individualistic.
"We may not be looking to duplicate existing concepts across new developments, so the concept will not always be about street art, rather it will be adapted to suit the city."
TRYP Fortitude Valley is being offered for sale in an international expressions of interest campaign led by Wayne Bunz and Rob Cross of CBRE Hotels.
Bunz says its central location in the entertainment hub of the city will fuel buyer interest, including proximity to the CBD, James Street, RNA Showgrounds and Chinatown.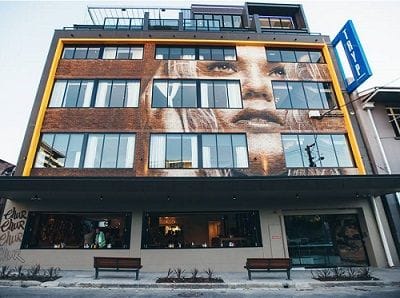 "Brisbane has seen consistent economic growth in recent years and has become one of the most sought-after destinations for hotel operators in Australia," he says.
"Brisbane is powering along and benefiting from record investment projects, including the Brisbane Airport Corporation's $3.3 billion expansion, extensive public transport infrastructure, the regeneration of the RNA Showgrounds and Echo's $2 billion investment into the Queen's Wharf casino, retail and entertainment precinct.
"These developments represent significant marks of confidence in Brisbane."
Robinson agrees that the concept of TRYP has generated a lot of interest, but hasn't revealed a clear timeline for the release of new properties.
"We are working on a number of sites at present in South-East Asia and Australia and hope to have some announcements to deliver soon," Robinson says.
Expressions of interest for TRYP Fortitude Valley close on September 24.
Help us deliver quality journalism to you.
As a free and independent news site providing daily updates
during a period of unprecedented challenges for businesses everywhere
we call on your support