THERE'S a new real estate brand on the Gold Coast block, headed by two young guns with real estate pedigree and focused on changing the face of property.

Mitch Lambert and Jesse Willcox (pictured left-right) don't come with traditional brochures or window cards. They also avoid the nine to five and, despite their youth, say they 'won't take' social media in the workplace.

Hard sells, 23-year-old Lambert and 26-year-old Willcox sharpened their business savvy while learning under the best.

Lambert is a former McGrath agent and son of property developer Rod Lambert, who co-owned and operated Lambert Smollen Estate Agents in the 90s. Willcox quickly made a name for himself as a top 1 per cent agent for McGrath in Queensland holding record suburb sales in Paradise Waters and Chevron Island to boot.

Speaking exclusively to Gold Coast Business News for Business News Australia, Willcox says the risk of leaving McGrath and opening Lambert Willcox was 'leaving it on the table'.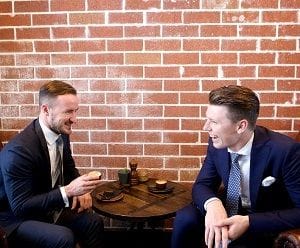 "You can get really favourable commissions working for an agency without any real risk, but I didn't want to work for a company forever - I wanted something greater," says Willcox.
"I found out since leaving that working for the big brand name is definitely not as attractive as I once thought.
"I don't just want to be a real estate agent and then groom my kids to follow in those footsteps, so when the opportunity presented itself to work with my best mate, I grabbed it with both hands."

Willcox says the Lambert Willcox pledge starting on day one was: 'honest, ethical and will outwork the competition'.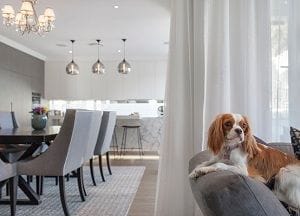 He says a lot of people in the beginning doubted their abilities to build on the momentum achieved working for someone else, but the same people became supportive 'almost overnight'.

Setting up shop at Surf Parade, Broadbeach just last week, Lambert Willcox has already made one sale at Surfers Waters under the hammer and can currently count three listings.

"Our female readership in particular on realestate.com.au has gone through the roof," says Lambert, adding it's not just the charm of the founders.

"We present every home like it's being featured in Vogue Living from an interior design perspective, so imagery is real life and not staged. That means the family dog will feature candidly, and we won't relent on a property having video footage.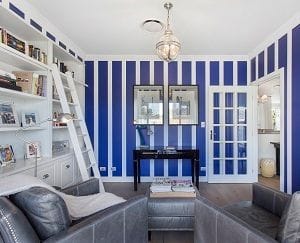 "The market was calling out for more transparency and authenticity, and we think the big players in the industry really haven't changed for decades."
Willcox spent time in Sydney, London, Paris and the US before taking the leap, and says Lambert Willcox has taken marketing inspiration from other boutique firms.

He says working the industry from the ground up also delivered 'invaluable' experience.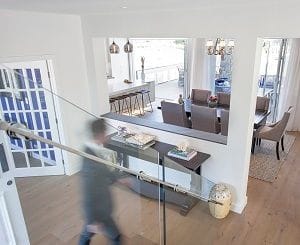 After studying journalism, Willcox went through five interviews to become a real estate agency receptionist, was accepted on the sixth, and in a couple of years worked through a traineeship, administration, property management and sales manager roles.

Lambert says flux in family life informed his decision to go out on his own at 22 and 'take my destiny into my own hands rather than waiting for someone else to handle it'.

"We think a lot of salespeople lack the discipline needed to handle the industry because of the freedom it provides," says Lambert.
"There's a huge focus on personal sacrifice over personal productivity in western culture and a lot of real estate agencies honestly become adult day-care centres.
"We hate 'busy being busy' - an agent will finish the week and sigh 'big week' but didn't achieve any sales or listings. It happens all the time. We don't want our agents sitting there doing that.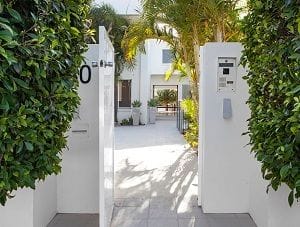 "Don't just turn up at nine and leave at five. We don't have set hours and just want our staff working whenever it suits them best.

"We put our names on the door and that's what we keep coming back to. When someone goes out into the marketplace, they don't just have their name on the business card, but mine and Jesse's too."

Lambert Willcox will begin hiring in January, slow and steady, prepared to take on a pipeline of work that will be as long as can be managed. And they are gearing up for a big pipeline.
"The Gold Coast market is better than I've ever seen it professionally and we speak about it a lot," says Willcox.
"I started in real estate when the market was falling, during the GFC, and you learnt tough lessons then.

"Now what the market is doing and the speed of offers coming in, I think it's an easy time for real estate agents."

Images three, four, five and six taken at Willcox Lambert's recent listings in Broadbeach and Surfers Paradise.
Get our daily business news
Sign up to our free email news updates.