ASK and Ulex Constructions will deliver, with the team bringing inspiration discovered online to life.
The client gave the construction company free rein to create a collaborative working environment, backed by experience delivering several successful projects in the medical industry.
Located within the Mater Children's Hospital, Brisbane Clinical Neuroscience Centre has been named this year's winner of Health Facilities up to $5 million.
The facility houses three medical practices in one harmonious space, including a neurosurgery group, neurologist and otorhinolaryngology.
The centrepiece of the project is a free-standing glass cubed office for management, offering a clear view of all patient areas to streamline operations. The feature breaks the mould of traditional offices with partitions.
The finished product unifies form with function, featuring a textured wall that extends the length of the patient corridor and a contemporary facet screen as the focal point behind reception.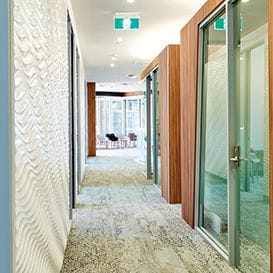 Ulex Constructions director Phillip Boon says the client entrusted the company to develop the entire concept.
He says style cues from medical clinics overseas were adapted to Australian standards without infringing on office performance.
"We have completed plenty of medical projects, but this was the first client that gave us the opportunity to utilise the latest design concepts to deliver the brief," Phillip says.
"The client really wanted something that was going to last another 10 years and not date, while being comfortable for the staff as well.
"The fashion screen came from Denmark and we incorporated new materials from all over the world. The fact that the client gave us such scope to do that was really exciting."
The interior has been designed to motivate staff, while providing a reassuring and comfortable environment for patients and their families. Employee domains encourage collaboration and include purpose-built hidden storage solutions.
The media studio gives doctors easy access to patients in remote areas and to other health care providers via video and phone link, diversifying the facility's services.
Consulting rooms have been designed with the individual doctor in mind, while the private lounge offers a relaxing space to unwind.
"The design isn't just all about the patients, it's about everyone who works there as well," Phillip says.
"The amenities make staff feel at home and comfortable at work, much like the Google office."
Ulex Constructions has maximised the 418m2 space to ensure every part of the real estate attracts a return, while patients and employees alike are elated with the end result.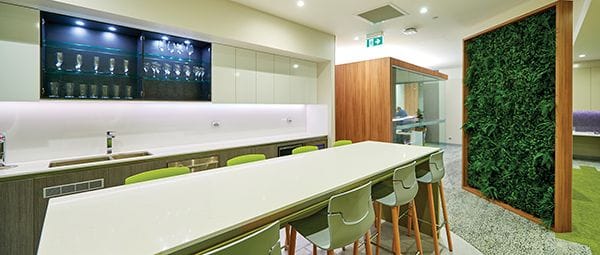 Get our daily business news
Sign up to our free email news updates.