SHARES in Brisbane's newest player in veterinary services have bounced to a 30 per cent premium on their first day of trading on the ASX.
National Veterinary Care's (ASX:NVL) $1 shares debuted at $1.26 and hit a high of $1.32 within the first half hour of trading, which saw more than 1.1 million shares change hands.
The company is vying for a piece of Australia's $2.6 billion veterinary services sector, alongside established Brisbane rival Greencross (ASX:GXL).
NVC is starting its journey out of a clinic in Albion, Brisbane. Investor funds raised through its IPO will be directed towards acquiring another 34 clinics.
Following this, the company aims to acquire another 10 clinics in its first year and 15 per year after that.
The company's roll up strategy involves steering clear of the retail sector, an area the 125 clinic-strong Greencross is increasingly focusing more on.
NVC CEO Tomas Steenackers (pictured right with NVC chairwoman Susan Forrester), formerly of Greencross, has told Brisbane Business News the company was formed out of the desire to reduce the administration associated with running a vet practice to ensure better outcomes on the clinical front.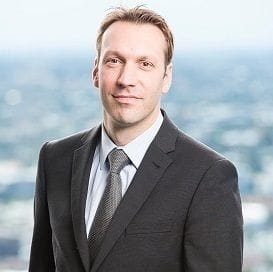 The company intends to disrupt relatively discretely, avoiding branding acquired practices as their own, minus a front door sticker, to retain the 'friendly local vet' vibe.
"NVC reduces the paperwork burden associated with running a vet practice, and the vets can do what they do best: provide excellent medical care and advice," says Steenackers.
"Many of our vets have been business owners for 50 years, so we find it a bit outrageous to come in and tell them to change their style. It worked for a reason."
While there are risks, NVC CEO Tomas Steenackers says the integration strategy has been well thought-out, with Albion being purchased to test the systems early on.
NVC was originally poised to begin trading on the ASX on August 5 but its original prospectus hit an ASIC hurdle. The company was asked to clarify some if its financials through a revised prospectus, which pushed back the listing date.
On debut, NVC's market capitalisation currently stands about $43 million. Greencross listed in 2007 with a market value of around $30 million and is now worth more than $800 million.
Get our daily business news
Sign up to our free email news updates.