VETPARTNERS Australia is adamant about doing things differently.

It is the second biggest veterinary group in the country, it is privately held, and it has no desire to tread down the path taken by Greencross (ASX:GXL) and National Veterinary Care (ASX:NVL) to an ASX listing.

The Sydney-based group, which has no external branding, is acquiring practices at around six times EBITDA, when its closest competitors are targeting between four and five times EBITDA, according to their public records.

The company was established in January and incorporated Sydney's VetFriends and North Shore groups, Adelaide's Vets4Pets and other practices that joined the Australian Veterinary Owners League.

Four more practices settled this week, giving VetPartners Australia 39 practices under its collar.
"We are quite comfortably the second biggest group in Australia and by far the largest in Sydney," says VetPartners Australia CEO Michael Quirk.
"But, as a pet owner, you just wouldn't know that. We like it that way."

Quirk is a consolidation veteran. He's always been involved in running multi-location small businesses and consolidating them into chains. His big ticket was selling Chester House Childcare to then listed company ABC Learning Centres.

"Childcare was a very fragmented industry and it started to consolidate," says Quirk.

"I noticed that and stood in the way of it and in the process noticed all of the mistakes these groups were making when they consolidated and listed.

"I was looking around for something else and the vet industry caught my eye about 10 years ago and I've been acquiring practices in Sydney ever since. Vet was a real candidate for consolidation - much better than childcare, dental and human medicine. It really does benefit from economies of scale.
"I reflected back on my days in childcare and could almost work out exactly who wouldn't make it because they're making the same mistakes I saw 20 years ago."
You may not be familiar with Quirk or his work. He never branded Chester House Childcare, doesn't have much of an online presence, and likes his companies operating out of the public eye.

"I've never been big on branding. It has its place, but it's used more often because of ego than real upside for the business. The only branding we have is internally, for ourselves.

"I think there's no added value to branding vet practices and all of the benefits of scale can be had without doing so. I know we get the same deals with suppliers and manufacturers this way, while branding would just add costs and risk.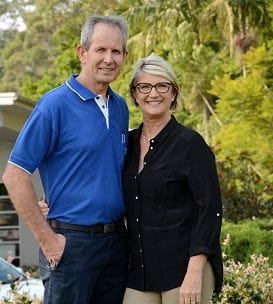 "People don't like going to the McDonald's of childcare and they don't like going to the McDonald's of veterinary hospitals either."
VetPartners Australia is in partnership with National Veterinary Associates (NVA), a 300-plus practice group in North America, which Quirk says has an 'unnervingly similar philosophy' to his own about how veterinary services should operate.

"I think we're better off because the systems available to us now are only really available when you get to the scale of 300 practices," says Quirk.

"If machines break down, doors fall off clinics, anything at all, we have a 24-7 support office in Los Angeles that has been doing this for 19 years."
Quirk sold part of his stake to NVA earlier this year and 'made his fair share'. He says he could have moved on but is staying put 'because it's such a worthy project'.

"Time and again it strikes me in Australia and beyond that the really good businesses are the private ones and you wouldn't even know who owns them," says Quirk.

"These are the businesses that can go through economic downturns and hibernate and come back when the economy does. When you're listed on the stock exchange - particularly for smaller companies earning less than $50 million per year - you could be gone before you even get the chance.

"National Veterinary Care (NVC) is smaller than us and operating in a very difficult space trying to run a new business in the public eye and perform every quarter."

Quirk says VetPartners Australia doesn't change the systems or software of the businesses it buys, instead offering a better incentive than its competition.
"The multiples we're offering are much higher," he says.
"They encourage vets to look more closely and think - well, I wasn't planning to retire, but that's good money and I can exit some of my business now and plan retirement over the next 10 years. They can drop their work hours and not worry as much.

"Most of these vendors have a two-year earn-out period where they get the last 20 per cent of their value over this period. We think it's a fairly easy target.

"Our target is that at the end of those two years, when the vets have the option to leave, they don't want to because it's just too good. For NVA in the US, 85 per cent of their vets are still working after 12 years. That outcome is the difference between what we're striving for and what the others are.

"Vets nowadays are less gung-ho and entrepreneurial because it's seen as a more flexible career, so it becomes a very hard game once the owners leave and you are forced to rely on employee vets to run the business. Keeping the vendors on side at their practices and doing what they've been doing for the last 20 to 30 years is our overall goal."

Quirk believes the Australian vet industry is having a moment, and it's most intense yet.
"The intensity of consolidation is right now and it's important for us who are consolidating to win the acquisition battle," he says.
"By Christmas I imagine the main groups will be a little more obvious and the acquisition activity will slow down."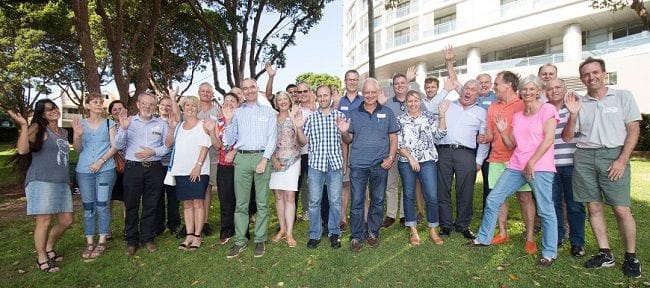 Pictured top to bottom: Jonathan and Sue Wysoke of Paralowie Veterinary Surgery in Paralowie, South Australia; Michael and Carolyn Jones of Erina Heights Veterinary Hospital in Erina Heights, New South Wales; Original vets who joined VetPartners earlier this year, representing 32 practices in four Australian states.
Get our daily business news
Sign up to our free email news updates.
Help us deliver quality journalism to you.
As a free and independent news site providing daily updates
during a period of unprecedented challenges for businesses everywhere
we call on your support