Short seller Viceroy Research is standing by allegations made in a report on Tyro Payments' (ASX: TYR) EFTPOS outage as customers see the debacle extend into a third week of pain.
After emerging from a trading halt yesterday with a response to Viceroy's initial report, Tyro is again slipping on the ASX today after the short seller hit back at the payments processor.
The latest update from Viceroy sees the US-based short seller stick to the claims made in the initial report - namely that Tyro is allegedly underrepresenting the full extent of the EFTPOS terminal outage.
In particular, Viceroy claims Tyro "does not appear to know how many terminals have been bricked", citing the inconsistency in figures reported by Tyro. For example, Tyro reported that 15 per cent were bricked on 7 January, yet one week later that percentage increased to 19 per cent.
Yesterday Tyro said 15 per cent of customers were still impacted by the outage, caused by an issue in specific versions of the terminal platform software supplied by Worldline, the manufacturer of the machines .
Of those customers, just nine per cent were without a functioning EFTPOS terminal and were the focus of the company's recovery and repair effort.
However, Viceroy maintains that Tyro is in the dark about how many terminals are actually 'bricked'.
"Due to Tyro's exposure to the hospitality sector the terminals per merchant may vary greatly," says Viceroy in its latest retort.
"Considering the company has provided no transparency on the number of terminals out of operation, we believe they have effectively surveyed merchants to arrive at their figures."
The short seller also published a number of new findings discovered since the publication of its initial report last Friday.
Viceroy says the situation at Tyro is getting worse, with one customer coming forward to the short seller to report that their replacement EFTPOS machine is no longer working.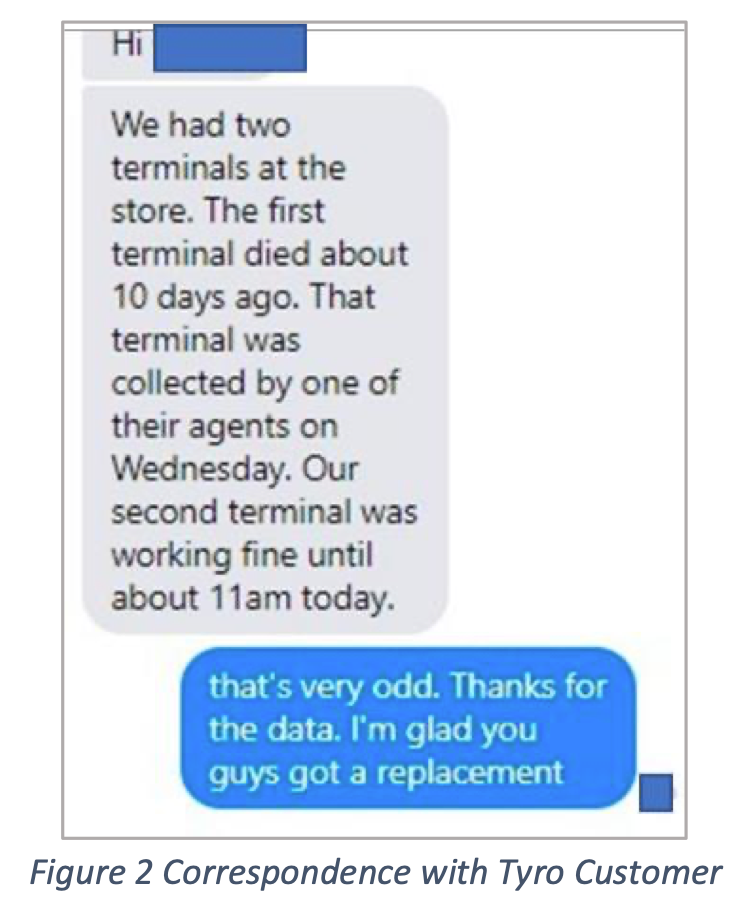 Via Viceroy Research.
In addition, Viceroy raises concerns about the significant amount of time it may take for the payments processor to have these faulty terminals fixed.
After speaking to "industry experts", Viceroy says the problem with the terminals does not have a quick fix.
"Burning new firmware onto the machines is a time-intensive process that requires each terminal to be updated individually while connected to a desktop computer as well as specialised protocols and equipment," says Viceroy.
"These firmware burns require a JTAG physical hardware interface and there are limited options to conduct simultaneous burns which Viceroy have been reliably told that neither Amtek nor Tyro are using."
Amtek is the third party contracted by Tyro to collect and repair the EFTPOS machines.
"Industry experts estimated the turnaround time to be roughly half an hour per terminal per person, but notes Amtek is unlikely to have more than a few workstations considering the highly specialised nature of this equipment," says Viceroy.
"We were also informed that the cost of running a team of technicians would be prohibitively expensive."
The short seller has ignited this issue further, slamming claims from Tyro that the repairs are being done around the clock, after releasing images of Amtek's Melbourne office showing no activity inside and no cars parked outside.

Via Viceroy Research.
"Tyro Payments are more concerned with the price of their equities than the functionality of their products," says the short seller.
"Communications so far to both investors and the market have been opaque and downplay the significance, both financial and operational, of the ongoing situation.
"We stand by our research and look forward to the company's response."
Tyro customers lash out online
As the outage of Tyro EFTPOS terminals edges into its third week customers have taken to social media to express frustration with the listed payments processor.
Many merchants have bemoaned the extended period of time they've been without the ability to accept card payments, while others have told Tyro they are still waiting for Amtek to collect their 'bricked' terminals.
"Still no collection of my two EFTPOS machines. Very frustrating and I hope I'll be reimbursed for lost income," says one aggrieved customer on Facebook.
"It's almost a cashless society and with no EFTPOS it's frustrating for both the customer and the Business."
A number of other customers are looking to ditch Tyro entirely, opting to buy Square EFTPOS readers instead.
"No pick up from AMTEK and no contact either. I was unable to find the time to send pack the TYRO myself. I have now gone and purchased a square terminal. The TYRO machine is all packed up and waiting for someone to collect," says one customer.
Tyro Payments has been approached for comment, but no response has been received at the time of publication.
Shares in TYR are down 8.28 per cent to $2.66 per share at 11.34am AEDT.
Never miss a news update, subscribe here. Follow us on Facebook, LinkedIn, Instagram and Twitter.
Business News Australia
Get our daily business news
Sign up to our free email news updates.
Help us deliver quality journalism to you.
As a free and independent news site providing daily updates
during a period of unprecedented challenges for businesses everywhere
we call on your support