THE Gold Coast's largest listed developer has returned to its home turf in a big way, spending $30.7 million on a vacant site at Arundel.
Villa World (ASX:VLW) has purchased a 25-hectare site on Greenacre Drive (pictured below), which has been approved for 190 freehold lots with an expected density of up to 484 dwellings.
CEO Craig Treasure (pictured left) says the size and location of the Gold Coast site would make it a keystone development among the company's 20 current projects.
"We are a Gold Coast company - we have been based on the Gold Coast for 30 years, we employ a lot of staff on the Gold Coast and this is our first project, really back in the core of the Gold Coast area," says Treasure.
"We have been at Coomera and in the Brisbane-Gold Coast corridor but this is our first project in the core of the Gold Coast in six years, and it is very good to have a project in the market that has always been our home."
The purchase is among Villa World's largest acquisitions and is part of a $135 million to $150 million forecast spend during FY16.
The company says it will consider a range of design options before finalising the dwelling yield and product mix for the development.
"We plan to develop what we call a fully integrated, urban project that has all sorts of densities from townhouses to terrace houses to small-lot housing and housing on larger lots. We may even include a premium land precinct as well," says Treasure.
"It is a completely mixed development that will include a price range from townhouses in the low $400,000 to housing in the high $700,000 and potentially $800,000."
Treasure describes the site, which is semi-cleared farm land, as a well located piece of real estate.
He says the surrounding infrastructure made the site attractive to purchase, including transport upgrades occurring in the area.
"The site allows us to deliver a Villa World community in an area that has social infrastructure - there are shopping centres and transport, it is in an established community and it is a really great place for us to be able to deliver a new project," says Treasure.
"With the recent light rail announcement, there is a proposed light rail station in close proximity to this site. This development will end up one tram stop away from Helensvale Town Centre and the heavy rail going to Brisbane, and it will be two stops away from the university and the hospital. That puts it in a very unique position."
The site, which has been owned by the same family for several generations, had been on the market for more than five years.
This announcement comes on the back of the company's latest profit results, which saw the developer finish the 2015 financial year with a bottom-line profit of $25.6 million, up from $19.1 million a year earlier.
Villa World says it is on track for record pre-tax earnings of $40 million this current financial year.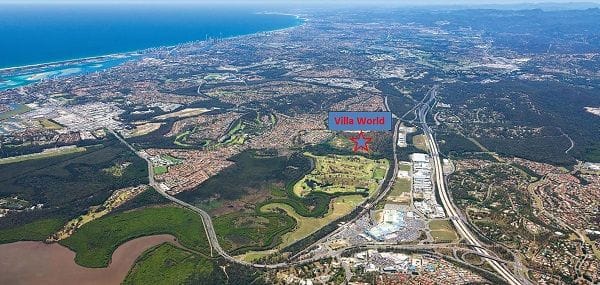 Get our daily business news
Sign up to our free email news updates.