After 20 years in business the airline that changed the competitive landscape of Australian aviation has fallen into voluntary administration.
Coronavirus-related travel restrictions proved too much for Virgin Australia (ASX: VAH), which will now need to reassess its business model as airports are shut down for international travel, borders are closed and Australians remain dutifully at home.
Deloitte have been appointed as voluntary administrators of Virgin with plans to restructure the company in an attempt to ensure its survival.
"Our intention is to undertake a process to restructure and refinance the business and bring it out of administration as soon as possible," says Deloitte administrator Vaughan Strawbridge, who incidentally has been involved in the administration processes for retailers Colette by Colette and Harris Scarfe.
"We are committed to working with [CEO] Paul [Scurrah] and the Virgin Australia team and are progressing well on some immediate steps. We have commenced a process of seeking interest from parties for the participation in the recapitalisation of the business and its future, and there have been several expressions of of interest so far."
---
Related: Virgin Australia receives interest from "extraordinary number" of potential backers
---
Despite hundreds of millions in Federal Government relief, as well as a stoush between state government's over the airline's future headquarters, Virgin has found itself cash strapped and laden with around $5 billion in debt.
While Covid-19 has certainly brought Virgin's problems to light, many of its own financial problems date back to before the crisis began.
Virgin Australia has been unprofitable for the past seven years, losing a combined total of $1.9 billion over the years. CEO Paul Scurrah (pictured below) was appointed in March 2019 to replace former chief executive John Borghetti, who had helmed Virgin for a decade and was appointed when the airline was still named Virgin Blue.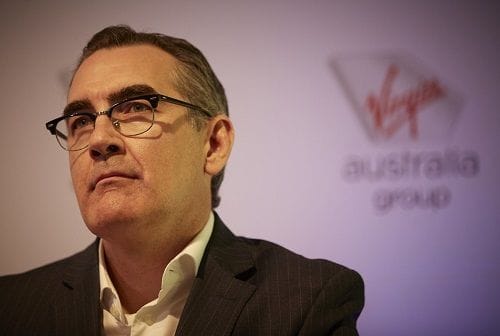 At December 31 the group's liabilities exceeded its assets by $1.6 billion, it had a cash balance of $1.1 billion and debt was on the rise.
Scurrah says the administration process is about ensuring the company survives the Covid-19 crisis and securing a future for Virgin Australia.
"In 20 years, the Virgin Australia Group has earned its place as part of the fabric of Australia's tourism industry," says Scurrah.
"Australia needs a second airline and we are determined to keep flying. Virgin Australia will play a vital role in getting the Australian economy back on its feet after the Covid-19 pandemic by ensuring the country has access to competitive and high-quality air travel."
The voluntary administration will seek to ensure the company survives the crisis in some form, enabling two national airlines to continue to fly in Australian skies once the Covid-19 pandemic subsides.
The company employs around 10,000 people directly and supports another 6,000 indirectly who will be left in the lurch following today's announcement.
Around 8,000 employees were stood down earlier this year to save cash as flights were grounded, with a further 1,000 staff made redundant including its Tigerair pilots and New Zealand-based crew.
In March the airline suspended virtually its entire flight network save a handful of flights considered essential by the Federal Government. A minimal domestic schedule was reinstated last week after the Government agreed to underwrite $165 million of flights for both Qantas and Virgin.
This investment was the third tranche of support for the aviation industry, following a $190 million regional airlines support package and a broader $715 million package for the entire industry.
Despite this support the airline has reportedly asked the Federal Government for further Government assistance. It asked for $1.4 billion to see it through the crisis, which was ultimately denied by the Morrison Government.
The Queensland Government has been particularly vocal about the need to save the Brisbane-headquartered airline, offering a $200 million assistance package to keep Virgin sky-high.
The company was suspended from trading on the ASX on the 16 of April while the board deliberated Virgin's future.
Virgin Australia is largely internationally owned by Singapore Airways, Etihad Airways, a Chinese aviation conglomerate and Richard Branson's Virgin Group. Just 10 per cent of the company is owned by ASX shareholders.
The group's frequent flyer program Velocity is a separate company and will not fall into administration.
Branson offers personal island as collateral for bail-out
Founder of the Virgin Group Richard Branson yesterday wrote an open letter to staff explaining his plan to save not only Virgin Australia but his British airline Virgin Atlantic.
In the letter Branson said he was requesting a $980 million commercial loan to bailout his limping airline group and offered his luxury island resort as collateral to secure assistance from the United Kingdom.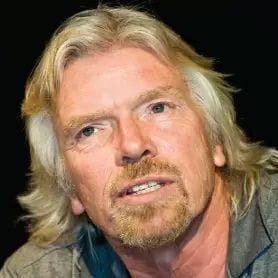 "Together with the team at Virgin Atlantic, we will do everything we can to keep the airline going but we will need government support to achieve that in the face of the severe uncertainty surrounding travel today and not knowing how long the planes will be grounded for," Branson said.
"This would be in the form of a commercial loan it wouldn't be free money and the airline would pay it back."
Branson further expressed his thanks to the staff at Virgin Australia who have been an important part in the movement of essential goods and services required to help combat Covid-19.
"The same is true in Australia, where the brilliant Virgin Australia team is fighting to survive and need support to get through this catastrophic global crisis," Branson said.
"We are hopeful that Virgin Australia can emerge stronger than ever, as a more sustainable, financially viable airline. If Virgin Australia disappears, Qantas would effectively have a monopoly of the Australian skies. We all know what that would lead to."
Speaking today about Virgin Australia's fall into administration Branson bemoaned the lack of support from the Federal Government and said today's announcement will not be the end for the airline.
"20 years ago we wanted to bring much needed competition to Australia's skies to lower airfares, to give consumers choice, to create thousands of jobs and to put a smile on people's faces," Branson said.
"I know only too well how devastating the news today will be to you. In most countries federal governments have stepped in, in this unprecedented crisis, to help our airlines. Sadly that has not happened in Australia."
"I want to ensure all of your and our competitor that we are determined to see you guys in Australia back up and running soon. Virgin Australia has captured the hearts of all Australians. That is down to all of you past and present who made it the best airline to fly with in Australia. This is not the end of Virgin Australia."
Virgin Australia's origins
The company was co-founded in 2000 by Brett Godfrey and Branson, with the former having dreamt of launching a low-cost carrier long before that to challenge the then duopoly been Qantas and the now defunct Ansett.
In 2009 Godfrey told Brisbane Business News (part of Business News Australia) people thought he was "nuts" for taking on the challenge.
In the early 90s Godfrey worked for Virgin Atlantic, before meeting Branson in 1996 who would later ask him to run Belgium-based Virgin Express.
He would then propose the Virgin Blue concept, and after their discussion he went back to his office iin Belgium, took out the business plan and sent it to Branson that night.
On a Monday morning he received a call from his bank manager who Godfrey thinks must have thought he had become a Colombian drug lord, because there was suddenly $10 million in his account - 'Were you expecting a deposit?'
"That was cool because it showed that he trusted me. So that says a lot of things how quickly that was done and how quickly he understood the vision," he says.
Godfrey said the airline industry was the most competitive and dynamic industry in the world, but a tough industry to do well in as its high profile attracts a lot of personalities, or 'billionaires that want to become millionaires'.
It is perhaps Godfrey's international upbringing that inspired his ambitions to offer consumers more affordable air travel, having grown up in Fiji, Honolulu and Vancouver before he started high school in Melbourne. He certainly didn't get into the industry because he loved planes.
"I definitely didn't get into it because I saw planes as exotic or exciting, I just see them as big chunks of metal that you should be able to get a decent return on," he said.
Virgin Australia timeline: a crash landing waiting to happen
21 April 2020
Virgin Australia enters voluntary administration.
20 April 2020
Both Moody's and Fitch downgrade Virgin, citing the uncertainty around whether the airline is able to obtain further financing to ensure it has sufficient liquidity to survive through Covid-19 travel restrictions.
18 April 2020
The Queensland Government offers Virgin a $200 million support package on the condition it keep the head office in Brisbane (1,200 head office jobs in Queensland), where the airline has been for the past 20 years.
16 April 2020
The Federal Government invests an additional $165 million into the aviation industry to underwrite key domestic flights with both Virgin and Qantas.
Two days after entering into a trading halt Virgin Australia requests an immediate suspension of its ordinary shares and unsecured notes on the ASX.
14 April 2020
Virgin Australia requests an immediate trading halt as it continues to consider the issues brought about by the Covid-19 crisis including discussions with respect to financial assistance and restructuring alternatives.
31 March 2020
Virgin Australia proposes a $1.4 billion bailout from the Federal Government so it can position itself to survive the Covid-19 crisis. The support "may or may not include conversion to equity in certain circumstances", which would give the Federal Government a sizeable slice of the company.
27 March 2020
Virgin Australia (ASX: VAH) receives its second credit rating downgrade in almost as many weeks as Standard & Poor's (S&P) expects a cut to the airline's variable costs will not be enough to offset its collapse in revenue. S&P estimates half of Virgin's costs are fixed, and the positive working capital benefit provided by forward bookings and the Velocity Frequent Flyer business is now likely to partially unwind.
26 March 2020
The Australian Competition and Consumer Commission (ACCC) grants regional airline Rex interim authorisation to coordinate flight schedules for the routes with Virgin Australia and Qantas Airways during the Covid-19 pandemic. The interim authorisation will also enable Rex, QantasLink and Virgin to share revenue from providing services on the routes.
25 March 2020
Virgin Australia extends its domestic capacity reductions from 50 per cent to 90 per cent and suspends all Tigerair Australia domestic services.
Approximately 80 per cent of VAH's workforce - or 8,000 out of a total 10,000 staff - are temporarily stood down. VAH team members that have been stood down have been asked to access accrued leave entitlements or take leave without pay.
18 March 2020
Virgin Australia suspends all international operations from 30 March to 14 June as travel demand flatlines. Virgin will also cut domestic capacity by 50 per cent until 14 June.
Both updates effectively grounded the equivalent of 53 aircraft. Until 29 March Virgin operates a reduced international schedule to ensure Australians can make it home.
17 March 2020
Department of Foreign Affairs and Trade advises all Australians overseas to return to Australia.
S&P downgrades Virgin's rating to 'B-' due to deteriorating domestic market conditions, along with a CreditWatch negative placement. The company previously had rating of 'B+'.
S&P also notes forward bookings and the Velocity Frequent Flyer business provide a material source of working capital, some of which could unwind.
13 March 2020
The Government's Smart Traveller page advises all Australians to reconsider the need for any non-essential travel, regardless of their destination, age or health. This represents an upgrade to Level 3 Travel Advice.
Virgin Australia cuts its flight capacity in line with the deterioration of the global travel industry due to the spread of Covid-19.
The company follows Qantas' lead in reducing its international flights, including the exit of flights from Auckland to Tonga and the Cook Islands, as well as reducing the number of flights from Australia to Japan, the US and New Zealand.
Virgin has a cash position in excess of $1 billion, with no significant debt maturities until October 2021 and no new aircraft deliveries until July 2021.
26 February 2020
Virgin Australia makes the decision to slash its overall network capacity in the second half as losses take their toll on the group's bottom line.
The three per cent reduction to its flight network is primarily in response to the impact coronavirus Covid-19 has had on the travel sector, with loss-making routes the first to go.
The changes will result in Virgin being slugged with a $50 to $75 million impact on its FY20 earnings.
Virgin Australia says the reductions are focused on leisure destinations where demand is weaker and includes the withdrawal from five unprofitable Tigerair routes.
Seven additional Tigerair A320 aircraft will cease flying by October 2020, following the announcement of five aircraft exits in November 2019, bringing the total to 12, as the group transitions Tigerair to an all Boeing 737 fleet.
Virgin Australia reports group statutory losses after tax of $88.6 million, which includes one-off costs associated with the $700 million buyback of its Velocity Frequent Flyer program, write-offs of assets no longer in use, and workforce reductions. Despite the loss, Virgin saw its revenue hit a new record, growing by $46.8 million to reach $3,116.3 million.
6 February 2020
Virgin Australia withdraws its services between Australia and Hong Kong, citing ongoing civil unrest in the region and the coronavirus outbreak.
Its Sydney to Hong Kong route will cease operating from 2 March 2020.
Virgin's decision to withdraw services from Hong Kong follows Qantas's announcement that it has suspended two direct services to mainland China.
Airlines such as British Airways, Lufthansa and Air France have also temporarily cancelled all direct flights to and from China, while carriers including United Airlines, American Airlines, Air Canada, Air India, Air Asia, Finnair, Cathay Pacific and Korean Airlines have either cancelled certain routes or reduced schedules.
25 October 2019
Virgin Australia secures a $623 million unsecured loan to buy-back a chunk of its frequent flyers program Velocity.
The unsecured Notes are due in 2024, with the loan to be used to buy Affinity Equity Partners' 35 per cent minority interest in Velocity Frequent Flyer Holdco, worth around $700 million.
11 October 2019
Virgin Australia named the number 17 top company in Brisbane for 2019.
28 August 2019
Adverse market conditions in the second half of FY19, new route investments, and increased fuel costs result in Virgin Australia posting an underlying loss of $71.2 million.
However, the statutory loss after tax of $315.4 million for FY19 is a significant improvement from FY18's $653.3 million loss, up 337.9 per cent.
The self-described "disappointing" results saw the airline cut 750 jobs in an attempt to turn the business around.
25 March 2019
Paul Scurrah officially commences as CEO and MD on 25 March 2019 and also joins the Virgin Australia board as an executive director on this date.
Scurrah joins with more than 20 years of experience in transport, logistics, travel and aviation and most recently held CEO roles at DP World Australia and Queensland Rail.
He has also recently held executive roles at Aurizon, Flight Centre, and Tourism Queensland.
6 February 2019
Virgin Australia names Paul Scurrah as John Borghetti's successor. The replacement for long-time Virgin Australia CEO and MD John Borghetti has been found to lead Australia's second largest carrier.
Paul Scurrah will replace John Borghetti who announced his intention to step down in June 2018 after a decade of working for the airline.
Borghetti joined the airline in 2010, when it was called Virgin Blue, and established Virgin Australia as the second largest carrier in Australia by market share.
Under his leadership, Virgin has added routes and purchased rival low-cost airline Tigerair Australia but has struggled to turn a profit, mostly because of an ongoing price war with main competitor Qantas and below-par performance with its Velocity frequent flyer program.
17 June 2011
The airline's boss Sir Richard Branson signals the end of the Virgin Blue brand and introduces Virgin Australia for both its domestic and international operations, allowing it to build one brand that will be recognised globally.
Virgin Blue Holdings Limited (VBA) announces it has appointed former QANTAS general manager John Borghetti as its new CEO effective May 8.
Borghetti left QANTAS in May 2008 two years prior to his new role with Virgin.
11 August 2009
Virgin Blue CEO Brett Godfrey announces his retirement from the airline he launched 10 years ago, saying it's time to give someone else a go.
Updated at 9:05am AEST on 20 April 2020.
Get our daily business news
Sign up to our free email news updates.