The administrator charged with turning the fortunes of embattled airline Virgin Australia (ASX: VAH) says the intent is to "run hard" to avoid a protracted restructuring process.
Deloitte administrator Vaughan Strawbridge (pictured) says there is a "good sophisticated group of interested parties" in the airline who "have the financial capacity to take this business forward".
"We've got an extraordinary number of parties who have reached out to us around the restructuring and recapitalisation of this business," he says, clarifying there are more than 10 parties at this point.
"I do think government has an important role to play, but it doesn't have to be the decisive decision maker through this."
---
Related story: Virgin Australia enters voluntary administration
---
When asked about how a revived airline might look in terms of international routes, as well as the size of its fleet and workforce, Strawbridge said the plan was to create as much optionality as possible.
"Obviously, we will look through the the operating structure of the business - the asset structure, the lease structure - and see what we can do to help position the business to be a more profitable business.
"But we want to create as much optionality for interested parties as possible, so that will be around retaining all the employment of the staff, continuing to maintain the current services the company operates."
The process could take as long as eight weeks before the flight path is clear.
"I would say that we're looking probably at a initial expressions of interest in the next three weeks, and then we'll run a timetable after that probably for a further four to five weeks, and we hope to have a reasonable estimate of what the position looks like after that and how long would then take to complete a transaction."
The Federal Government has committed to working constructively with Deloitte through the process, and has appointed former Macquarie Group (ASX: MQG) CEO Nicholas Moore (pictured right) as its representative in discussions.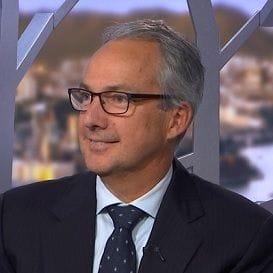 "Virgin Australia is a very good airline performing a very important task, and we want to see two airlines continue," says Treasurer Josh Frydenberg.
"We've already had discussions with the ACCC [Australian Competition and Consumer Commission] to ensure they strongly enforce our competition law, so that we can have two commercially viable airlines operating on domestic routes here in Australia."
When asked about the possibility of Virgin being owned by a Chinese state-owned entity, the Treasurer explains he can't comment on foreign investment matter but emphasises Australia has a strong national interest test.
"As you know In the wake of the Coronavirus pandemic we have announced the temporary removal of those thresholds for foreign investment, which means that there'll be extra scrutiny on any foreign investment proposal, and I would wait to consider any proposal on its merits without making any further comment than that."
CEO Paul Scurrah emphasises this is "certainly not the end" for Virgin Australia and the company is not collapsing, even though the pandemic situation has "cut off its oxygen".
"The global Covid-19 pandemic as we know, and the tough but necessary travel restrictions that have been imposed by governments because they want to limit the spread of Covid-19, has seen travel demand all but evaporate," he says.
He says this has forced some of the most profitable airlines around the world to ground their fleets, of which many have drawn on their own governments for loans and grants to stay solvent.
"In recent weeks, Virgin Australia too has has needed to take some pretty dramatic steps, and we're still down 80 per cent of their workforce, we've reduced by 95 per cent the amount of flights that we are conducting, and those that we are conducting are subsidised by the Federal Government, and we've grounded most of our aircraft.
"We've actively sought financial assistance from our shareholders, from from the government and from other parties to help us through this crisis.
"In the absence of the level of assistance that we needed, the board last night made the difficult decision for the group to enter voluntary administration, which is obviously a very difficult decision. However it represents the best option for the Virgin Australia group to emerge stronger on the other side of this crisis."
He says the administration process will allow Virgin Australia to immediately freeze the financial pressures upon it while it restructures and refinances.
"It will allow us to continue to operate while quickly resolving these financial concerns to secure our future, and it is our absolute intention to emerge stronger. Australia needs a second airline and we are determined to make sure that we are that second airline.
"We make an estimated $11 billion contribution to the Australian economy every year. We will play a vital role in getting the Australian economy back on its feet after the pandemic, ensuring that Australia has access to competitive high quality air travel."
Velocity places pause on point redemptions
Virgin has placed a pause on all redemptions of Velocity Frequent Flyer points for an initial period of four weeks as a result of the voluntary administration.
Member points will not be going anywhere during the pause, they will remain in member accounts and will not expire during the period. Members can continue to earn points via Velocity partners.
Administrators Deloitte have confirmed that Velocity is not up for sale as an independent asset, despite the rewards program being a separate legal entity from the broader Virgin Australia group.
"The members are well protected, there's a trustee and a separate CEO of that entity, and we're going to work with them during this process," says Vaughan.
"They're a key part of how this business is restructured and comes out of administration. The Frequent Flyer program is an incredibly good asset, it has been well set up and we'll be working with that closely going forward."
Updated at 11:05am AEST on 21 April 2020.
Get our daily business news
Sign up to our free email news updates.