FAST food franchising gets a bad rap. Mrs Fields is rising above this though, having broken out of the cookie-cutter model to recognise key industry issues.
Andrew Benefield, CEO of Mrs Fields, has learnt a thing or two across more than 20 years in the fast food industry, beginning with marketing YUM Restaurants in the 1990s before managing the retail operations of Caltex at the turn of the century.
This was before becoming The Cookie Man five years ago literally, CEO of Mrs Fields' holding company Cookie Man Australia at a time when consumers are more and more conscious of every crumb they put in their mouths.
Benefield knew he had to shake things up but in a way that wouldn't destroy the Mrs Fields brand values.
"I certainly wouldn't now use the word healthy associated with our product and we definitely recognise that we're a treat and reward I think remembering what your brand is at its very core is very important," says Benefield.
"People are a lot more conscious about where products come from, what they contain and don't contain, and I do think that level of interest will remain.
"We maybe can't meet this trend on all levels but can give the customers experience and I think that's what's key going forward people are seeking out experiences, even if it's just while having a 5-minute coffee break with us.
"It's now as much about the experience of food as the food itself."
Benefield believes some fast food vendors aren't currently doing well because they haven't adapted to this, and are still offering a relatively 'clinical' experience.
Mrs Fields' new look introduces brick into more contemporary finishes to make the store look somewhat of a country kitchen.
"The typical fast food restaurant is cold and clinical with a lot of glass think of the old-style McDonald's even before McCafe came into play," he says.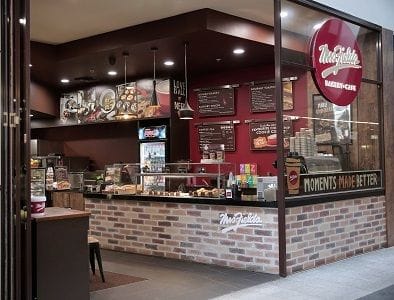 "Consumers want a warm and welcoming experience, especially when they know they are treating themselves.
"Our brand research in particular showed that our customer equates Mrs Fields with good home-style food and you just don't want that served from a sterile location."
Benefield says while customer tastes have changed since he began his career in the fast food industry, the most popular ingredient now is in fact 'choice'.
"The interesting thing with the customer, without saying anything bad about them, is they want lots of choice but don't want to make any choice," says Benefield.
"I wouldn't mind betting my bottom dollar that McDonald's still sells more of its set combinations even though they actively encourage people to build their own burgers.
"We all want choice, but when it comes down to it, we just want to be told what to do."
Choice also presents a paradox that can be difficult for scaled food businesses to navigate their way out of, according to Benefield.
"It adds a lot if backend complexity to what you're doing," he says.
"I worked at KFC in the mid-90s and everything was about how we simplify the menu and store operations to give the customer less choice.
"I even remember taking tomato out of the menu at one point to make the stores easier to operate.
"It was all about how fast you could get served McDonald's actually had a 'service in 60 seconds or its free' policy for a little while."
Industry veteran Benefield believes he has now observed the full cycle.
"Everyone is going out of their way to involve themselves in this area of provenance, variety and health, but the natural pendulum will soon come back somewhere in-between," he says.
"Trends are like that boutique players all about the origin of their coffee will have a place but can't stay at the top forever.
"It will become too intensive for people and they will come back to just wanting to know they're getting a food coffee or cookie."
Get our daily business news
Sign up to our free email news updates.
Help us deliver quality journalism to you.
As a free and independent news site providing daily updates
during a period of unprecedented challenges for businesses everywhere
we call on your support