DAMIEN Stone has a thirst to build the world's biggest social enterprise in a clean fight against the plastic water bottle industry.
The 2016 Gold Coast Young Entrepreneur Social Award winner is behind water3 - a network of high-tech vending machines that dispense chilled, still and sparkling spring water.
Each kiosk is cashless, customers purchase credits using PayWave on the machine or through the water3 app or website.
Credit can be stored on a refillable stainless steel water3 bottle, which is embedded with radio-frequency identification. Customers can also use their own bottles to refill instead.
Single-use plastic waste is not only reduced, but the revenue is used to fund conservation projects across Australia, such as river and beach clean-ups or turtle rehabilitation.
Stone has more than 20 years' experience in the beverage industry, including marketing and brand development for Lion Nathan, Coca Cola and Schweppes.
He was struck by the damaging effects of plastic to the environment and decided to become part of the solution rather than problem.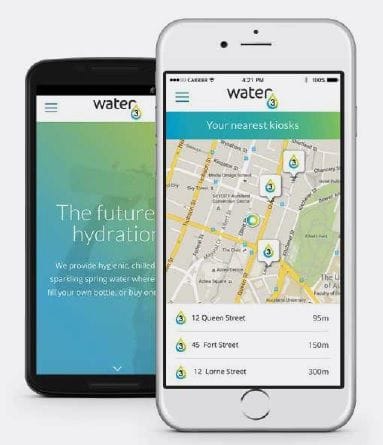 "It's an industry where the packaging hasn't changed in the last 30 to 40 years - if you wanted water while you were out, you had to buy a plastic bottle," Stone says.
"It's kind of like taxis, or any business that has had a stable business model for decades. How it's delivered is being reimagined now.
"We've changed the packaging of water and it's now wrapped up in a technology-based platform that's way more acceptable from an environmental standpoint."
The concept evolved from a vending machine company in Singapore in 2012, with water3 now based at Ormeau.
Kiosks have recently rolled out across south-east Queensland, including Robina Town Centre, Pacific Fair, The Pines Shopping Centre, Stafford City Shopping Centre, MacArthur Central Shopping Centre and Logan Hyperdome.
Water3 plans to install 1200 kiosks in the region over the next 12 months, set to join a national network of 12,000 over three years.
The company has a global target of 150,000 kiosks during this timeframe, with US expansion in the works early next year, followed by Singapore, Dubai, Switzerland, Mexico and Canada.
As the largest water market in the world at $15 billion annually, Stone says the US is the next logical step and he has already secured capital to fund the expansion.
Stone sees big potential in the US market, not least because it readily embraces technology. He concedes Australia can be a little tougher because there can be a 'degree of cynicism' towards new ventures.
"The Australian culture supports an Aussie battler, but is also a devil's advocate for trying to find reasons why something shouldn't happen," Stone says.
"In America they're always finding reasons to make something happen - there's a real dichotomy.
"Some of the key challenges that I found in Australia five years ago, was a real lack of support for innovation, a lack of decent-sized venture capital and a business environment focused on making more money out of mining and property."
Technological advances in recent years have delivered an efficient system for water3, with a team of developers constantly innovating to stay ahead of the curve. The kiosks are cloud-managed and can send sales reports or system issues to technicians.
The cashless convenience has already resonated among millennials, as they are 'conscious consumers', according to Stone.
"If you were to launch a ubiquitous brand or beverage like Coca-Cola now, it wouldn't get as much traction as it would back in the day," he says.
"In marketing, if you're not launching a conscious brand you're dead within the next five years because no one is going to buy your stuff."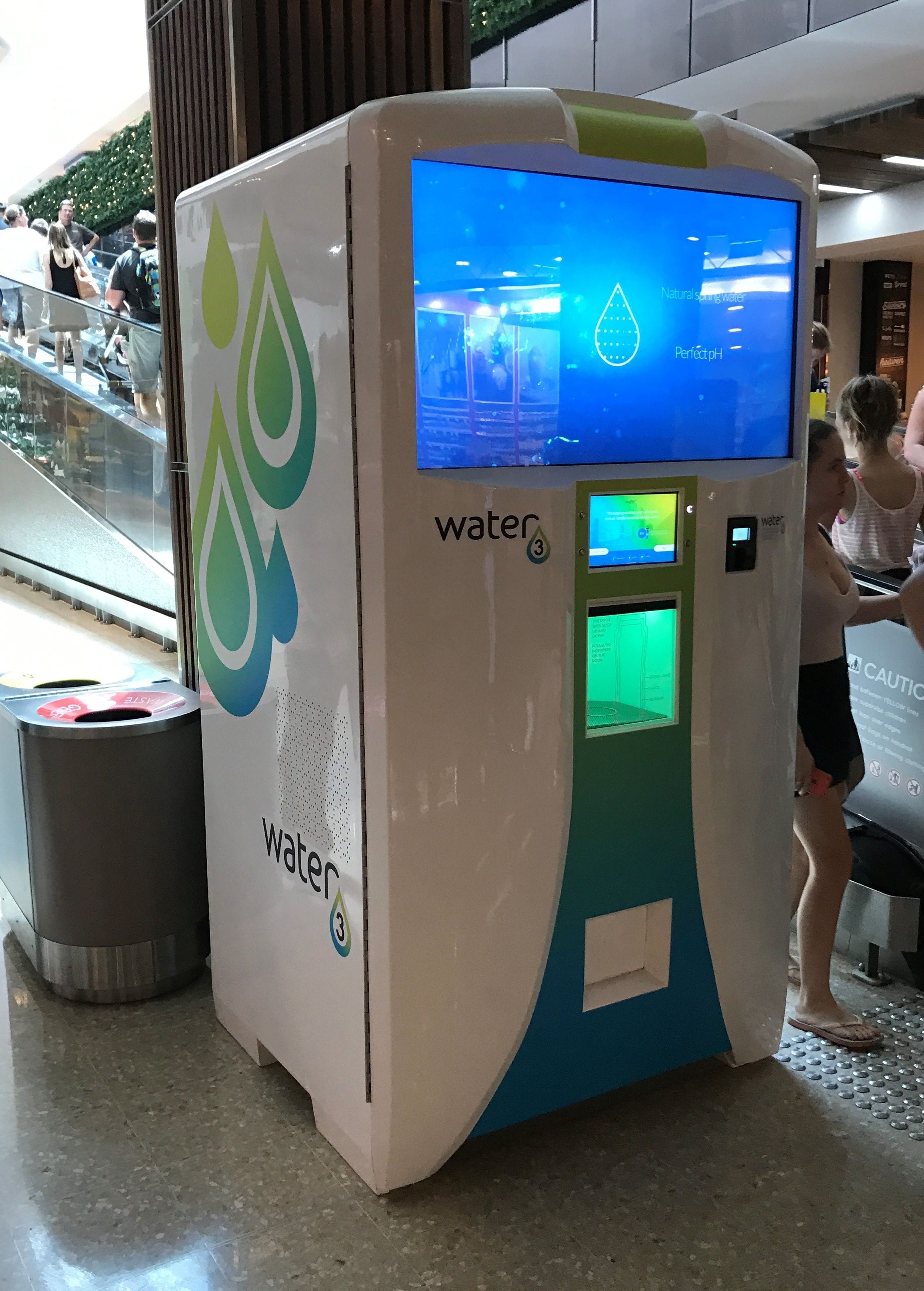 According to figures from the Department of the Environment, Water, Heritage and the Arts, Australians buy more than 118,000 tonnes of plastic water bottles each year - equating to $600 million annually.
About 30 per cent of single-use plastic bottles end up in the ocean, with recent statistics showing that the amount of plastic will outweigh the amount of fish by 2050.
"The vast majority of people are oblivious to the damage," Stone says.
"They see it as someone else's job. If you see a piece of rubbish in your backyard at home, you'd pick it up. So why aren't we doing that at the beach?
"If you see what plastic does to turtles and how it starves them to death over three to four months, it's heartbreaking and you never want to buy a plastic bottle again.
"While I don't think we are the complete 100 per cent answer to destroying the plastic bottled water market, I think we're a massive step in the right direction.
"We're only just starting. We want to be one of the biggest social enterprises in the world."
Get our daily business news
Sign up to our free email news updates.
Help us deliver quality journalism to you.
As a free and independent news site providing daily updates
during a period of unprecedented challenges for businesses everywhere
we call on your support