With Stage 4 restrictions coming into effect from 11:59pm tomorrow major retailers like Wesfarmers and JB Hi-Fi are making big changes to their operations.
Meanwhile, producers and manufacturers in the city are bracing for the impacts of reduced workforces.
Wesfarmers (ASX: WES), the operator of Bunnings, Kmart, Target and Officeworks will continue its online operations through home delivery and contactless click and collect options.
This should soften the blow resulting from the slow-down of Wesfarmers' Melbourne retail network which delivered 17 per cent of total retail sales from stores in FY20.
But the changes will inevitably result in the standing down of some of Wesfarmers' 30,000-strong Victorian workforce, with the company to support those affected with paid pandemic leave.
Bunnings will remain open for trade customers but will be closed for in-store retail customers.
Kmart and Target stores in Melbourne will be unable to service customers in-store but Officeworks will continue to service business customers because it is a specialist supplier of stationary and printing services. Ultimately Officeworks will be closed for in-store retail customers.
The company says those stood down will receive a support payment equivalent to two weeks of normal rostered hours.
---
Read more: Sweeping changes for Victorian retail and construction, more cash grants on offer
---
Following this two-week period the company will provide permanent team members with access to existing accrued leave entitlements.
Further, Wesfarmers will provide paid pandemic leave to eligible permanent and casual team members who may be required to self-isolate pending COVID-19 test results.
"Our businesses are well equipped to further adapt their operations to continue safely support customers and suppliers through these restrictions, with a focus on supporting business, trades and home delivery as well as contactless click and collect in many of our Melbourne metropolitan stores," says Wesfarmers managing director Rob Scott.
The company's industrial businesses, including Blackwoods, Workwear Group, Coregas, Australian Vinyls and Modwood, will continue to operate in Victoria in accordance with COVID safe guidelines.
BIG W goes contactless as Woolworths assesses meat production slow-down
Woolworths Group (ASX: WOW) has confirmed that all 22 BIG W stores in metropolitan Melbourne will close for six weeks and move to contactless in-store pick up services while it continues to engage with the meat industry to ensure ongoing supply.
Of the 22 impacted BIG W stores 15 will move to a click and collect model with the option for drive up collection, while the remaining seven will be in-store pick up only.
The nine BIG W stores in regional Victoria will remain open for customers under Stage 3 restrictions.
Woolworths also operates 80 venues in Victoria, of which 50 had partially reopened before Stage 3 restrictions in Melbourne but were closed again on 8 July. The three venues the company operates in regional Victoria will close on Wednesday 5 August.
Because of new restrictions imposed on the meat industry that will be effective Friday night this week Woolworths has been engaging with the government and suppliers to mnimise any disruption to the supply of meat and other products.
"These are challenging times in Victoria and I can only imagine the stress and anxiety being felt by the entire community," says Woolworths CEO Brad Banducci.
"We are focused on doing everything we can to minimise the impact on our team members, including temporary opportunities to support other businesses in the Woolworths Group where possible.
Under Stage 4 restrictions supermarkets and grocery stores including Woolworths are permitted to remain open as usual to customers.
JB Hi-Fi closes stores, Baby Bunting open for parents
46 JB Hi-Fi (ASX: JBH) stores and 21 The Good Guys stores will be temporarily closed to customers for six weeks in line with Stage 4 restrictions in Melbourne.
The company says its online and commercial operations will continue to trade and be available via home delivery services and contactless click and collect.
These services will be supported by operational warehouses and its store network, with strict safety measures in place, to fulfil online and commercial orders.
As a retailer of maternity supplies, with 12 stores in Melbourne, Baby Bunting (ASX: BBN) has been given the green light to remain open for business.
In addition, its distribution and online operations based at Dandenong South will continue to operate with minor adjustments in line with Stage 4 rules.
"With over 9,000 new babies due in Victoria during the lockdown period, new and expectant parents face many critical and specialised needs and our Melbourne stores remain open to provide the essential products and services for them," says Baby Bunting CEO and managing director Matt Spencer.
"We encourage all of our customers to think about how they shop and to limit their movements. Customers can shop online or use our contactless click and collect service.
"We will adapt to new measures that are introduced as we focus on ensuring that parents of new and young children can get the essential products they need."
Ingham's reduces workforce, Blackmores staff work from home in VIC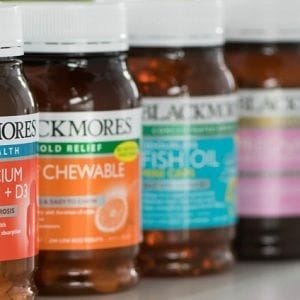 Poultry producer Ingham's (ASX: ING) will reduce its workforce by 33 per cent at its Somerville and Thomastown meat processing facilities in line with new Stage 4 restrictions on meat processing plants.
These restrictions do not apply to other assets and facilities in its Victorian supply chain such as its hatcheries, farms, feed mills, or logistics operations.
"Whilst we await the formal Victorian government directive to provide further certainty on the detail of the restrictions, Ingham's management are working through the implications for the reduced workforce at both our Victorian processing sites, and looking to minimise the impact of the restrictions through use of other processing sites in the Ingham's network and inventory that we have on hand," says Ingham's.
Meanwhile, vitamin manufacturer Blackmores (ASX: BKL) will emerge relatively unscathed as its packing, warehousing and distribution facilities are located in Sydney.
Because Blackmores' manufacturing facility at Braeside produces pharmaceutical products it will continue to operate.
All Blackmores employees in Victoria that can work from home will continue to do so.
Reliance Worldwide assessing Stage 4 impact
Provider of water control systems and plumbing solutions Reliance Worldwide (ASX: RWC) says it is still assessing the impact of Stage 4 restrictions but appears optimistic about its prospects.
The company manufactures products at four plants in Melbourne, but because it maintains sufficient inventory levels the company anticipates this will sustain it going forward and does not expect any supply disruptions.
Further, Reliance says the new restrictions will not have any short term impact on sales in North America.
Updated at 11:24am AEST on 4 August 2020. Updated again at 4:54pm AEST on 4 August 2020.
Get our daily business news
Sign up to our free email news updates.