THE GROWTH of 'social media supermums' has helped birth a new type of fitness program on the Gold Coast.
Asha Burnley Health and Fitness has teamed up with obstetrician and gynaecologist Drew Moffrey to launch a variety of pre- and post-natal training programs for new mums and mums-to-be.
Personal trainer Asha Burnley, who was once an elite athlete training with the Australian Institute of Sport, says she recognised a gap in the market for this kind of service and considered it too dangerous to not fill.
"Dr Drew and I have scanned the market extensively and aren't aware of any other local fitness programs that are medically backed," says Burnley.
"The only thing that has popped up is pregnancy yoga and Pilates, and indirect advertising like boot camps that are meant to be safe for pregnant women.
"That concerned us because these boot camps don't have medical accreditation and you can so easily overheat when you're running around and risk falling or bumping into someone else.
"This is the safest way for active Gold Coast pregnant women to do cardio and weight training."
Burnley says the program was an instant success. It launched less than a month ago and she is already considering adding another weekly class to its schedule.
She says pregnant celebrities popping up on social media looking fitter than your average person could be contributing to interest, tied in with women becoming more in tune in general with their bodies when pregnant.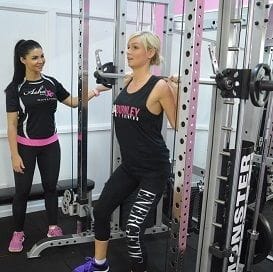 The program is a seemingly natural progression of Burnley's business model, which targets 15 to 65 year old women.
Burnley's clients would fall pregnant and she would recommend them to seek training specific to their pregnancy, until one day she realised she was selling herself short.
"Dr Drew approached me and expressed his concern that a service like this didn't exist, and he couldn't properly recommend a suitable exercise program to many of his patients," says Burnley.
"Developing our program took a number of months but it seemed like a no-brainer to me.
"I had to do my studies and make sure my insurances were ok, then develop a pre-exercise questionnaire specific to pregnant clients, followed by drafting up different program recommendations, all of which Dr Drew made necessary amendments to at the end of the process.
"His passion is through the roof with this."
Burnley says her Broadbeach personal training studio's environment gives the program another edge.
Moffrey has certified the equipment's safety with Burnley in command, and Burnley is consistently working to deliver a female-preferred fitness experience.
Burnley refers to her clients as 'Asha's Angels' and the studio features special touches like 'stairs of inspiration', inspirational quotes and pink weights.
Pictured L-R: Asha Burnley with client Stacey Paige
Get our daily business news
Sign up to our free email news updates.