The promise of blockchain has so far gone unfulfilled. Though it is still early days, the world-changing, transformative potential of blockchain tech is still simmering under the surface.
However, as developers and entrepreneurs begin to grapple with the technology and understand its potential new businesses are beginning to emerge and challenge the status quo.
One such startup, BlockGrain, is taking full advantage of the many advantages of blockchain (transparent, public, and airtight chronological records) to disrupt the existing agricultural logistics chain in Australia.
Founded by Caile Ditterich (chief executive officer) (pictured), and backed by high profile tech-preneurs like Professor Baden U'Ren (chief finance officer of BlockGrain and Assistant Professor of Entrepreneurship at Bond University), and Jamie Skella (director of MiVote), BlockGrain has been gradually ramping up towards its inevitable initial coin offering (ICO) over the past few months.
The Burleigh Heads based company, BlockGrain, is an agricultural logistics and technology startup that is hoping to revolutionise the global food supply chain.
Users of the platform can use BlockGrain to track produce using a fully automated system, discover who has been involved with the product along the supply chain ensuring each product has a verified proof of origin attached to it, and protect consumers from faulty or dangerous goods.
For example, the recent scandal that rocked the rockmelon industry could have potentially been completely avoided using BlockGrain's platform. Instead of the entire nation's rockmelon supply needing to be disposed of due to the contamination of one specific batch, supermarkets, grocers, and consumers would know exactly which farm the contaminated melons were originating from and would be able to eat the produce from trusted farms, thanks to the immutable and verified traceability the blockchain provides to BlockGrain.
In addition to protecting consumers, Ditterich hopes BlockGrain will be able to give farmers something very powerful brand provenance. Until now, the place of origin of grains, vegetables and meat has been relatively unimportant. With BlockGrain's ability to display proof of origin farmers will be able to demonstrate the consistent quality of their produce, and farms will be able to develop their own brand that consumers will learn to trust.
Having already conducted a pre-sale of tokens in which BlockGrain raised $3.5 million from more than 1000 individuals, the company has launched its public ICO where it is accepting Bitcoin and XEM.
Business News Australia spoke to Caile Ditterich about his journey to getting involved in blockchain technology, the challenges of launching a blockchain product, and the future of BlockGrain.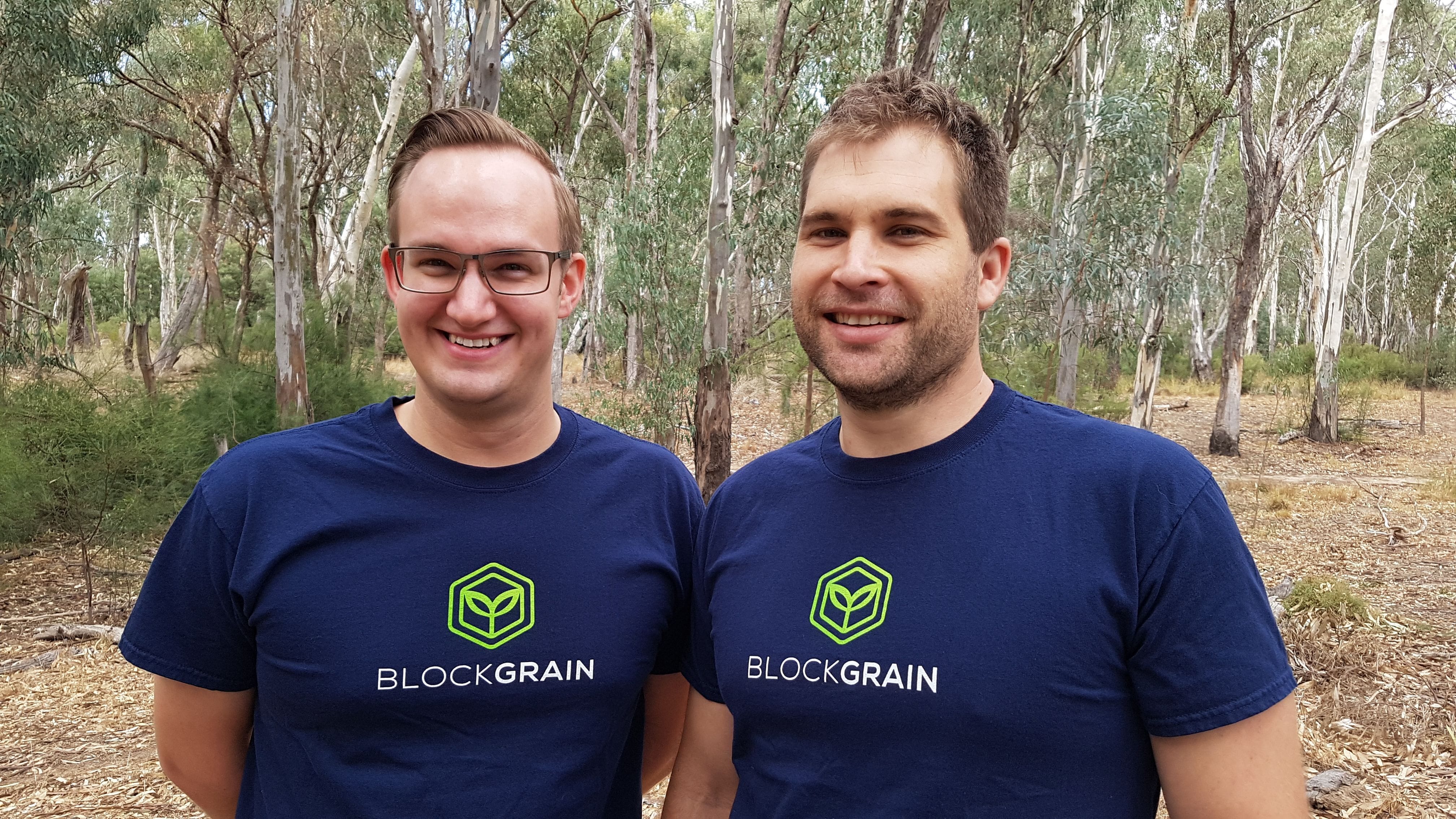 L-R: Sam Webb (chief operations officer) & Caile Ditterich (chief executive officer)
How did you first get into blockchain?
We got into blockchain because we knew that it would help the business that we were growing. We started out developing our concept and trying to work out how we could ensure that contracts get paid and how can we ensure that traceable products are accurate. We had this business and we started learning about blockchain and that's when it really started to make sense because we had a real world use case for this blockchain technology so we started delving into that and grew our business.
Did you come up with the concept of BlockGrain before you decided to put it on blockchain?
We've been trialling for a while, but the most important thing is a business must be a business irrespective of blockchain - you cannot have an idea and put blockchain and think it's going to work, you have to have a particular reason. So we were lucky enough where we had a business, we had an idea, we were deciding and all of a sudden we started learning about this technology that solved the problem we had.
What are some of the major obstacles you've faced in starting up a blockchain company?
Working in the blockchain area, it's still very young and very raw. There are a lot of people who claim to be an advisor, there are a lot of people who claim to be an expert, there are a lot of people who basically cant market their services and one of the things we used to navigate our way from the people who believe they can offer something to people who can actually offer something. There are a lot of sharks out there and you have to be very careful with who you align yourself with and who you're doing business with.
What's the main game changing aspect of BlockGrain?
Our mission is to deliver value back to farmers. We basically are the only system that offers true paddock to plate traceability.
Do you find consumer education around the business and its goals to be difficult?
Yes it is very difficult. Ultimately when people explain it to others it's harder to translate and people get worried about it, people get a bit afraid of new things and all of a sudden it becomes a too hard basket. But it's a rather simple concept - it just removes the need for an intermediary. It then becomes immutable and it's a record for everyone to see.
What's in the future post-ICO?
So we are launching our first commercial product in august, we then look to expand from there into wool and fruit and vegetables and then potentially livestock.
So you are hoping to take it overseas by next year?
Probably I would say towards the end of next year we'll have some customer trials for sure. We're looking at North and South America and Europe. It's so scalable. We've probably modelled ourselves off the ethics of Powerledger and Horizon State and basically a lot of our thinking is around what they've done. Without them there probably wouldn't be an Australian industry.
What would be your top tip to young entrepreneurs wanting to start a successful business?
My top tip would be don't watch too many movies about entrepreneurship. The only way to start is to start. Don't for a second think that a startup is easier than taking a job, if you're willing to sacrifice and you're willing to sacrifice just about everything you have a chance at making it you can't kid yourself you have to surround yourself with good people and put the hard work in basically. The only way to start is just to start. Don't think about when, there's never a perfect time, just start.
Never miss a news update, subscribe here. Follow us on Facebook, LinkedIn, Instagram and Twitter.
Business News Australia
Get our daily business news
Sign up to our free email news updates.