The Young Entrepreneur Awards will celebrate a milestone occasion as it kick-starts the 2018 Young Entrepreneur Awards, marking a decade of success for what has become one of Australia's most prestigious business accolades.
Officially launched in 2008 in Queensland with a mission to find and recognise young business talent in Australia, the Young Entrepreneur Awards has since gained a strong foothold within the industry.
Nominations are now open nationwide for the 2018 Awards across all 14 categories including Digital Disruptor, Influencer, Startup and the coveted Trailblazer and Young Entrepreneur of the Year titles.
One of the country's best tech entrepreneurs and 'king of the ASX' Bevan Slattery took out the top gong at the very first Brisbane Young Entrepreneur of the Year award in 2009 after he founded and publicly listed Pipe Networks alongside serial entrepreneur Steve Baxter.
The pair grew PIPE Networks into an internet exchange and telecommunications powerhouse before selling it to TPG Telecom in 2010 for $430 million. Slattery has since gone on to found prominent ASX-listed companies NextDC, Superloop, Megaport, and Asia Pacific Data Centre.
People who have followed in Slattery's footsteps as winners of Young Entrepreneur of the Year award include Amazonia founder Dwayne Martens, Grace Loves Lace founder Megan Ziems, Fonebox founder Jordan Grives and Good Price Pharmacy Group founders Anthony Yap and Hahn Lu.
Tammy Hembrow, social media megastar, took out the first ever Influencer award in 2017 after launching her businesses Tammy Hembrow Fitness and Saski Collection on Instagram. The newly added Influencer category reflects the emerging entrepreneurs who are reinventing retail on social media and transforming old industries.
Nominations close 31 July 2018
Steve Scanlan (pictured), founder of Recon Solutions and Recon Technology, took out the title of Brisbane Young Entrepreneur of the Year in 2017, an accolade that has led to Shark Tank's Dr Glen Richards becoming his mentor and buying 50 per cent of his business.
"I've been involved in awards for the past three years now so I've seen it grow and the calibre of the entrants and participants gets better every year," says Scanlan.
"It's getting tougher and tougher to win these awards. I'm very lucky that I got it when I did because it just seems like the talent that's coming through is exceptional."
---
"I've had a very good experience, everyone there's been wonderful and funnily enough I sold 50 per cent of my business to Glen Richards who I won my mentorship with through the Young Entrepreneur process."
---
As a long-time supporter of the Young Entrepreneur Awards, and a judge of the awards itself, Dr Glen Richards knows firsthand the quality of the nominations that the initiative receives every year.
"This initiative gives nominees an exceptional chance to be seen by potential investors and potential customers," says Richards.
"So far my own involvement outside the awards has been as the chairman of People Infrastructure, which earlier this year acquired 50 per cent of Recon Solutions, a company founded by Brisbane Young Entrepreneur of the Year winner Steve Scanlan. I'm also a major investor in OZTrail, a company headed by former Young Entrepreneur Trailblazer Vanessa Gerrard."
"This year Steve Baxter, Andrew Banks and I came onboard as investors in ISR Training, when founders and Young Entrepreneur award winners Jack Corbett and Ryan Tuckwood pitched on Shark Tank."
"I am excited to see who else the Young Entrepreneur Awards will uncover this year."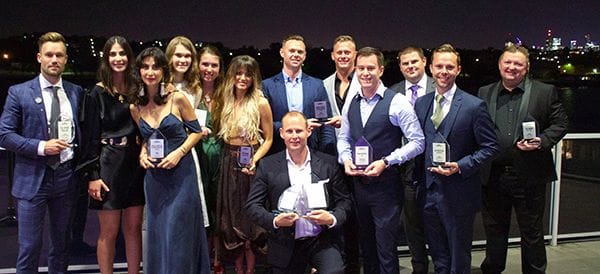 Brisbane Young Entrepreneur award winners 2017
Founder of the Young Entrepreneur Awards Camilla Jansen says the Awards' ongoing success year-on-year is its ability to find and reveal the industry's top players and create an environment where entrepreneurship can thrive.
"We have been able to give our entrepreneurs a leg up with publicity, recognition and a series of master classes to learn from the likes of River City Labs founder Steve Baxter and Greencross founder Dr Glen Richards, who are both well-known 'sharks' on Shark Tank."
"Not only do the awards culminate in a fantastic celebration, the initiative provides a little black book of the most important contacts in the city, as each of our finalists and nominees are also considered for inclusion in the exclusive Top 40 under 40 lists."
"For those who win the coveted titles, they will become part of an influential cohort of peers who will have opportunities and access to some of biggest stakeholders in each city, including local government and business leaders."
"This year we have already received more than 100 nomination submissions from young business leaders, and that number continues to climb."
To be part of this year's awards, all nominees must have founded their own business with, the company's head office based in Australia.
Finalists will be announced ahead of the 2018 Business News Australia Young Entrepreneur Award ceremonies, which commence next month, with Melbourne and Sydney events held in August, the Brisbane event in September and the Gold Coast awards in October.
Concluding this year's gala events will be the National Young Entrepreneur Awards, held late October this year.
There's still time to nominate; head here for more information.
Never miss a news update, subscribe here. Follow us on Facebook, LinkedIn, Instagram and Twitter.
Business News Australia
Get our daily business news
Sign up to our free email news updates.