A pre-seed investment in Geelong-based startup Zena Sport by Breakthrough Victoria has highlighted a growing awareness of the need for specialist protective gear catering to women playing contact sports.
While the early investment is a modest $148,000, Zena Sport co-founder and CEO Donna Johnson says it represents a 'confidence and belief' by capital markets in Zena Sport's core protective vest product and the company's potential to scale globally.
"We are incredibly grateful to Breakthrough Victoria, Carbine, the Smorgon Family and Euphemia for not only their investment in Zena Sport but also their belief in our innovative products and the value they see in supporting women and girls in sport," Johnson says.
"It's a great endorsement and this investment gives us the opportunity to scale and grow our brand globally."
Zena Sport has developed what the company describes as the most advanced breast and rib impact protection vests for female athletes playing contact sports such as AFL, rugby, basketball and soccer.
The Zena Z1 Impact Vest has undergone four years of research and development at Deakin University and claims to diminish the risk of injury by reducing the impact on a player by up to 75 per cent.
The Zena vest incorporates a patented injected moulding for the padding that makes it lightweight and non-restrictive. The polyurethane foam is heat sealed onto the fabric to create a seamless barrier between breast tissue and ribs and impact points such as the ball, elbows or the ground.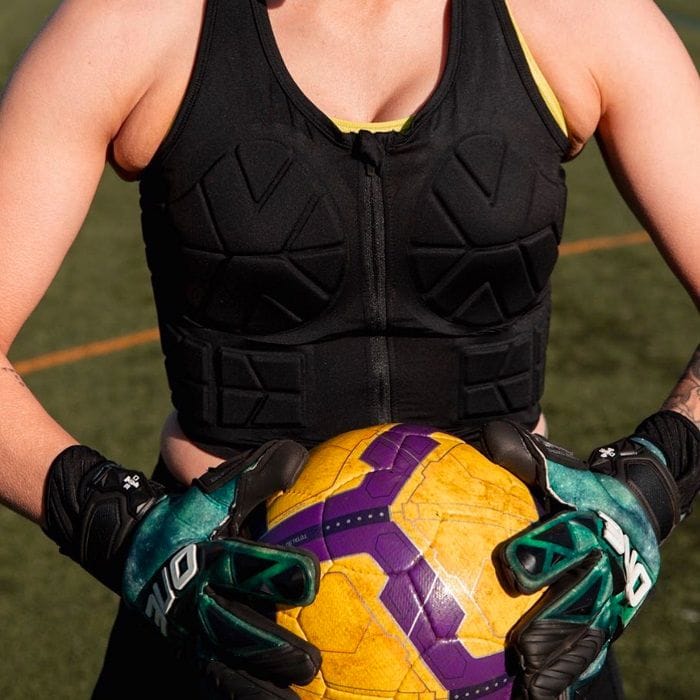 Zena Sport, which was founded by Johnson and her husband Brad in 2018, is already being used by players in various codes including the AFLW, Women's Rugby League and Women's Cricket.
Brad Johnson, a former Western Bulldogs captain and considered one of the best forwards in the game, has 25 years' experience in the AFL, including his fair share of injuries.
The company says that despite research showing almost 60 per cent of female athletes have experienced a breast injury, some 90 per cent have never reported these injuries. The research surprisingly says that even many medical professionals have been unaware of the issue.
Zena Sport's aim is to rase awareness of the problems of breast injuries in contact sports through research and education.
"It is important to educate and normalise the conversation around breast injury in women's sport," Donna Johnson says.
"With participation in female sport increasing, it is important that we assist the new generation of females to perform beyond what they thought possible. We will continue to innovate and design products that are female specific."
Among the advocates for the product is Fremantle Dockers AFLW player Ebony Antonio who says she's been wearing the Zena Vest since the beginning of the company's journey.
"I feel a sense of reassurance and protection on the field when wearing the Zena Vest," Antonio says. "Knowing I have something in place to help reduce the impact on my breast and ribs allows me to go into the contest with confidence."
The Breakthrough Victoria investment is a preliminary step by Zena to seek its first external capital raising round, with a vision to take its products to a global market.
"Zena Sport saw a gap in the market and seized the opportunity to develop the world's only scientifically tested chest protection vest for women and girls in contact sports," says Breakthrough Victoria CEO Grant Dooley.
"We believe Zena Sport has great potential for growth. Donna and Brad know their market and are passionate about encouraging more women and girls to play contact sports at their full potential. Their entrepreneurship, innovation and the positive impact of their product are exactly what we look for in our investments."
Get our daily business news
Sign up to our free email news updates.