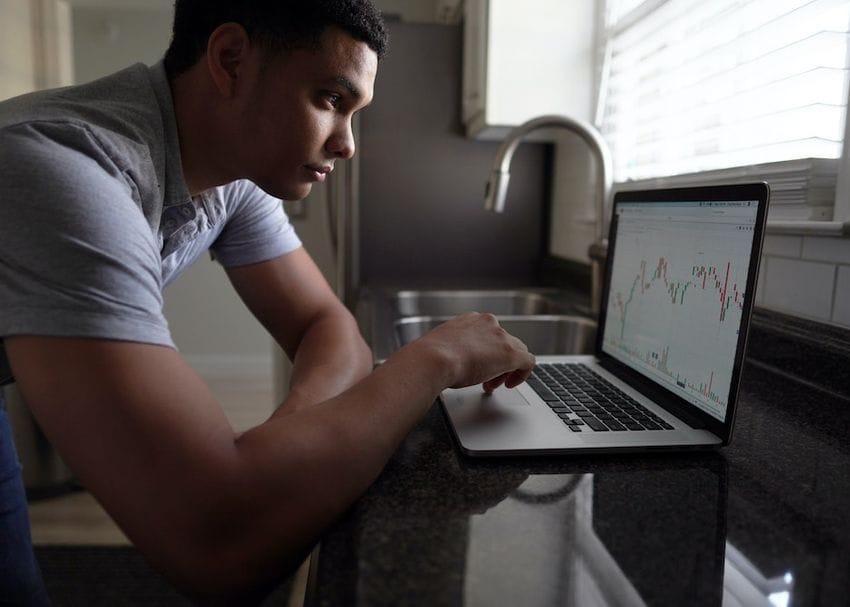 Want to start investing in US stocks with zero commission fee? eToro is your best bet
In recent years there's been a major revolution unfolding in the investment space, with technology empowering people to invest on the stock market - many of whom would have otherwise been ignored by traditional brokerage firms.
At the forefront of this movement is eToro, the world's leading social investment platform that enables its users to buy US stocks without paying a cent in commission.
This game changing feature is making investing in the world's top stocks more affordable than ever before.
---
When eToro launched in Australia back in 2018, its promise to give Aussie investors access to US stocks commission free was a big shake up of how things normally operate here.
Until then, Australians generally had to pay some serious fees to access the exciting US stock market - meaning those without gigantic stacks of cash to throw around were left out in the cold and unable to participate in the massive growth of the world's largest companies.
A few years down the track and eToro's commission free US stock trading feature is still one of the easiest gateways into the North American stock market.
Most traditional brokers still add a dealing charge when you buy or sell shares through them - but eToro doesn't.
This means when you buy or sell a US stock on eToro no additional fee has been charged, giving you complete access to whatever stocks you are interested in.
Furthermore, there's no limit on trading volume and eToro gives users the ability to buy fractional shares - meaning you can spend as little as USD$50 to take a position in a US-listed company.
Better yet the simplicity of the app means you can buy US shares on eToro in just a few clicks.
All you have to do is:
Open an account (registration is free)
Make your first deposit (a minimum of US$200)
Pick a stock from eToro's massive library of options
Click trade and you're done!
As the holder of shares on eToro, you're even still entitled to receiving dividends paid in proportion to the number of stocks you own whenever the company issues dividends!
Why trade US stocks?
Sure, it's pretty easy to buy and sell stocks on the ASX via traditional methods - but the sheer scale of companies in the US makes grabbing a slice of the action over there all the more attractive.
eToro also makes the process of finding the company you're looking for that much easier - and regular notifications and market updates means you'll regularly be informed of market changes.
Account holders gain access to a large variety of global stocks, commission-free, including companies like Apple, Facebook, Microsoft, Tesla, Amazon, Netflix, Disney, Beyond Meat, and more.
This exciting market is a tantalising prospect for many users according to eToro market analyst, Josh Gilbert, who says diversifying your eToro portfolio will reduce some of the risk that comes with trading US stocks.
Josh Gilbert's US market analysis
"So far, in 2021, the trend has changed from 2020. The tech sector, with a significant focus on growth stocks, have sold off. Many big names from 2020, such as Tesla and Nio, have seen their share prices drop by 35% or more.
"With the increase in bond yields early this year, the XLF (Financial Sector SPDR ETF) and the XLE (Energy Select Sector SPDR ETF) have been in focus so far and have performed exceptionally well in Q1, with XLE gaining 41% and the XLF gaining 29% YTD.
"The sectors performing well are what we would call cyclical stocks. Cyclical stocks tend to follow trends in the economy. These stocks sell goods and services that consumers buy when the economy is doing well. We see this happen as the economy upcycles. Accelerating global vaccine rollouts worldwide and the strongest GDP recovery from the US market in over 30 years.
"These stocks are most sensitive to sharp economic recovery and higher bond yields, with many of these stocks trading at cheaper valuations and having been out-of-favour for many years.
"Big tech has stayed resilient despite a tech sell-off, with names such as Apple, Amazon, Facebook and Alphabet all posting gains so far YTD. All four companies reported earnings growth in Q1 2021, showing that Big Tech shouldn't be ignored for your portfolio.
"What we have seen so far YTD puts more emphasis on a diversified portfolio. Investing in sectors such as energy, financials, retail, and travel provides your portfolio with balance. Diversification is a risk management strategy that combines investments in a portfolio. This works because all of these assets react differently to the same economic event. Different investments will provide a higher return.
"Don't forget to add to your investments regularly. Follow the market so you are not caught out with volatility and minimise your investment risk by investing the same amount of money over a period of time. Dollar-Cost Averaging is an excellent example of this.
"It is important to minimise the risk and the uncertainty, so don't put all of your money in only one place, for example, one stock or one sector. If you invest in different assets, you will spread the risk."