CHINA is prime for more than commodities and agribusiness, as a startup sprung from Sunnybank has discovered by tapping into a young female market at least 30 million people-strong.

Metaverse Makeovers has identified a lucrative market for nail polish - but not just any nail polish - a pattern recognition augmented reality product.

The business has engineered hyper-real designs of unicorns and prints that come to life on screens - an 'appcessory' if you will - which a 'self-expressive' market in China is 'going crazy for'.

It sounds like a unicorn business story to date, with Metaverse Makeovers raising more than $750,000 in seed funding from QUT Creative Enterprise Australia's Creative Enterprise Fund and Commercialisation Australia, as well as investors in Melbourne and China.

Co-founder and CEO Thea Baumann, a QUT alumnus, says despite finding a lucrative market, overcoming scepticism is an ongoing challenge.

"It's such a new product and we are experimenting with really nascent augmented reality technology," says Baumann.

"There's scepticism, but I did my market research and found the size of the market is actually 93 million young girls in China who would express themselves through social media and in that, 34 per cent would actually buy and download an app that would help them be more self-expressive through their nails.

"Girls go to nail bars, play apps and take photos of their nails. I needed to take this to the source - Vietnam and China - and commercialise the art experiment."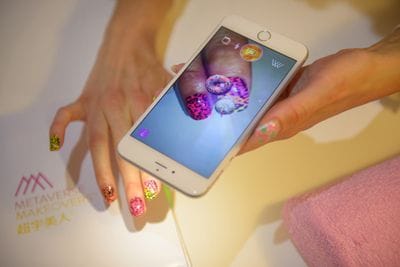 Baumann has split her time between Shanghai, Hong Kong and Melbourne for the past two and a half years, establishing early on that Australia just wasn't a large enough market.

She says, however, Sunnybank provided great impetus for inspiration in Metaverse Makeover's early days.

"Sunnybank is such a multi-culturally diverse suburb with lots of Asian businesses and female-led nail salons," says Baumann.
"Our whole approach is working alongside individual nail salons and being extremely collaborative, forming close relationships with manufacturers - and if we didn't do that in China, we would be dead in the water really.
"The secret technology behind what we are doing is called fashion pattern recognition so if the app doesn't recognise the pattern, there's a high risk the nails won't 'pop' our holograms so to speak.

"We spend extensive amount of time engineering individual patterns so each one we design will pop holograms through our mobile app and then be shareable through social media like WeChat, which has 45 million users in China.

"Every girl who works on the factory line receives one of our apps to individually test that it triggers virtual content. We are now in the process of testing how this technology can be applied across industry - fashion and automotive come to mind to begin with."

Baumann says being a young woman navigating the cut-throat Chinese business landscape can be difficult, on top of having to do everything at super-seed to break through 'The Great Firewall'.

"I sometimes think it doesn't matter where you are, that being a little green and fuelled just by passion can work in your favour," says Baumann.

"I think the Chinese liked my chutzpah from the beginning.

"They also respect that Metaverse Makeovers isn't 'Made in China', we're 'Made with China' - we are incredibly collaborative with local artists and manufacturers and that makes a huge difference."

Help us deliver quality journalism to you.
As a free and independent news site providing daily updates
during a period of unprecedented challenges for businesses everywhere
we call on your support