Thanks to the proliferation of seamless advertising platforms offered by Google and Facebook, cunning scammers have dug their claws into Australia's biggest content publishers.
The Australian Competition and Consumer Commission (ACCC) warns of the abundance of new scams which appear as 'legitimate' advertisements on platforms like the SBS, The Daily Telegraph, The Australian and The Sydney Morning Herald.
The scams often include fictitious quotes and out-of-context images of Australian celebrities and business personalities spruiking investment opportunities and skincare creams.
Network Ten's Shark Tank judges are among those who have been caught in the web of scams, including fake endorsements from Steve Baxter which have been circulating to promote bogus golden investment schemes and Bitcoin opportunities.
This morning, the ACCC revealed its Scamwatch website has received almost 200 reports in 2018 and losses totalling more than $142,000 as a result of fake ad scams.
People aged 45 and older accounted for 63 per cent of losses to these scams, with women more likely than men to be a victim.


An example of the scam on the website of The Sydney Morning Herald
ACCC deputy chair Delia Rickard says the sheer amount of these scams is concerning, given their appearance on otherwise reputable websites and social media platforms.
"The growth in these scams is very concerning, particularly as over half of the reports we received included a financial loss," says Rickard.
"Most people lost between $100 and $500 and in one case, a victim lost more than $50,000 through fake celebrity endorsement of an investment scheme."
Though the ACCC says people need to be very careful and sceptical of what they see on social media and online they have also called upon the advertising behemoths of Google and Facebook to eliminate scammers.
"Most of the reports to Scamwatch involve these scam advertisements running on Google ad banners or as ads in Facebook news feeds," says Rickard.
"These tech giants must do more to quickly suspend ads, as every time consumers click on a scam ad, they are at risk of losing money."
"If you are caught up in one of these scams, call your bank immediately to try and arrange a chargeback and to stop any further debits to your credit card."
Both Google and Facebook have taken action in the past against malicious third-party advertisers. In August 2018, Google shut off its service to third-party technical service providers following a variety of misleading ads and experiences. Facebook also shut down its Partner Categories service in the wake of the Cambridge Analytica scandal back in March 2018.
While responsibility does lie with the end user, as well as the tech-giants, the mass proliferation of these scams raises questions about the reliability of third-party advertising and whether platforms using these simple revenue raising techniques have the best interests of readers in mind.
The ACCC's media guidelines note that publishers and advertisers must take "particular care" in relation to what is published online, in print, and on the radio.
"Advertising and media operators, newspapers, television, radio and online must take particular care in relation to the products and services they advertise for their clients. They should know their clients' business and be aware of the requirements under the ACL to minimise the risk of breaching the law," says the ACCC.
"If media operators are only the vehicle for someone else's misleading message, they may not be liable for breaches of the ACL. But if a media outlet actually adopts or endorses the misleading message, it may also be held responsible."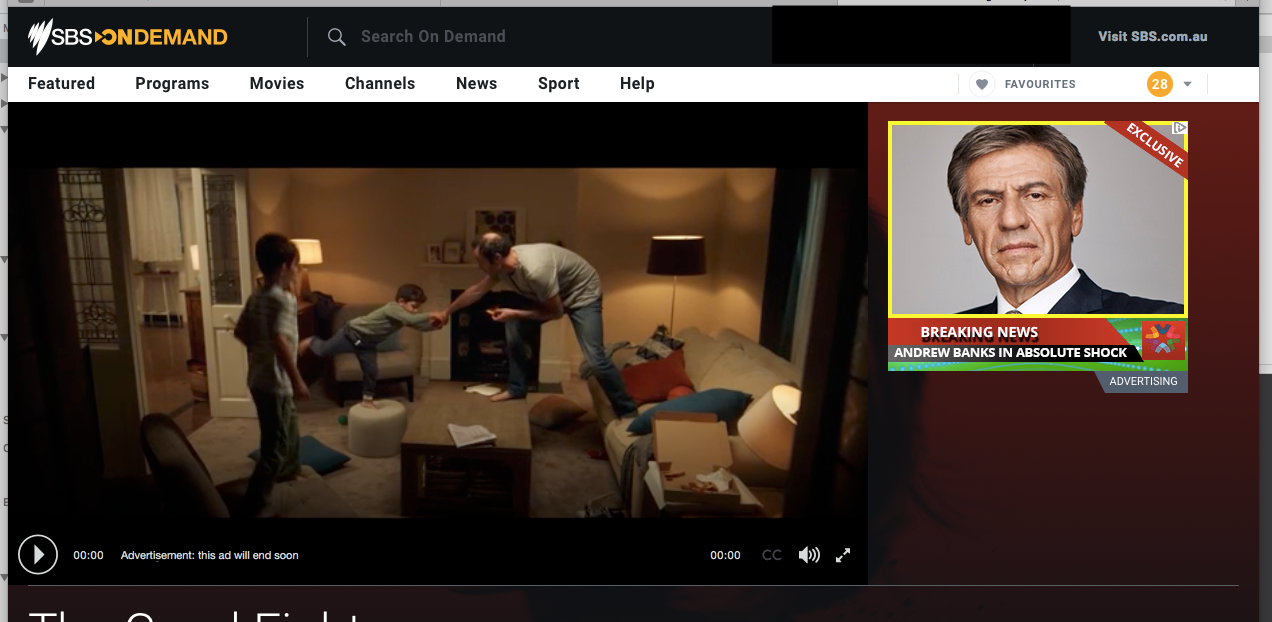 An example of the scam featuring Andrew Banks on the SBS On Demand streaming site
THE SCAM
According to the ACCC, the scam works by consumers signing up for a 'free trial' for a product. As part of this process, they have to provide their credit card details. The 'free trial' however, has strict terms and conditions such as having to return the product within a near impossible timeframe and an automatically renewing subscription that is difficult to cancel. These terms are often only visible on the document that arrives with the product.
Rickard says the groups behind these elaborate scams are "sophisticated".
"The groups behind these celebrity endorsement scams are organised and sophisticated fraudsters who are often involved in other scams. It's easy for them to create fake ads and websites to give credibility to their con, so people need to be very careful and sceptical about ads they read on social media and websites," says Rickard.
"It is vital to research and read independent reviews of the company. Consumers should verify celebrity endorsement of products from the celebrity's official website or social media account."
Shark Tank judge Steve Baxter was outraged after he appeared in a Bitcoin scam on entertainment site The World of Fame. Prior to calling this particular scam out on Twitter he had labelled scammers using his and his Shark Tank colleagues' likeness "one evolutionary stage below pond scum".
SCAM ALERT.
None of us invested nor endorse. Thanks to those sending it to us. Please retweet as much as you can if possible. The people running the scam are lower than snakes bums.@sharktankau@channelten@NaomiSimson@Janineboost@DrGlenRichardshttps://t.co/U7UsME5s4gpic.twitter.com/g5hgMoWepc

Steve Baxter (@sbxr) March 12, 2018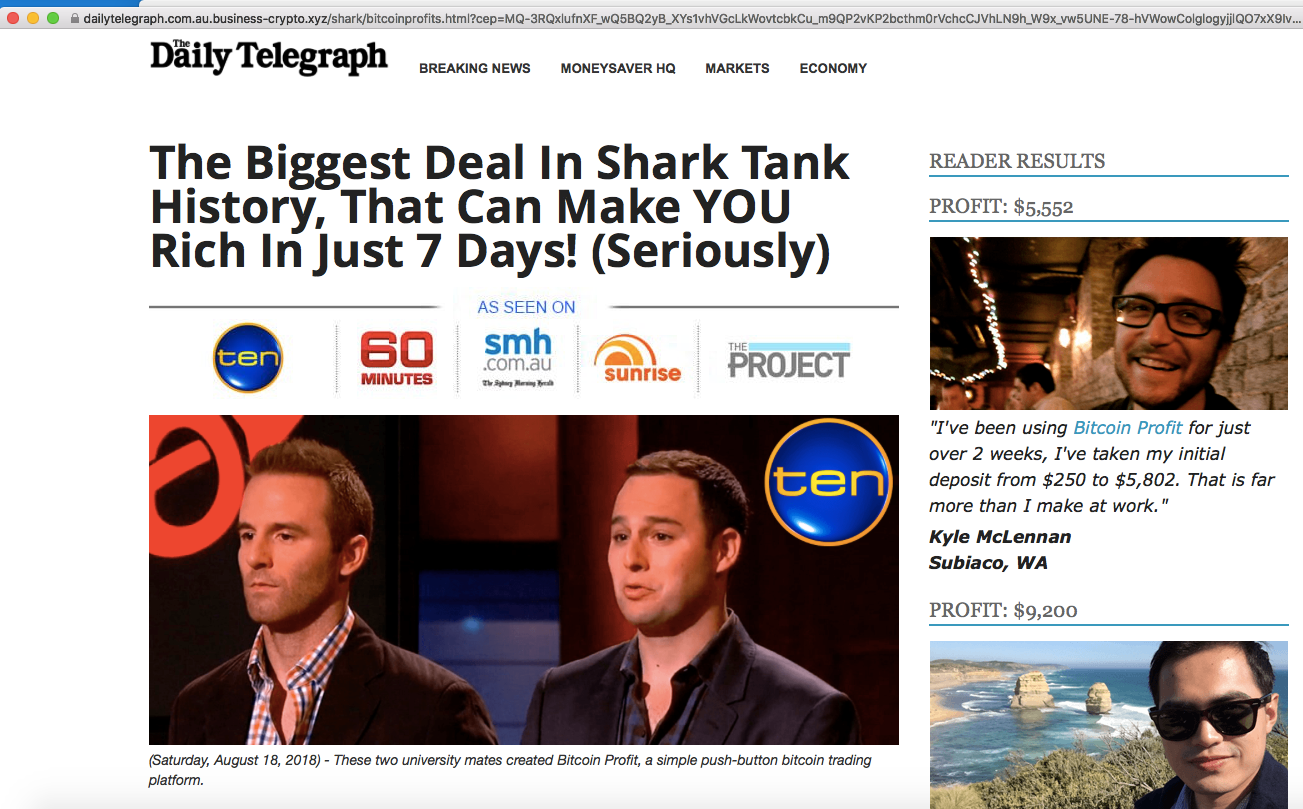 An example of the scam on the website of The Daily Telegraph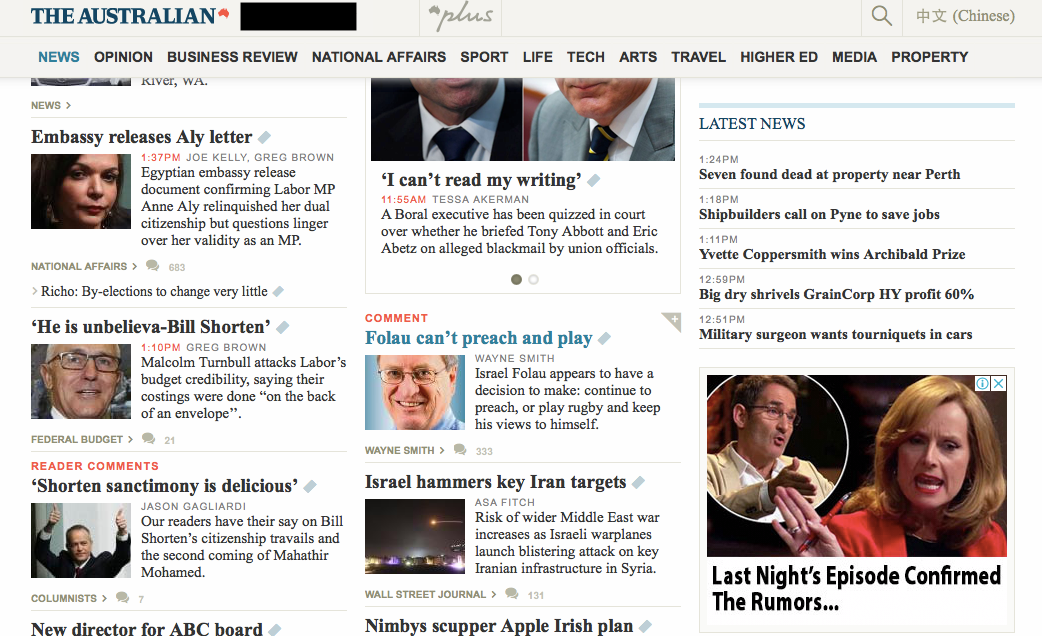 An example of the scam on the website of The Australian
Below is a list of celebrities who have been used in celebrity endorsement scams based on reports to Scamwatch from members of the public:
Cate Blanchett

Deborah Knight (Nine News Sydney presenter)

Delta Goodrem

Dr David Sinclair (Head of Ageing Lab UNSW)

Dr Oz

Emma Thompson

Georgie Gardner (Today Show)

Jessica Rowe (Studio 10)

Kyle Sandilands

Lisa Wilkinson (Today Show)

Mark Shuttleworth (BBC/CNN)

Meghan Markle

Mikhail Varshavski (Dr Mike US Celebrity)

Nicole Kidman

Oprah

Sally Field (American actress)

Sonia Kruger (The Voice, Today Extra)

Steve Baxter (Shark Tank)
Read More: As the web turns 30 its creator warns of a bleak future
Get our daily business news
Sign up to our free email news updates.