IN DECEMBER last year a startup called Gavl entered the market with a new digital service in property auction live streaming.
The app, which facilitates real time auction streaming from anywhere in the world, has now received an initial $1.8 million series A capital injection from Harris Capital, the investment office of Flight Centre co-founder Geoff Harris.
Gavl was founded by former AFL player Joel Smith with partners Leith Donaldson and Michael Artup and has already done business with 200 Aussie real estate agencies to broadcast 3,500 auctions, reaching 2.5 million views across 44 different countries.
Smith expects the series A funding round will be completed by the end of the year and says the company is looking to raise a total of $6 million to boost its capabilities.
"We are currently piloting technology that allows a consumer to not only watch, but bid and ultimately buy at auction, and complete the transaction without having to bE physically on site," says Smith.
"This funding will help us close the loop of buyers being able to participate in auctions via the live stream."
Agencies currently using the platform to stream auctions include Ray White, McGrath, Harcourts and LJ Hooker.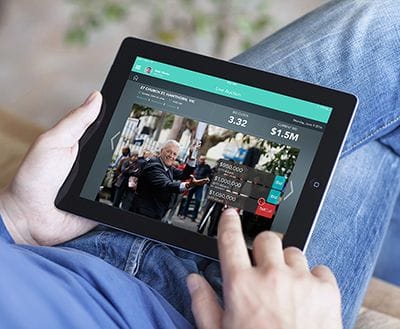 It is believed that Gavl's patent-pending technology is the first to market with its service that only has a short one second latency.
"We spent 15 months developing the technology," says Smith.
"When we tested Facebook Live for auction live streaming, we were measuring a 5-20 second latency.
"In an auction environment, this delay could be the difference between a property selling for $950,000 and $1.1 million."
Investor Geoff Harris, former Vice-President of the Hawthorn Football Club where Smith played until 2007, founded Harris Capital which his son Brad now directs.
In addition to the $1.8 million series A capital that the company is now contributing, Harris Capital also invested $2.5 million into Gavl in June last year when the product was still in its research and development (R&D) phase.
Brad Harris says the company is excited to expand its partnership with Gavl.
"In the startup area, we see a lot of pitches, but very few truly have a world-first technology, with significant barriers to entry and huge market size to capitalise on," says Harris.
"Given this, we are not surprised that Gavl is experiencing exponential growth in its first full year of commercial operation."
The next R&D period for Gavl will include digital contract signing, deposit transfer capabilities, 360 camera and artificial intelligence integration.
Never miss a news update, subscribe here. Follow us on Facebook, LinkedIn, Instagram and Twitter.
Business News Australia
Get our daily business news
Sign up to our free email news updates.