Losing international student revenue could result in Australian universities posting a $19 billion cumulative loss from 2020 to 2023.
According to the latest research from think tank Mitchell Institute the impact from Australia's borders being closed on the higher education industry could be a loss in the range of $10 billion to $19 billion.
The report, Australian Investment in Education: Higher Education, advocates for a change to current policy setting to increase capacity across the tertiary sector to encourage domestic student enrolments.
Pre-Covid-19 investment in higher education had increased by 43.6 per cent between 2008 and 2018, driven largely by the increase in international student revenue.
Despite increases over the past decade, funding for domestic students has plateaued and participation rates for domestic students in higher education are decreasing for the first time in over 10 years according to the Mitchell Institute.
"Between 2008 and 2018, international student numbers increased by 57.9 per cent while international student revenue increased in real terms by 137 per cent," says the Mitchell Institute.
"This suggests that higher education providers were able to enrol more international students and charge them higher fees.
"Increases in revenue associated with domestic students are closely aligned to participation. Between 2008 and 2018 there was an increase of 37.5 per cent in full time equivalent domestic students, and an increase in revenue of 43.2 per cent for the same cohort."
Despite this trend the Mitchell Institute says universities are not reporting larger surpluses than previously reported, and in fact surpluses are trending downwards.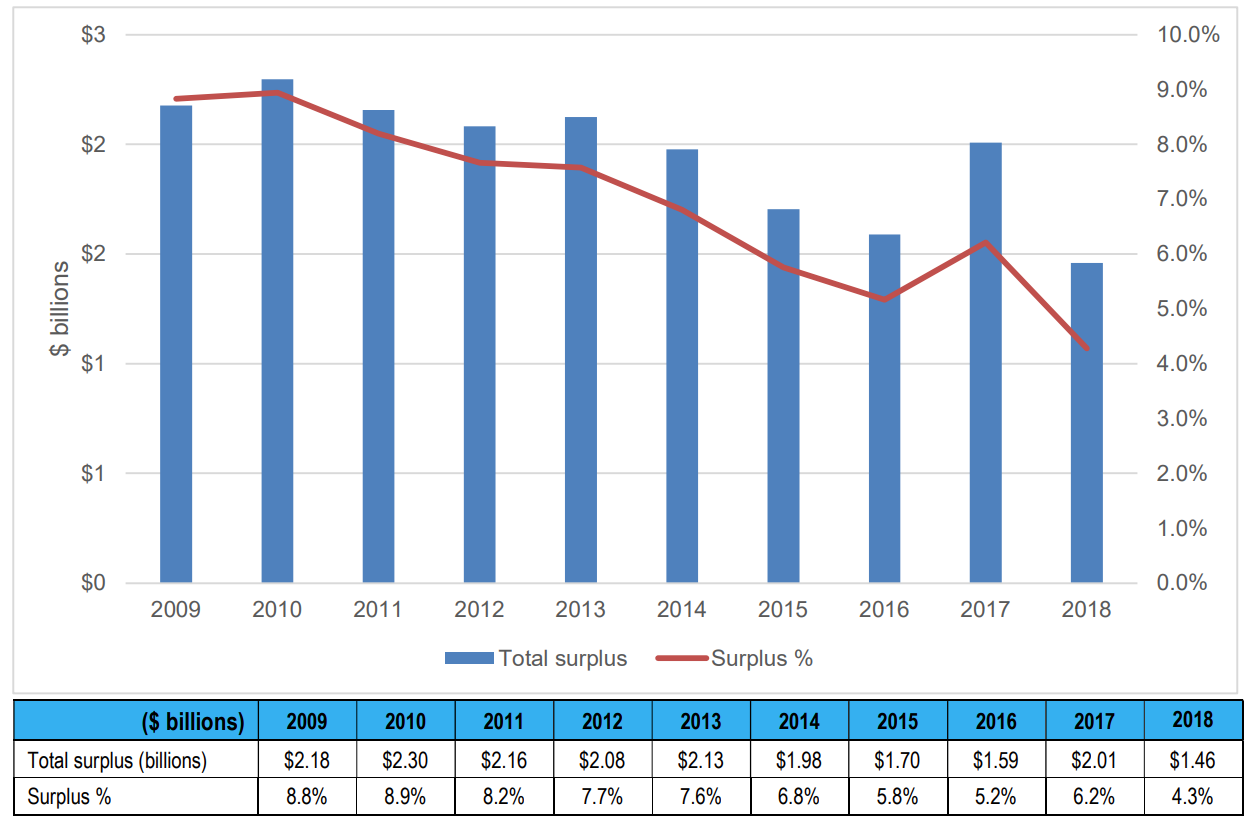 Total university sector surplus (2018 dollars) (via Mitchell Institute)
Growth in revenue has been uneven. "Mid-ranked" universities have benefited most from demand driven funding whereas Go8 universities have benefited most from the increase in international student revenue.
"Smaller universities have not grown at the same rate as larger universities," says the Mitchell Institute.
"The reasons for this have little to do with quality as many of these universities score highly on quality indicators."
Updated 11:41am AEST on 17 April 2020.
Get our daily business news
Sign up to our free email news updates.