INBOUND Asian tourism is expanding rapidly but while the Gold Coast is well placed to capture a large share of the upside it needs more capacity and capability, says CEO of Echo Entertainment Group (ASX:EGP) Matt Bekier.
Echo is transforming and expanding its properties to capitalise on this opportunity, including investing $345 million into its Jupiters Hotel and Casino, which is set to be one of the major growth initiatives rolled out by the company over the next year.
This Gold Coast upgrade comes on the back of Echo's $870 million redevelopment of The Star in Sydney. In addition, the company recently secured a multibillion-dollar bid to redevelop Queen's Wharf which is expected to attract an extra 1.4 million visitors to Brisbane city each year and lift annual tourism spend by $1.69 billion.
Bekier (pictured below) says these sort of investments are vital if Echo wants to ride the next wave of tourism growth, which is rolling from China.
"The typical Chinese tourist that comes to Australia today spends about $7500 on the trip in Australia, and we want to capture some of this," says Bekier.
"Of that $7500 a big chunk is spent elsewhere; it gets spent on tourism attractions, shopping, food and beverage, on trips out to the reef and on transportation - it is a huge economic generator.
"But, we can only get to this money if we have the places for tourists to stay.
"The only way for us to capture that opportunity and monetise it for us and the generations that come after us, is to build the capacity to support and serve that customer."
Bekier adds that wealth creation in China has also meant consumption patterns have changed.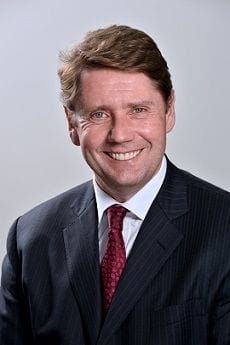 According to estimates, the number of Chinese millionaires is between two and four million with half of them added in 2014 alone.
"What is happening in Asia is people are becoming more affluent, and as they become richer, they change their behaviour and they are starting to spend more money on travel and experiences," says Bekier.
"We are now looking at the luxury traveller that has a very deep wallet.
"We are excited about this trend because we think it is not something that is a one off. Those demographic trends in China, the wealth creation and the changes of behaviour, are really long terms trends. We have huge opportunity to tap into that for the long run and create a lot of jobs."
Australia is well placed to capture this growth but the Gold Coast has a natural advantage. According to the Gold Coast Destination Tourism Management Plan 2014-2020, the Gold Coast ranks second after Sydney as the most appealing tourist market in Australia for Chinese.
But in order to increase visitation further, Bekier says there should be investment in increasing airline capacity and direct flight access is a key factor in destination drivers for inbound tourism.
He says making visas accessible needs to be a priority in Australia and adds that investment in hotels is critical, especially in upper-class establishments.
"High occupancy, lack of offering and complementary facilities are bottlenecks to driving growth in tourism from China," he says.
"While occupancy on the Gold Coast is relatively low, there is limited luxury accommodation that is competitive by global standards."
Echo finished the 2015 financial year with a net profit surge of 59.3 per cent to $169 million.
Group revenue rose 18.5 per cent to $2.14 billion, driven by the domestic gaming businesses, while normalised revenue which takes into account theoretical win rates against high rollers was up 20.6 per cent to $2.33 billion.
Get our daily business news
Sign up to our free email news updates.