A Chinese e-commerce player focusing solely on foreign brands continues its push to develop markets for more Australian products after signing five new supplier agreements today.
With its consumer-facing website Aomygod.com (in Mandarin), Aomaijia has more than 30 million registered users and has grown exponentially since it was founded in Guandong in 2015.
Operating outside the interwoven ecosystems of major Chinese online conglomerates JD.com/Tencent and Alibaba, Aomaijia's pitch revolves around cutting out agents while maintaining better control of branding and distribution.
In total Aomaijia sells more than 100,000 product lines across 3,000 individual brands from all over the world.
Companies Swisse, Blackmores, Fat Blaster, Healthy Care, Devondale and a2 Milk are already on the platform, and now the group is taking on more Australian names with Sukin, Kids Smart, NESTLE Australia, b.box and TASMAN UGG all signing on today.
Aomaijia PR representative Suki Wong tells Business News Australia the group is very open to small Australian brands as they can cater to Chinese consumers who are looking for different lifestyles.
"In fact, we have a lot of small brands on our platform - we would like to help them to enter the Chinese market, and we have a very professional team for B2B (business-to-business) areas," she says.
"Our team will help these little brands to enter China, help them to analyse the Chinese market, and help them to establish brand recognition in China and promote their sales."
"The image of Australian brands is that they're very environment friendly and healthy, so I think that attracts the Chinese customers the most," she says.
The group emphasises a point of difference comes from dealing directly with manufacturers or their appointed distributors, rather than 'daigou' - people or small groups who typically buy consumer goods in Australian retail outlets and ship them directly to customers in China.
"Daigou have filled a market need in China; while they actively promote Australian brands, in reality they operate a rather unsophisticated and inefficient distribution network," says Aomaijia Group CEO Meggie Liu (pictured).
"The Aomaijia platform was created to give suppliers, like those in Australia, control of their branding in China but also control over distribution, sales volumes and ultimately their profits," she says.
Liu claims even though most of Aomaijia's sales go through digital channels, the company is not just an online mall.
"Other online trading platforms allow overseas companies to connect very quickly with millions of Chinese consumers; but they have significant limitations," she says.
"The biggest drawback is that online malls sell many products through second-hand agents who may or, in many cases, may not be appointed by product producers.
"They generate sales but the trade-off is a loss of control in branding, distribution and retail pricing."
The group's solutions also range from supply chain financing and management through to technical services and tracking end users through tailor-made CRM solutions.
Aomaijia's business to consumer (B2C) sales rest on three platforms, a mobile phone app; an online retail site and a mini sales program operated on the WeChat social media platform.
It also has 14 physical stores in key locations across all of China's major first-tier cities, including: Beijing, Shanghai, Shenzhen, Guangzhou, Zhuhai and Wuxi. The company has an aggressive rollout strategy with plans to open nearly 100 stores nationwide in the coming year.
Aomaijia calls its retail outlets 'dual-line stores', giving consumers them the confidence they are buying authentic brands as well as the opportunity to physically sample new product lines that may not be so well known in China.
The dual-line platform also allows consumers to track individual products right across the supply chain from entry into China to point-of-sale.
Aomaijia is owned by property developer China Aoyuan Group (SEHK: 3883), which is listed on the Hong Kong Stock Exchange and in the first half of 2019 recorded revenues of RMB23 billion ($4.7 billion).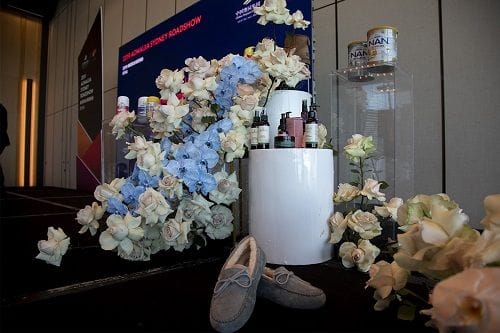 Never miss a news update, subscribe here. Follow us on Facebook, LinkedIn, Instagram and Twitter.
Business News Australia
Get our daily business news
Sign up to our free email news updates.