It's only been a few years since Dylan Pires' mobile chicken wing empire became a sensation in Brisbane and already King of the Wings is setting its sights nationally.
King of the Wings first took to the River City's roads in 2013 and has grown immensely since, with plans for expansion set on Canberra and Melbourne alongside an upcoming Sydney venture.
The company, run by Pires alongside his wife Katrina, is one of Queensland's most popular food trucks which offers American-style buffalo wings.
Last year, King of the Wings went down to The Rocks to do a pop-up event where they served more than 5,000 people in six days.
King of the Wings' Sydney return is still in planning, however as the company enjoyed this previous success in New South Wales, Pires is eager for another opportunity to impress Southern crowds.
"It was crazy, we got a lot of media attention including a feature on the Kyle & Jackie O show which was great and due to the success and demand we're really excited to do it again in Darling Harbour this time," says Pires.
The company is also in the works of designing its first Brisbane permanent restaurant.
With a history in marketing, Pires knows just how to showcase his brand to an online audience.
"We have over 35,000 followers on social media, and these are all organic followings," says Pires.
"I think we have a sense of how to display our products and what our customers want to see, but apart from that we have an amazing product which speaks for itself."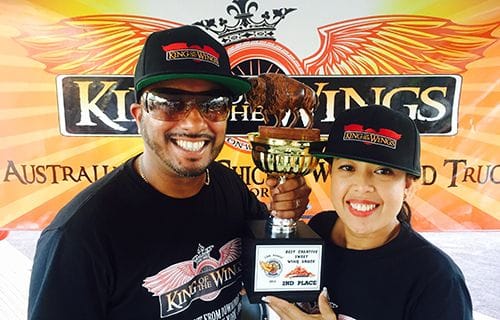 Dylan & Katrina Pires take out 2nd place at an American wing festival
King of the Wings' success even goes beyond Australian waters, as the company was recently invited to partake in the 2017 National Buffalo Wing Festival in America.
More than 80,000 wing fans from across the United States and overseas descend on Buffalo, New York for one weekend each September for the festival which features one international competitor each year.
For Australia's year, King of the Wings was the obvious candidate.
The company sourced sponsors including Logan City Council to cover the cost of flying their team to the USA to compete in the Festival.
"We had to arrive in Buffalo 4 days before the event and make 400 litres of wing sauce, it was an unreal experience," says Pires.
The company took out second place for best wing sauce under the creative sweet sauce category against 25 of America's biggest wing chains.
In 2016, the pair founded the Brisbane Food Truck Collective in which they mentor new Brisbane food truck businesses and create low cost events for their fellow food truckers.
Though King of the Wings is anything but an ordinary food truck, Pires always runs his company with the environment in mind.
"We SMS customers when their order is ready, we are also completely paperless so operate completely digital," says Pires.
"All of our packaging is recycled and we don't use any plastics."
For his work with King of the Wings and the Brisbane Food Truck Collective, Dylan Pires has been named a finalist in the 2018 Brisbane Young Entrepreneur Awards.
Get our daily business news
Sign up to our free email news updates.