IF you want something done right, do it yourself. That's the message so many entrepreneurs pass down to emerging business leaders. It also happens to be exactly how David Lukic found success.
Lukic's company, Ryderwear, fulfils a niche in the fitness-wear industry that traditional players hardly touch: bodybuilders.
Eight years ago, when Lukic was training as a bodybuilder, he got sick of having to wear old tshirts and shorts to the gym.
"Nothing would fit me, that was the literal reason I started the company," says Lukic.
"As I was a body builder I couldn't find clothes that fit. I thought, if I've got this problem, perhaps other people would too."
"It was a problem that I had and I wanted to solve for myself, and in doing that it became a business venture."
Born in Adelaide, South Australia, Lukic began training for national bodybuilding competitions in his adolescence. At just 18 he was crowned Mr Teenage Australia a spinoff of the Mr Australia bodybuilding competition.
However, it wasn't until his mid-twenties whilst working as a security guard that the concept of Ryderwear came to him. He quit his full-time job, got to work, and the rest is history.
The brand has quickly exploded, and not just in Adelaide. By harnessing the power of social media Lukic has taken the brand internationally.
"We have some of the biggest bodybuilder influencers in the world representing Ryderwear," says Lukic.
Ryderwear has approximately 60 athletes representing the brand, with a total following of approximately 25 million followers.
"Athletes have a lot of pull," says Lukic.
"Let's say your favourite person is Michael Jordan; you want to be wearing what Michael Jordan's wearing."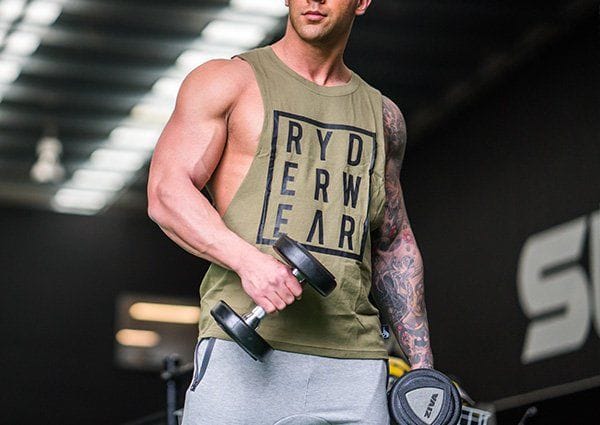 The brand, which started in his grandma's garage in 2010, has recently seen exponential growth. Initially Lukic promoted the brand on social media, which got the attention of gyms and supplement stores. He's since moved out of grandma's garage and upgraded to a Lamborghini.
"We've experienced exponential growth since starting, it's just more noticeable now," says Lukic.
"Every year we've doubled and tripled year on year. I would say our success comes from our great fashion team, our marketing team, and the way we collaborate with our influencers."
Part of the brand's success comes from Lukic's keen eye for fashion and the blurring the brand does with the streetwear and gym gear.
"We've got an in-house fashion team, so every season we're releasing a new drop, a new collection," says Lukic.
"We definitely incorporate fashion into the gym wear what's trending, the colours, the forecasts. Anything that's on trend or will be in the next year we try and incorporate into our designs."
"Nowadays fitness has become a lot more mainstream where people do wear gym clothes for their everyday activities, not necessarily just to the gym."
Lukic's number one tip for budding entrepreneurs? Do like him and just take the plunge.
"Go with your gut," says Lukic.
"Being an entrepreneur is the hardest thing you'll ever do. It's going to take longer than you thought, it's going to cost you more, it's going to put more strain on your relationships and friendships."
"Believe in your gut. If you want to have the biggest building, build the biggest building don't try tearing other buildings down."
Never miss a news update, subscribe here. Follow us on Facebook, LinkedIn, Instagram and Twitter.
Business News Australia
Get our daily business news
Sign up to our free email news updates.