With a share price that has doubled since listing on the ASX in March, great expectations have surrounded Australian hemp company Ecofibre (ASX: EOF) ahead of its results announcement today and the numbers are unlikely to disappoint.
Ecofibre's revenue for FY19 was up 519 per cent at $35.6 million while net profit after tax jumped 170 per cent to $6 million.
This follows on from an announcement earlier this month that the number of US pharmacies stocking the company's Ananda Professional CBD oil had hit the 3,000 mark, up from just around 500 this time last year.
The surge in value meant the group - which sells hemp-based nutraceuticals in the US and is one of Australia's largest growers of hemp foods - reached a market capitalisation of around $912 million, far exceeding its ASX peers in the cannabis and hemp space.
But Ecofibre's rise to fame has almost come out of nowhere. When chairman and major financial backer Barry Lambert (pictured) got involved with Ecofibre in 2015, his main motivation was to find a healthy alternative to treat his granddaughter's epileptic condition.
The Countplus founder and his wife had already given $33.7 million to the University of Sydney for research into cannabinoid therapeutics; an initiative later replicated at the largest medical university in the US, Thomas Jefferson University in Philadelphia.
Lambert's philanthropy is driven by his belief that "it's an absolute disgrace that you've got kids out there becoming vegetated, all because they can't get extract to medicinal cannabis because traditional medicines don't work for certain conditions".
He describes this as a "crime against humanity" and he'll be "campaigning forever" to make these kinds of medicines available and affordable. But the seasoned business veteran also has entrepreneurial nous and has sought to make hemp a viable enterprise regardless of regulatory hinderances.
Shortly after his generous donation to the University of Sydney he met Ecofibre's founder Phil Warner, a major Australian hemp grower and researcher of cannabis genetics who had spent his career in a legislative environment where hemp food was illegal.
Lambert offered Warner an initial investment of $500,000 which soon became $10 million, before recruiting current CEO Eric Wang to help drive Ecofibre's business in the United States.
Partnerships were made in Kentucky to source local hemp, and the company's brand Ananda Professional has grown to become "the number one pharmacy brand in the US" according to Lambert.
Because there is such a large supply coming out of the state, Ecofibre no longer needs to take the risk of committing to certain crops and can buy hemp as needed after vetting its quality. Ecofibre is currently building a manufacturing facility on a 6.5-acre site in Kentucky that he also expects to serve as a tourist attraction.
"We've got over 3,000 pharmacies selling our product to our clients and that's growing very rapidly," Lambert tells Business News Australia.
"That's because we're from Kentucky, which is a hemp state and not a marijuana state whereas a lot of our competitors are from Colorado and other places which are actually marijuana states.
"Marijuana is federally illegal in America, whereas hemp is federally legal in all states, albeit with some restrictions on just a couple of states in how you're marketing it."
He clarifies this last point noting this was made possible thanks to the passage of the 2018 Farm Bill, with hemp also removed as a controlled substance in the US.
"In other words our granddaughter could walk into a shop or a pharmacy in America and buy her medicine," he says.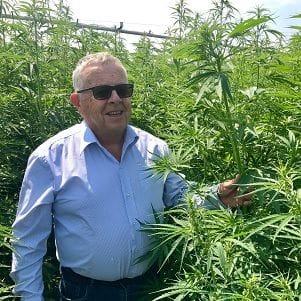 "In Australia you've got to set up your own special clinic to try and get doctors to work out the rigmarole to get the prescription on the special access test - it's just unworkable from a commercial point of view.
"Our son actually went through that for our granddaughter just to test it out for himself and quite frankly it cost him $400 for the appointment and $405 for a prescription that according to their recommendation would last her 3.5 days."
Budding businesses for future growth
Industrial hemp does not contain the buds found in marijuana, which are generally the source of the psychoactive THC substance that is eschewed by the medicinal cannabis industry.
Lambert says in Australia "politicians don't want to know you because they want to pretend hemp and marijuana are the same thing, for reasons no one can understand".
But he does have a vision and hopes that someday they will come around. In the meantime, Ecofibre has two budding businesses with great potential - Ananda Food sourced from Australian hemp, and Hemp Black which seeks to deliver high-tech uses for the material in areas ranging from clothing to healthcare to building materials.
"Ananda Food is our subsidiary in Tasmania. I believe we're the largest grower of hemp food in Australia we have a factory that we process it in up in the Hunter Valley, and we're going to supply that," he says.
"We have some online sales that are small but we expect to sell that to the big retail chains before too long."
Hemp food only became legal in Australia in November 2017. Until then, growers had to sell hemp with labels indicating it could not be used for human consumption; a law often flouted by hemp consumers in their own homes.
"Australia and New Zealand were the only places in the world that wouldn't allow you to eat food, but food's now freely available," says Lambert.
"We've got to have the number one product in Australia and we might have that in a year or two - then hopefully off the back of that we can open up the Asian markets like A2 Milk did with the milk powder for kids.
"Food has got some prospects but nowhere near as exciting as the CBD oil or the hemp extract, or the industrial usage of the various Hemp Black commodities."
He points to a video from Hemp Black website that may come across as "make believe", but Lambert sees great possibilities for the material's broad range of applications.
"We're working with some high-tech people over there we've got seven patents lodged, most of those are in the final stage of approval now," he says.
"We're working with Jefferson University and this will be more for industrial use and also for medical uses, because the CBD is antimicrobial so you can incorporate this in fibres and have a product that will kill bugs, including superbugs.
"One of the things we're going to be bidding for before too long is the American army socks they actually put silver in the bottom of them [as an antimicrobial], whereas our Hemp Black will be throughout the whole sock because it will be part of the yarn."
Never miss a news update, subscribe here. Follow us on Facebook, LinkedIn, Instagram and Twitter.
Business News Australia
Get our daily business news
Sign up to our free email news updates.