Every state has something to smile about as the results from Tourism Research Australia's (TRA) annual domestic visitor data rolls in.
In the year ending March 2019 domestic tourists spent $74.5 billion, up 14 per cent from the same time a year ago.
Domestic tourists took 109 million trips and spent 386 million nights interstate, both figures up 10 per cent on the previous year.
While trip numbers increased, the average duration of a trip is in decline, down 0.3 per cent to 3.5 nights, while those travelling for a holiday dropped further with average nights down two per cent.
"This has been a continuing trend for some time with the average length of a domestic overnight trip having fallen by 13 per cent since 1999 and eight per cent since 2009," says Tourism Research Australia.
Holiday remains the biggest contributor to domestic tourism, accounting for 40 per cent of all domestic overnight trips, 43 per cent of nights and 48 per cent of spend.
Visiting friends and relatives was also popular accounting for 34 per cent of domestic overnight travel but accounted for lower spending due to a higher propensity to use non-commercial accommodation.
Business travel accounted for 23 per cent of domestic overnight trips and 27 per cent of spend.
Every state in Australia saw rises in both visitors and spend, with no state particularly left with a smaller slice of the pie.
New South Wales saw the majority of interstate travel, with 35.6 million visitors during the year, up eight per cent on 2019, and $21.7 billion spent in the state during the year.
While NSW reclaimed its throne at the top of the domestic travel pile it saw the smallest growth compared to every state in Australia.
The most impressive amounts of growth came from Queensland and Western Australia.
In Queensland 24.6 million visitors came to the state, up 12 per cent, and spent $18.5 billion, up 14 per cent.
In WA, 10.2 million visitors came to the state, up 10 per cent, and $7.8 billion was spent, up 24 per cent.
A full breakdown of domestic travel by state can be seen below.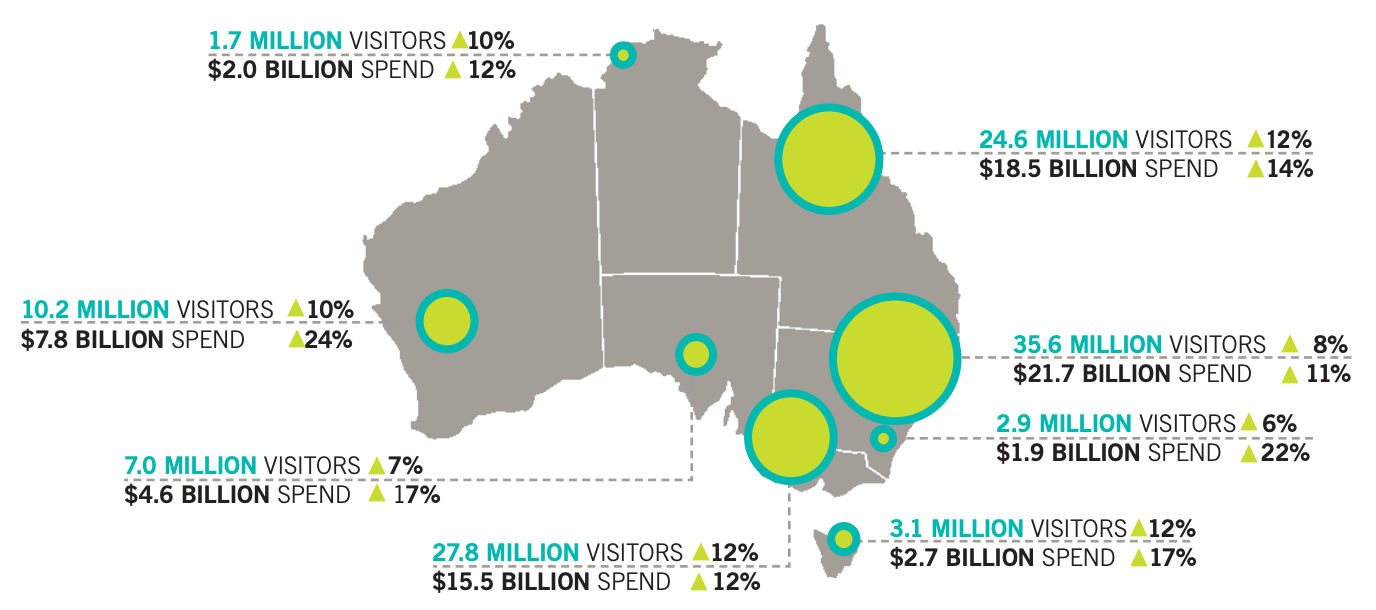 Overnight trips and spend by state, year ending March 2019 (provided)
While all travel party types recorded growth in the number of trips, those travelling alone or as part of a couple have been the strongest growing segments of domestic travel.
One third (35.8 million) of all domestic overnight trips were taken by those travelling alone, with as spend of $20.2 billion. The increase in trips is an addition 87 per cent on the 2013 figure of 19.1 million trips.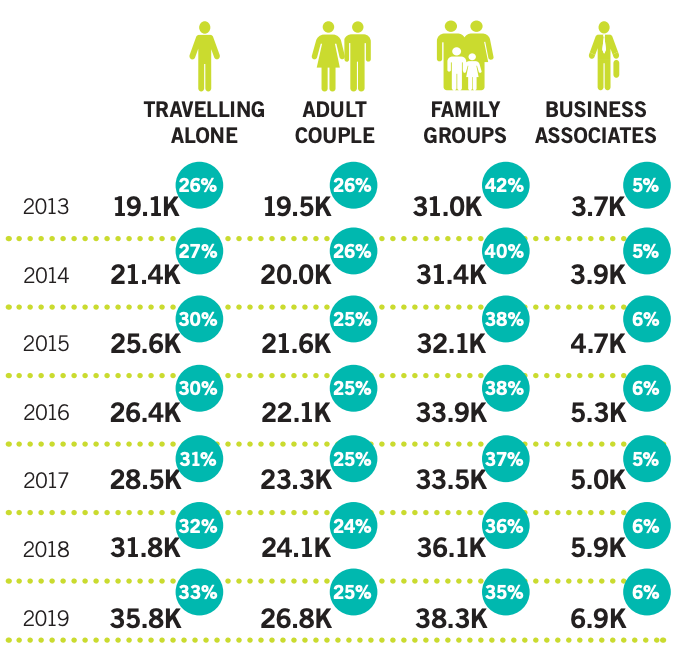 Share of domestic overnight trips by travel party, year ending March (provided)
Staying with friends or relatives remains the most popular accommodation type for domestic travellers, while staying in a B&B was the only accommodation type that took a tumble during 2019 down 11 per cent from 4.5 million nights to four million nights.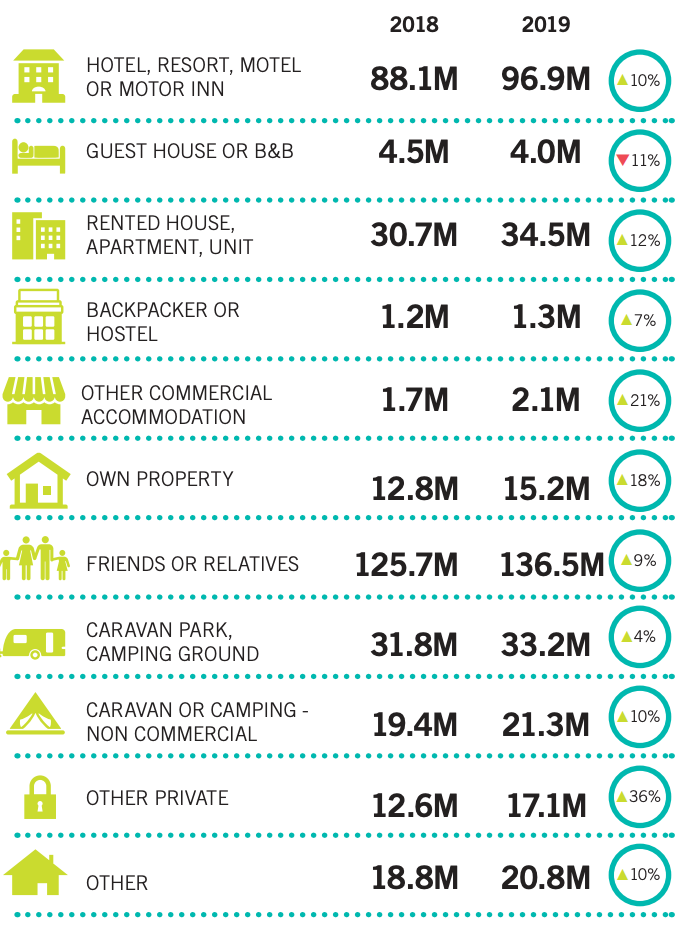 Nights by accommodation (provided)
Never miss a news update, subscribe here. Follow us on Facebook, LinkedIn, Instagram and Twitter.
Business News Australia
Get our daily business news
Sign up to our free email news updates.