SIMON Gloftis' journey to restaurant royalty hasn't exactly been smooth.

The serial restaurateur of Hellenika and The Fish House fame has a colourful business background, including trying his hand at lawn mowing and selling second-hand furniture.

The recent winner of Gold Coast Business News' 2014 Gold Coast Young Entrepreneur Tourism, Hospitality & Events Award jokes about it now, but the struggle was real at the time.
"Before setting up Three Beans, Little Beans and Piccolo Espresso as coffee shops, which I sold along the way, I had a second-hand furniture business down in Miami that sent me broke," says Gloftis.

"Before that, I had a lawn mowing service for about a year which coincided with recurrent sickness.

"I was sick all the time and then realised I had terrible hay fever, so bowed out as it probably wasn't a good business for me. I just always wanted to work for myself."

Dabbling in different markets may suggest Gloftis is an expert at the classic 'gap-spotting', but he says this is far from the truth.

"I love hearing that Hellenika and The Fish House are filling gaps in the market, but I don't ever pursue ventures for this purpose," says Gloftis.

"I just do things I like and hope that other people like them too."

Despite Hellenika being top of mind for a decade prior to opening its doors in 2010, Gloftis says he is never short on new ideas, which he finds to be both a blessing and a curse.

"I get too many new ideas every day but certainly don't want to lose what's taken me so long to build up," he says.

"It's more a matter of holding myself back than ever running short of ideas.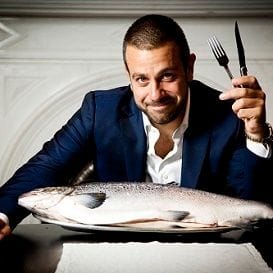 "I want to get these two right [Hellenika and The Fish House] and improve a little every day – and after another 12 months I will be ready to look to something else again."

Entrepreneurship to Gloftis isn't about what the market is dictating or what's on trend, but all the same, his success hasn't been a stroke of luck.

Before opening Hellenika, Gloftis immersed himself in Greek culture for six months.

"It's all well and good to have a goal but I'm really big on doing my homework," says Gloftis.

"I really don't like guessing games and need to open the doors and know it's going to work.

"Hellenika was my baby and all-time dream so I did everything I could.

"This included going back to Greece for six months, even though I'm half-Greek, just to make sure everything was true to the culture right down to the food's finishing touches."

On top of following passion and doing homework, another ingredient to Gloftis' success is keeping company with those who encourage his entrepreneurial zest.

"Through my previous cafes, I was fortunate to have a lot of suppliers who trusted me and who came on board with Hellenika, because I still had to fake it for about three to six months to really get the place off the ground and running," says Gloftis.

"I'm also lucky that my father has been in small business since I was young. He came over from Greece and tried a few things, went broke a couple of times, then tried a few more things.

"He's always been there to talk to and mull over ideas with me at home, which has definitely aided in me seeing my visions through."
Help us deliver quality journalism to you.
As a free and independent news site providing daily updates
during a period of unprecedented challenges for businesses everywhere
we call on your support