Marking an end to the price fixing saga that has continued for more than six years, Flight Centre (ASX: FLT) has been ordered to pay $12.5 million in penalties by the Federal Court.
The Australian Competition and Consumer Commission (ACCC) first launched proceedings against Flight Centre in 2012, accusing the airline of attempting to induce three separate airlines to enter into price fixing arrangements between 2005 and 2009.
The ACCC initially won its case in 2014 and the Federal Court ordered Flight Centre to pay penalties totalling $11 million.
Following a drawn-out battle of appeals on both sides, which included a stoush the High Court of Australia, the Full Federal Court today ruled against Flight Centre and imposed the new penalty of $12.5 million.
Chairman of the ACCC Chairman Rod Sims says the penalty increase was largely due to the watchdog's concerns that the initial amount ordered by the trail judge wasn't severe enough.
"The ACCC appealed from the initial $11m penalty orders because it considered that this level of penalty was inadequate to achieve a strong deterrence message for Flight Centre and other businesses," says Sims.
"Flight Centre is Australia's largest travel agency, with $2.6b in annual revenue. We will continue to argue for stronger penalties which we consider better reflect the size of the company, as well as the economic impact and seriousness of the conduct.
Sims added that increased penalties act as a stronger deterrent for big businesses that may be considering similar conduct.
"The ACCC wants to ensure that penalties for breaches of competition laws are not seen as an acceptable cost of doing business."
The Full Court's penalty decision comes just a week after the Organisation for Economic Co-operation and Development released its report which found penalties for breaches of competition law are significantly lower in Australia than comparable OECD jurisdictions.
Flight Centre's share price dipped a slight one per cent to $56.66 at the time of writing (12:59pm AEST).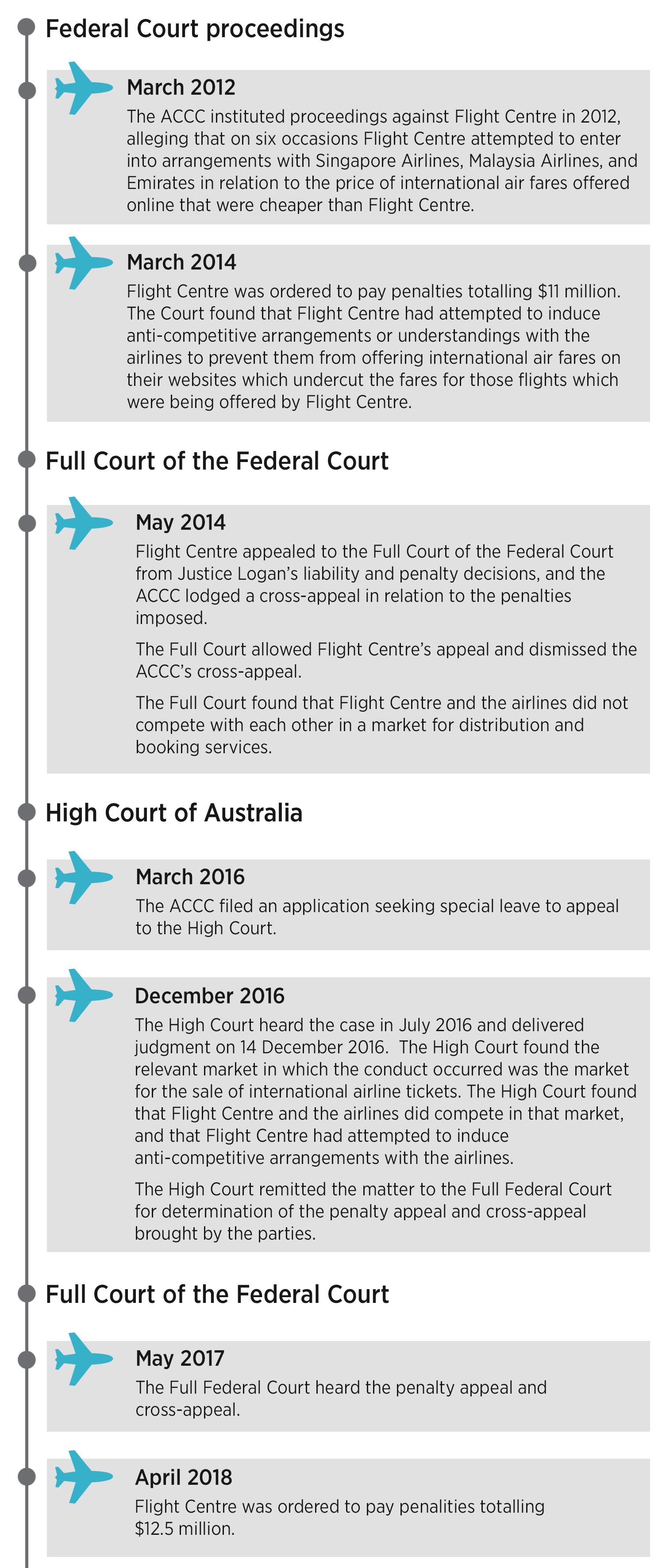 ACCC's timeline of the case against Flight Centre
Never miss a news update, subscribe here. Follow us on Facebook, LinkedIn, Instagram and Twitter.
Business News Australia
Get our daily business news
Sign up to our free email news updates.