BEING a little business-minded goes a long way in any career, and Australian filmmaker Scott Corfield is proving it firsthand.
Corfield's most recent production
Don't Tell
, which premiered internationally in May, featured Australian cinema heavyweights including Jack Thompson and Rachel Griffiths who helped tell the true story of a sexual abuse survivor from Toowoomba.
Corfield is also the producer behind movies including Crooked Business and short film Luke's Story, as well as the founder of his own company Fornillo Road.
To complement his skills as a filmmaker, Corfield built on his commercial flair through Bond University's Master of Business Administration (MBA) course which he completed in 2002.
Even though he was the only filmmaker in his MBA cohort, Corfield says the principles he learned still ring true when it comes to making a movie.
"After finishing an undergraduate degree in film and TV, I felt I lacked a detailed understanding of the business side of the industry," says Corfield.
"Producing a film shares a lot of similarities with launching a start-up venture: You need to raise finances; assemble a well-oiled team; manage a tight budget; and deliver a high-quality product."
"So I decided to do an MBA. There were plenty of courses to choose from but Bond's MBA covered all areas of business in great depth and that's exactly what I needed."
Since completing his postgraduate degree Corfield has taken his business to the next level, producing not only feature films but TV commercials and music videos as well.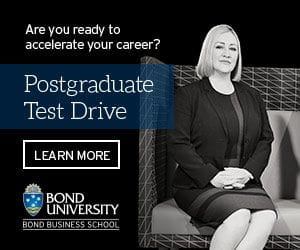 Corfield says Bond's versatile teaching style gave him a crucial leg up in the industry.
"I was the only one in my MBA cohort working towards a career in film production but that's the best thing about Bond's MBA: it's extremely versatile and can be applied to any industry," says Corfield.
"Coming from an arts background, I found the small class environment particularly helpful in terms of the one-on-one support available and the discussion-based format of lectures and tutorials."
The Bond Business School is now offering a
Postgraduate Test Drive
, for prospective students who, like Corfield, are curious about how further studies might boost their careers.
As part of the Test Drive, Bond Business School offers complimentary meetings with its Program Director, academics and current students, as well as tours and class trials.
Executive Dean of Bond Business School Terry O'Neill says the program is a unique opportunity for students to explore higher education without committing to a full postgraduate degree upfront.
Professor O'Neill says the Bond Business School experience is something no other university in the country can offer.
"We have no hesitation in claiming that no other business school can offer the personalised, practical and real world learning experience that we have crafted at Bond Business School," he says.
"We're breaking down the walls between the classroom and the corporate world. Our students don't just study theory in a lecture hall they do internships and projects with major national and international enterprises."
To find out more about the Bond Business School and its Postgraduate Test Drive program, visit the
website here
or call (07) 5595 2266.
(This article was written in partnership with Bond University)
Get our daily business news
Sign up to our free email news updates.