Two companies from rural Victoria have joined forces to produce tens of millions of urgently needed surgical masks in response to the Covid-19 health crisis.
Shepparton-based Med-Con used to be a major player in the production of surgical masks, but competition from China has led its Australian market share to dwindle to just five per cent over the past decade.
With 5,795 cases of the virus now in Australia and some hospitals reportedly unable to provide masks that fit the doctors who are supposed to use them, the government has requested Med-Con to quickly increase annual production from two million to 50 million surgical masks.
One challenge with this request from the Department of Industry, Science and Technology was that only two of Med-Con's three mask-making machines were operational.
The machines were designed and built nearly 40 years ago, and no original drawings were available to reproduce them.
As part of this time-critical innovation challenge, Australian Defence Force (ADF) engineers disassembled and modelled the non-operational Med-Con machine. Several engineering firms were assessed for competency to reverse engineer and manufacture three new machines.
In came Echuca-based packaging automation manufacturer Foodmach, which has been appointed to engineer and build the new machines.
"Building packaging machinery requires strong expertise in mechanical engineering, electrical systems, pneumatics and motion control," says Foodmach director Peter Marks.
"Our pool of talent across all these fields and our one-stop-shop factory set-up means we can quickly build something new and complex like machines that produce surgical masks."
Marks says reverse engineering is usually a lengthy process that involves a lot of testing and adjustments.
"We have 60 days from start to finish to find ways to build a machine that uses parts which have long been obsolete. Although 3D models have been provided by the ADF, these still need to be detailed on a part by part basis, materials identified and checks made that they'll assembly correctly," he says.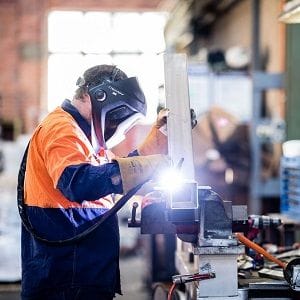 "There will be knowledge gaps around material specifications and possibly tolerances which need to be resolved. The old design will also need to be updated to current safety, controls, and interfacing standards."
Foodmach's 6,600 square metres of factory and machine shop space in Echuca will allow ts 100-strong team of skilled staff to work around the clock while maintaining enough distance from each other to manage Covid-19 risks.
"Keeping our workforce safe and productive in an epidemic that has the potential to threaten 40-70% of the Australian population is clearly a high priority for us," says Foodmach CEO Earle Roberts.
"Staff will be working in shifts 24/7 during the next eight weeks to meet the deadline.
"Normally with a good set of drawings we'd want 16 to 20 weeks to build something new like this, so to try and complete one machine in eight weeks, and three inside 12 weeks, is a stretch to say the least.
"The complexity of the Med-Con machines will provide us with an exciting challenge. We've obviously never built one before - but with all the necessary design, manufacture and assembly expertise under a single roof, we're well equipped for it.
Updated at 4:21pm AEST on 6 April 2020.
Get our daily business news
Sign up to our free email news updates.