THERE is no blueprint that women can follow to reach the top, according to a business leader who is among the most powerful in Australia.
Harvey Norman Holdings Limited (ASX: HVN) CEO and managing director Katie Page-Harvey (pictured left), who is also owner of Magic Millions with husband Gerry Harvey, says the issue is "really complex" and the only way to address it is rejecting the idea of following a blueprint, and instead assess on a case-by-case basis.
As a leader, Page-Harvey is passionate about effecting change at grassroots, and can provide plenty of examples of female employees in her racing and retail businesses who she has mentored at this level.
Thereafter, however, she believes it's a matter of women choosing to let other women through, which can prove problematic in industries that are traditionally male-dominated.
"In every part of my life, whether retail or racing or business, I am all about grassroots women and pushing them through," says Page-Harvey.
In the past few years, the Harvey Norman husband and wife duo have introduced a number of initiatives to Magic Millions to move women from the sidelines to the field in the racing industry.
Number one of which is Racing Women, a first of its kind initiative which offers a bonus of $500,000 distributed between the first four 100 per cent female owned or leased horses in finishing order in the Jeep Magic Millions 2YO Classic, in addition to race prize money of $2 million.
The bonus distribution for this year's race on Saturday is $325,000 for the first Racing Women eligible horse past the post, $100,000 for the second, $50,000 for the third, and $25,000 for the fourth.
"Our kids were in our Tarago as Gerry and I went around opening Harvey Norman stores, so I do know how hard it is for women with children who want to be in the workforce," says Page-Harvey.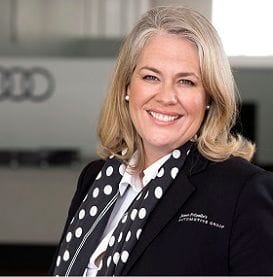 "The way through is encouraging women to support one another, which we don at Harvey Norman by encouraging job sharing and leaving it up to all of our female employees to choose who they job share with, something that is so important to encourage positive collaboration."
This kind of comradeship that Page-Harvey proposes transpires when she converses with another local business identity, Rebecca Frizelle (pictured right), the group operations manager at James Frizelle's Automotive Group.
Frizelle, who became the first female chair of the Gold Coast Titans in April last year, adds to Page-Harvey's views to claim getting ahead is a matter of having the right attitude.
"I have never felt sexism in the industries I am in," says Frizelle.
"I've been in automotive for 25 years and it's really cut-throat and male-dominated, similar to league in that respect.
"I've found that how you conduct yourself makes all the difference, whether that be in the car yard or a board meeting with 16 men - if you walk in projecting yourself with confidence then that is what you will see in return."
Help us deliver quality journalism to you.
As a free and independent news site providing daily updates
during a period of unprecedented challenges for businesses everywhere
we call on your support