A two-year strategic review into Buderim Group's (ASX: BUG) ginger division has today yielded an $8.3 million offer from Adelaide-based Global Foods Group, sending the BUG share price 6.5 per cent higher in morning trading.
Global Foods Group's principal shareholder is George Vasili, who also owns 15.86 per cent of Buderim Group and intends to maintain his stake after any potential deal is reached.
The non-binding offer also includes the company's ginger-related brands and The Ginger Factory tourist attraction on Queensland's Sunshine Coast, as well as subsidiaries Frespac Ginger (Fiji) Pte Ltd and Ginger Head Quarters Pty Ltd.
If the transaction goes ahead it will effectively narrow Buderim Group's scope to macadamias, which currently account for more than 60 per cent of revenue through its operations in Australia and Hawaii with the brands MacFarms and Royal Hawaiian Orchards.
At the same time Buderim Group will seek a shareholder vote to change the company name to Health and Plant Protein Ltd (HPP) - an acronym which in food industry circles could easily be confused with high pressure processing.
"The Ginger Division has been the origin and heritage of the Company and while over the last three years the Board has worked together with management to return the Ginger Division to profitability, we believe that by separating the Macadamia and Ginger businesses there is a better future for both organisations," says BUG's CEO Guy Cowan.
"During its next phase of growth, the Ginger Division will require significant capital investments to continue its proud and long history.
"At the same time, following the strategic review, the Board believes that the Company's macadamia business has an opportunity to become a dominant brand on a global scale. Achieving this will require much focus and we believe this proposal is in the best interest of all shareholders."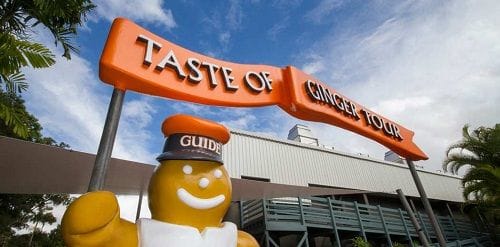 Cowan says focusing investment on the group's macadamia business is more likely to produce higher returns than a comparable investment in the ginger division.
"Accordingly, while the Ginger Division has returned to profitability, there are few synergies with the macadamia business," he says.
"Ginger's future growth and pathway to improved returns lie therefore with an owner that can provide the investment to make it happen.
"We are therefore pleased to have received an attractive offer for the ginger business from Global Foods."
Cowan says Vasili has indicated plans to invest materially in the Ginger business in its new form as a privately-run entity, to grow and expand it with a view to ensuring longevity.
"As a long-term substantial shareholder in the Buderim Group, I support the proposed new direction contemplated by the Board and I intend to remain a shareholder in the Buderim Group," says Vasili.
"Global Foods is a successful Australian family owned and operated food importing and processing business that has great synergy with the Ginger Division.
"We are in a unique position to invest the required capital and expertise to enable the Ginger Division to continue into the future and for the Company to profitably grow with a renewed focus on the macadamia business."
In the first half of FY20 the ginger division's profits improved by 15.3 per cent year-on-year to $1.51 million, while there was a slight drop in the much smaller tourism segment due to adverse weather. The Ginger Factory had to close its doors due to the COVID-19 pandemic, but a strong domestic tourism rebound is expected with only 10 per cent of visitors normally coming from overseas.
Never miss a news update, subscribe here. Follow us on Facebook, LinkedIn, Instagram and Twitter.
Business News Australia
Get our daily business news
Sign up to our free email news updates.