After their business became a unicorn amidst the ongoing expansion of a world-leading corporate training marketplace, the founders of Go1 have now achieved yet another distinction winning the Brisbane Young Entrepreneur of the Year Award 2021.
Go1 has been part of the awards initiative since 2011 and took out the prestigious Trailblazer Award in 2020, but last night the company was going for gold at a gala ceremony at W Brisbane in Brisbane where the Queensland capital's best and brightest gathered for the revelry and novelty of an in-person event.
With a skyrocketing trajectory - including a US$1 billion valuation, backing from global and domestic investment heavyweights from SoftBank to AirTree Ventures, integration with Microsoft Teams, and content tie-ups with the likes of edX - it was only a matter of time before this oft-labelled 'Spotify for education' would take out the river city's top business prize.
Nonetheless, anticipation of the award for Go1's co-founders Vu Tran, Andrew Barnes, Chris Eigeland and Chris Hood in 2021 would have been more of an educated guess than a done deal, as they were up against a highly competitive group of entrepreneurs who have made waves in their respective industries throughout the pandemic.
Award finalists netted a combined $585 million in revenue in FY21 of which more than a sixth was profit before tax, directly employing more than 1,700 full-time staff alongside more than 1,000 part-timers and contractors.
Despite the challenges posed by COVID-19, around one in nine entrepreneurs who nominated for the awards started their businesses in 2020 or later, while the Trailblazer winners - Alex Harper and Angus Goldman - founded their cryptocurrency exchange platform Swyftx just three years ago.
The Young Entrepreneur of the Year Award gives Go1's founding quartet plenty to celebrate, although they still haven't even had the chance to properly relish the unicorn status bestowed upon them by this year's $273 million Series D raise.
"As a group of founders we haven't even caught up for a dinner to celebrate it. We'll try and book one in before the end of the calendar year," Barnes, Go1's CEO, tells Business News Australia.
"There's not been any celebration of that milestone. Instead what we tend to celebrate is the customer wins, the sort of milestones that we have with the number of learners on the platform, things like that," he says.
"There are big expectations to fulfill...certainly five years ago we would have looked at this number and gone 'Wow, we would have solved all the world's problems if we were to reach that', but I now look at it and go, 'actually, all the hard work is ahead. This is still very much the beginning'."
When asked what it's like to be scaling a global operation like Go1, Barnes says he is excited by reaching more people and having more resources to utilise as a result of the company's capital raises.
"That's incredibly exciting, it's very humbling," he says.
The plan now is to continue geographical expansion including very early-stage forays into new parts of Europe and Latin America, while also onboarding more content partners so customers can have a greater choice and diversity of material, developing better tools for existing content partners, and exploring more products and services to help HR managers unlock positive potential from their teams.
"Over the last quarter we've got customers like Zoom, we're working with T2, Virgin Australia and Lindt, alongside Qantas and all the other logos we've had in the past," Barnes says.
"We've had our product with Microsoft Teams in market now for a while which has been very successful, but we've recently launched with Workplace from Facebook, and Slack as well."
When asked about the importance of maintaining quality of service as Go1 scales up, Barnes responds that there is an opportunity to improve it.
"I think as we grow as a business, as with most startups the first product is very scrappy and over time there's an opportunity to continue to improve the offering," Barnes says.
"Our product and engineering team is in the hundreds of people, whereas it started off as one person, so we can produce a better product with fewer bugs.
"We're a two-sided marketplace and we bring on board content providers. It's great that we're able to go out to our customers and say we've now got Coursera and edX, who are two of the new content providers that we've signed...they don't have to pay more but they're getting more value."
Brisbane Young Entrepreneur Awards founder Camilla Jansen says Go1 is the classic example of a 'decade-long overnight success story', whose founders demonstrated vision, flexibility to change course when required, a strong work ethic, and a genuine desire to improve people's lives through education.
"We've been following the Go1 founders' journey for 10 years, watching them mature as adept and inspiring business leaders whose determination has led to a well-deserved unicorn status, but as Andrew [Barnes] said, now is only the beginning. We look forward to seeing what amazing milestones they can achieve in the future," Jansen says.
"Go1 has all the essence to deliver a unicorn. Impressive, collaborative humble founders executing on a disciplined business plan to become a world-leading education and skills development platform relevant to mega-enterprises down to small business as customers, and achieving investment from some of the world's largest companies. A massive congratulations," adds one of the awards' longstanding judges, Dr Glen Richards, founder of Greencross.
Trailblazers gain rapid momentum with cryptocurrency exchange Swyftx
Unlike Go1, Swyftx founders Alex Harper and Angus Goldman are new entrants in the Brisbane Young Entrepreneur Awards, having only founded their cryptocurrency exchange in 2018.
"We'd made a bit of cash from our own investments in cryptocurrency in 2017, and so we were left with two choices – let's try and solve problems we've experienced as investors in the ecosystem in Australia with that cash, or play it safe, keep our jobs and put a deposit down for a house," Harper says.
"We said 'bugger it, let's start a business', and we're obviously here where we are today. We quit our jobs and spent 12 months building a platform."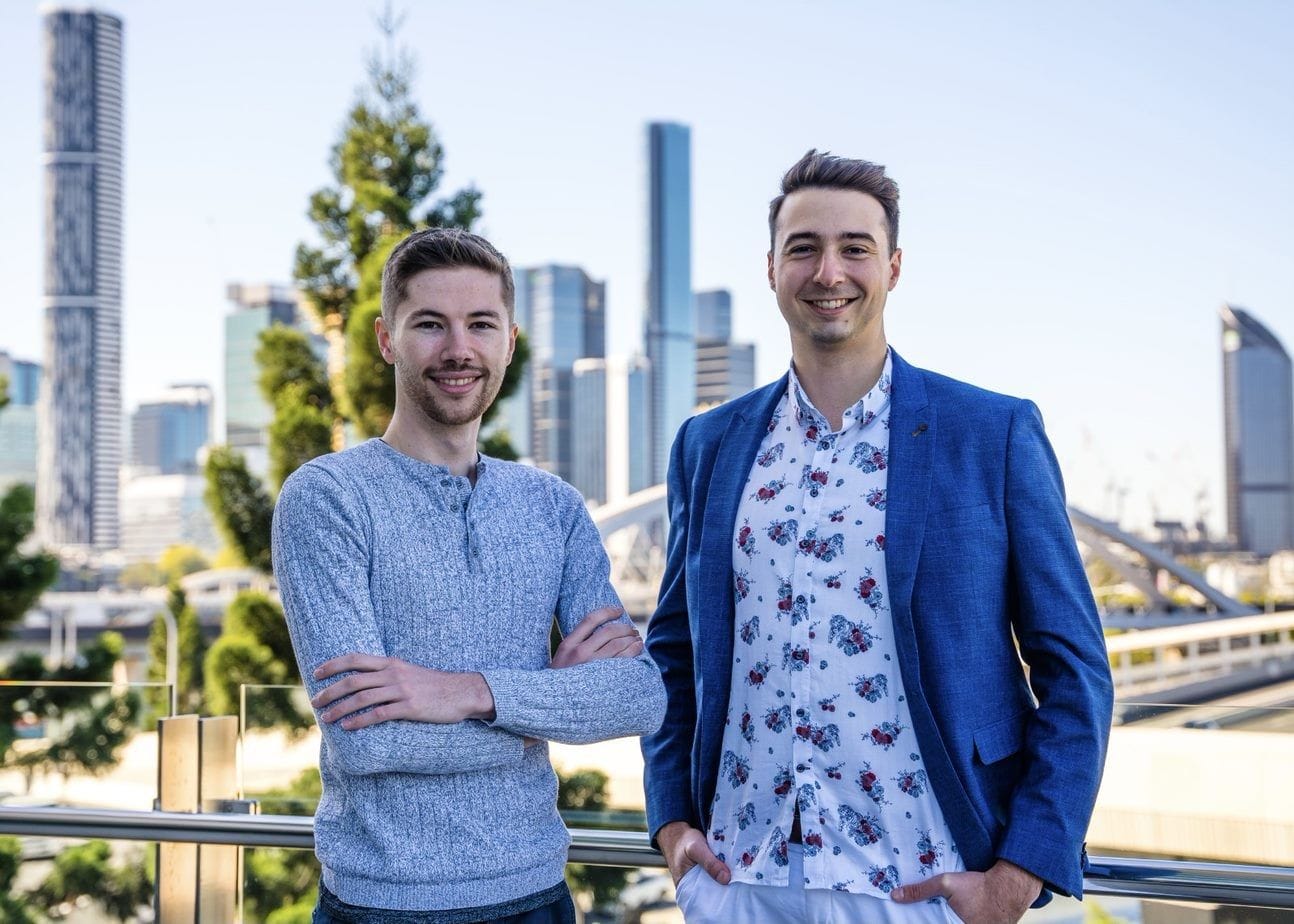 He says Swyftx's customer numbers surged from 50,000 in January this year to ticking over the 350,000-mark recently, while the group has also just expanded into New Zealand and is exploring future options in the UK, Singapore and Canada. Staff numbers have also risen by more than 10-fold in that time to more than 100 full-time employees.
"We have been actually a profitable startup since August 2019, so we're not actively looking for funding as a mechanism to continue to scale," Harper says, emphasising the company has been entirely bootstrapped to date.
"We're quite well resourced in that respect. What we may still consider doing a fund raise for is to bring on strategic partners from traditional finance and really look at putting Swyftx on the map as Australia's up-and-coming tech company.
"I think we sort of operate a little bit in the shadows at the moment in terms of publicity because we are such a new company."
He believes Swyftx's primary point of difference is that it brings a "Queensland customer service standard to an industry overwhelmingly associated with de-personalised, automated customer service".
"We also offer customers access to the widest range of digital assets of any Australian exchange, as well as large liquidity pools for better pricing, lower fees and reduced spreads," he says.
"Swyftx, like all major Australian exchanges, is registered with AUSTRAC. This means all our users undergo strict know your customer (KYC) checks before they are able to change digital assets into Australian dollars."
He says the company's motto is to be the "Australian cryptocurrency exchange that cares" - a claim that is validated by its status as the highest rated Australian cryptocurrency company on customer review platform Trustpilot.
Go1 and Swyftx are just two examples of impressive finalists in the 2021 awards. See below for all the award winners from the night, and we thank all participants for sharing their stories with our journalists.
All winners at the 2021 Brisbane Young Entrepreneur Awards
Young Entrepreneur of the Year - Vu Tran, Andrew Barnes, Chris Eigeland and Chris Hood (Go1)
Trailblazer of the Year - Alex Harper and Angus Goldman (Swyftx)
Digital Disruptor - Brad Moran (CitrusAd)
Fashion & Design - Nathaniel Anthony & Chris Anastasi (Muscle Nation)
Finance - Alex Harper and Angus Goldman (Swyftx)
Fitness - Tim West (12RND Fitness, UBX Training)
Health & Medicine - Chris Jeffery (Field Orthopaedics)
Hospitality & Tourism - Tim Johnson (Corbett & Claude, Comuna Cantina, Tetto Rooftop Bar, Mr Claude)
Manufacturing, Wholesale and Distribution - Mathew Stillone (Integrity Food Co, Botanika Blends, Protein Supplies Australia, Flexible Foods)
Marketing - Ben Bradshaw & Shannah Bradshaw (Disrupt Digital Pty Ltd, SponsoredLinx, Get More Traffic, Search Marketing Experts, Disrupt Music Group, Deep Future, Emergency Medical Supplies)
PR, Media & Events - Thomas Fu & Tom Mcpherson (Motor Culture Australia)
Property & Construction - Chris Baptista (HOMES by CMA, CMA Developments, CMA Capital)
Retail & Services - Nathaniel Anthony & Chris Anastasi (Muscle Nation)
Specialist Services - Brett Saunders (Hiflow, S6 Capital Group, Surgical Biofix, Saunders Development Group, Savy Commercial)
Startup - Thomas Fu & Tom Mcpherson (Motor Culture Australia)
Professional Services - Vu Tran, Andrew Barnes, Chris Eigeland and Chris Hood (Go1)
Technology - Braden Voigt (Lynkz, PolyVision)
Get our daily business news
Sign up to our free email news updates.
Help us deliver quality journalism to you.
As a free and independent news site providing daily updates
during a period of unprecedented challenges for businesses everywhere
we call on your support