With financial backing from the likes of Steve Baxter, SEEK, Oxford University and Y Combinator in Silicon Valley, e-learning company GO1 has helped provide workplace training to more than a million people globally with its aggregated online service.
And its founders aren't even 30 yet.
Vu Tran (pictured left) and Andrew Barnes have however been entrepreneurs for half their lives (yes, since high school), and GO1 itself was incorporated in 2009. But it wasn't until 2015 that GO1 completely uprooted its business model and began anew.
That meant selling several successful businesses in web design, special services and the tech space - including the learning product Aduro - to shift focus towards building product that could truly make Brisbane-based GO1 go global.
"We decided to just refocus all of our energies on workplace learning, and what we decided to do in 2015 was go through a really important incubator called Y Combinator," says Tran.
"Dropbox, Airbnb, you name it, they've come out of the Y Combinator."
Companies often try to promote their businesses through spurious comparisons with big names like Airbnb, but in GO1's case the likening holds up.
"We provide a marketplace, helping connect training organisations and businesses," says Barnes (pictured right below).
"In many ways we are one of the largest training providers and at the same time we don't create any training courses ourselves, similar to how Airbnb can be one of the world's largest accommodation providers without managing a single hotel room," says Barnes.
"As a result, customers have found that GO1 provides a more diverse and high quality training experience to cover the full gamut of corporate training than traditional training providers."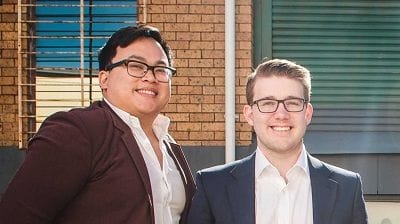 Tran says there isn't much like it in existence, which explains why the group has been able to establish coast-to-coast coverage in Australia and expand overseas with offices in Kuala Lumpur, Ho Chi Minh City and San Francisco.
"Right now for workplace training people go to Google," he says, whose company was recently a nominee in the Brisbane Young Entrepreneur Awards 2018 and was also named by LinkedIn as one of Australia's top 25 most sought-after startups.
"In workplace training there is no one destination to go to. But let's say a customer wants first aid training in Wollongong, you can call up our team and they will book you first aid training; they can book you anywhere you want in Australia.
"For us as a training aggregator in the marketplace, we're not limited by what we can create; we're limited by what exists."
He says this makes the business model unique, as those you'd think would be competitors are actually potential future partners.
"It's like asking, do you see Marriott competing with Booking.com? We see these training companies go online and what we want to do is partner with them.
"At the end of the day we want to expose them to more customers and we want to give our customers access to the best training possible."
The service can be roughly divided into two key areas. One is for tracking online, and for that it doesn't really matter where the team is located, while the other is the training assist service whereby customers can call GO1 for help.
"We also offer 24/7 which is one of the biggest differences. What that team does is go out and find quotes for you, much like you'd do for Flight Centre or something like that. Having regional-specific people to help you out is incredibly important as well," he says.
Global expansion
Four years ago the pair told Business News Australia they hoped to list on the stock exchange and break into the US market before they turned 30. That deadline is now just months away (Barnes in December, Tran in January), so we ask Tran how he feels that at least one of these goals has been achieved.
"Fantastic, but the mission is not yet accomplished. We're in the US market but our next step is to really penetrate the US market and get a stronger foothold," he says.
"The US market is a market that is 15 times bigger than what we have in Australia, and our product really resonates with customers there. So the next thing to take advantage of is scale, and we're doing it as we speak.
"At the end of the day, we're generation Y. We want to have our cake and eat it too we view ourselves as an international company - an Australian company that serves customers globally."
He says the US push has really only started in the last six to 12 months.
"The value proposition is incredibly strong in the United States, where our engagement with customers has a really great win rate, and it also takes time," he explains.
"It's so easy to win a case. You'll never meet an HR (human resources) and LND (learning and development) manager who isn't time poor and under-resourced, and what we do is we buy them time and ultimately that allows them to do more.
He adds the company has also opened a Perth office, adding to existing Australian offices in Brisbane, Sydney and Melbourne. The company's revenue has more than doubled in the past year, and the company recently secured $10 million in a Series A funding round led by SEEK.
"Taking investment from Seek (who were already a customer of GO1's before they invested) makes strategic sense given Seek's background in addition to the fact that Seek themselves have been there and done that in terms of scaling a great company globally," says Tran.
"This adds to our existing list of great investors which include Steve Baxter, Y Combinator, Oxford University to name a few."
With that amount of capital up its sleeve, GO1 is unlikely to need to list on the stock exchange in the near term.
"We are looking to grow, and for us where we are right now having just raised our Series A, we have a strong strategy and pathway in place to grow our business further, particularly in scaling GO1 globally in the US and beyond," says Tran.
Working as a GP: "It adds to my longevity as a founder"
One remarkable fact about Tran is that throughout the development of GO1 he has been working as a doctor. At the moment it's just one afternoon a week, but that's enough to give him a sense of perspective that refreshes him and brings more clarity to his work with the business.
"Some people go for a bike ride, some people go fishing, and for me it's about doing something that's so different to GO1 that it allows me to switch those gears," he says.
"For plenty of founders the first thing they think about when they get up and the last thing they think about when they go to bed is their business.
"Working as a general practitioner gives me the opportunity to do some things that are better for other people, but I also can't check my phone or my email or jump on a webinar when I'm seeing a patient. It forces me to switch my brain and focus on something completely different and I find it incredibly beneficial. It adds to my longevity as a founder."
He adds medical work also makes him appreciate the nature of his problems in business as being out of opportunity, whereas for patients it can sometimes be a matter of life and death.
"The worst thing that can happen in my day is an unhappy customer or a sale doesn't get made or it gets delayed. But when I'm working in general practice one of the worst things that can happen for a patient is that I tell them that they might have cancer," he says.
"In that circumstance it really reminds me and puts all of my problems in perspective."
Never miss a news update, subscribe here. Follow us on Facebook, LinkedIn, Instagram and Twitter.
Business News Australia
Get our daily business news
Sign up to our free email news updates.