A Melbourne man has been sentenced to three years imprisonment after hacking a financial publisher's system and engaging in insider trading.
IT consultant Steven Oakes today pleaded guilty to 11 charges of insider trading, unauthorised access to data with the intention to commit a serious offence, and the alteration of electronic devices required by the Australian Securities and Investment Commission (ASIC).
The charges arose from the investigative work of ASIC and forensic experts, who were able to prove that Oakes hacked into the Wi-Fi network of Melbourne-based financial publisher, Port Phillip Publishing (PPP).
In January 2012 Oakes sat outside of the PPP office building, within the vicinity of the publisher's Wi-Fi network.
Using hacking software, Oakes was able to obtain the network login details of PPP staff, with the intention of using confidential documents obtained from the network to engage in insider trading.
Oakes used information obtained from PPP on 70 occasions from January 2012 to December 2016 to buy shares in 52 companies before the reports were published to traders, giving him a serious head start and enabling him to make a profit.
During the period Oakes engaged in insider trading he made a total profit of more than $220,000.
At one point during Oakes' multi-year hack PPP upgraded its software, requiring employees to change their passwords. But because some employees did not take care and kept their old passwords Oakes was able to continue to access PPP's network.
Eventually, ASIC caught onto Oakes' behaviour after looking at suspicious trading patterns.
Investigators seized Oakes' computers and phones, but digital forensic analysts discovered that Oakes had altered the devices to delete data relating to ASIC's investigation.
The ASIC investigative team, together with the forensic team, were able to piece together incriminating evidence from what Oakes gave them in the end. Alongside evidence provided to ASIC by the ASX, and what PPP provided about unauthorised access into its system, ASIC achieved a guilty plea from Oakes.
'Technology-enabled offending, including cyber-related market misconduct, has been a priority for ASIC's Enforcement teams," says ASIC commissioner Cathie Armour.
"Despite the sophistication of cyber criminals, ASIC can identify and investigate suspicious market activity connected to computer hacking activities, as it did in the case against Mr Oakes. Traders should be aware that ASIC continues to focus on cyber-related offending."
Oakes was sentenced to three years imprisonment, on the condition that he be released after serving 18 months of the term of imprisonment, on his own recognisance to be of good behaviour for 18 months.
ASIC have put together an infographic about the situation (below) and made a brilliant podcast which you can listen to here.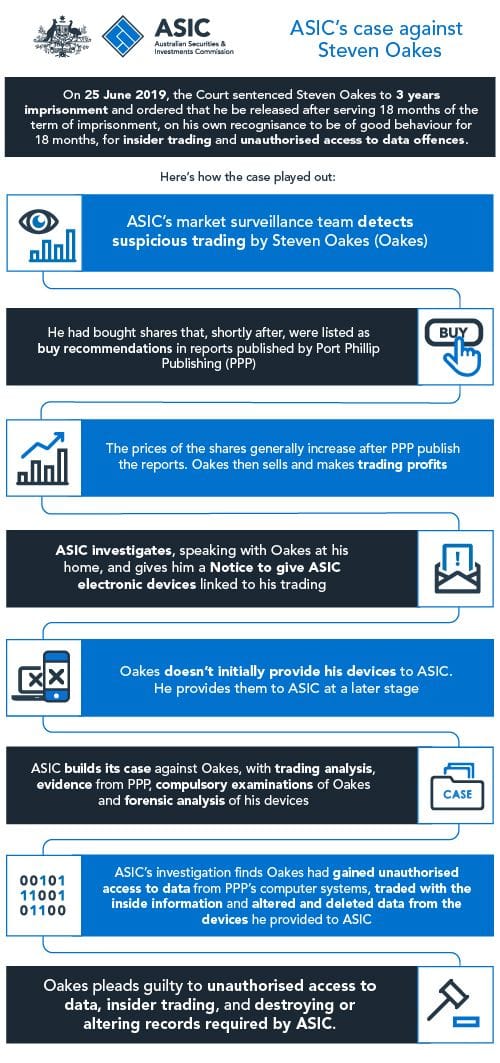 Never miss a news update, subscribe here. Follow us on Facebook, LinkedIn, Instagram and Twitter.
Business News Australia
Get our daily business news
Sign up to our free email news updates.