Melbourne-based startup Navi Medical Technologies has successfully raised $2.4 million to progress development of its novel device that helps improve precision when inserting central venous catheters in critically ill newborns and children.
The round received $700,000 in backing from Breakthrough Victoria, as well as federal grants from the Australian Government, to help Navi develop its Neonav ECG Tip Location System which is currently designated as a breakthrough innovation by the US Food and Drug Administration (FDA).
Similar technologies already exist for the treatment of adults, but such offerings are lacking when it comes to guiding clinicians when they're inserting catheters into the veins of babies and children to deliver treatments such as heart-rate monitoring and blood transfusions.
Navi Medical Technologies CEO Alex Newton says the Neonav system is set to raise the standard of care by enabling doctors and nurses to administer therapies more safely to critically ill newborns and paediatric patients.
"At present, central catheters are inserted into the veins of critically ill newborns and young children in a blind procedure," says Newton, who co-founded the business in 2017 with Brad Bergmann, Wei Sue, Associate Professor Christiane Theda, Mubin Yousuf and Shing Yue Sheung.
"Doctors are only able to confirm the location of the catheter with an x-ray after the procedure has already taken place.
"Unfortunately, this approach leads to a large number of instances where the catheters are misplaced, exposing patients to potentially life-threatening complications if left undetected."
Currently in advanced stages of development, the Neonav system is non-invasive as it seamlessly connects to a standard catheter, capturing electrical signals from the patient's heartbeat. Using a proprietary algorithm, the Neonav system provides real-time catheter location of the catheter tip.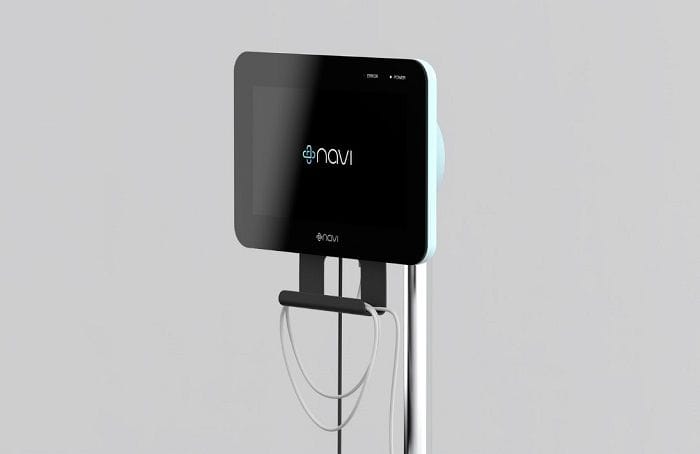 Since founding, Navi has been working closely with Royal Women's Hospital in Melbourne, as well as several leading children's hospitals in the US and the US-FDA.
Newton says funding will be channeled towards the next critical phase of work.
"Primarily we're focused on completing product development activities and a major clinical trial to obtain FDA approval, which will allow us to set up our manufacturing and logistics capabilities in preparation for our entry into the U.S market," he says.
Associate Professor Christiane Theda, co-founder and chief medical officer at the company, expresses her gratitude for the recent investment and emphasises the significance of this milestone.
"For more than 30 years I've been dreaming of a device to assist with placement of catheters to help my patients," she says.
"With the support of Breakthrough Victoria and our other partners, we're now one big step closer to bringing the Neonav ECG Tip Location System to the bedside."
Breakthrough Victoria chair John Brumby is pleased to see a technology of this calibre is being developed in his state.
"All too often we see innovative technology like this going offshore for development – one of our goals is to invest in early-stage companies like Navi Medical Technologies to help them navigate the valley of death and see this sort of life changing technology commercialised in Victoria," Brumby says.
"Victoria is one of the world's great cities for medical research and by backing our best and brightest ideas we can improve patient care here in Victoria and throughout the world," adds Victoria's Minister for Health Mary-Anne Thomas.
The latest announcement takes Navi's total funds raised to date to $10 million, including more than $4 million in the last 18 months from the Accelerating Commercialisation (AC), National Health and Medical Research Council (NHMRC), Clinical Translation and Commercialisation Fund (CTCM) and Cooperative Research Centres Projects (CRCP) funding programs.
Breakthrough Victoria is a $2 billion fund with portfolio investments including Kite Magnetics, Seer Medical, Samsara Eco and Quantum Brilliance, among others.
Get our daily business news
Sign up to our free email news updates.