IT'S on the house – perhaps not your drink, but at least your property data, which is what five million Australians are hanging out for each year.

They are players in the Onthehouse (ASX: OTH) domain, a network founded by Brisbane lawyer-come-entrepreneur Michael Fredericks to bridge a gap in the Australian property market.

Free data, free information, and free advice all under the one roof – nothing but good news for the plethora of people looking to renovate, buy, or sell, who downloaded 36 million property reports from the website last year alone.

Under Fredericks' leadership, OTH has evolved from a single business with a couple of staff in 2008 to an enterprise 160-staff strong that has an annual turnover of $24 million and offices in Brisbane, Sydney and Melbourne.

It was born out of the dilemma he encountered as a private property investor, when he realised useful information was either too difficult to find, too expensive to buy, or a combination of both.

Fredericks was spending thousands of dollars on property searches on a rental basis to better understand property values – and then had a light bulb moment that there had to be a better way.

To shed light on the business idea, Fredericks draws an analogy to the equities market.

"There is a lot of free information available on stocks, but not on real estate – data which is just as equally sought after in Australia," he says.

"Property is the most important asset class for most Australians yet people are largely in the dark in relation to property values.

"The business is a data empowerment play based on bridging the gap."
BRIDGING THE GAP
Fredericks didn't set out to empower investors alone; he is committed to bringing together vendors, buyers, agents and brokers around a "marketplace of comprehensive and current property data".

The website amalgamates feeds from multiple sources, what the time-poor consumer wants, reflected in the most recent Nielsen research reporting that only 20 per cent of Onthehouse's audience visit competitor's listings sites.

Fredericks is increasingly bringing on board agent partners to supplement this feed, announcing Stockdale & Leggo, Laing + Simmons, Starr Partners, and Raine & Horne last month.

Onthehouse not only introduces property owners to local experts, but property owners can monitor the value of their own investment to make decisions on how to build or leverage its equity. A user can literally type in a property address and gauge its value in one click.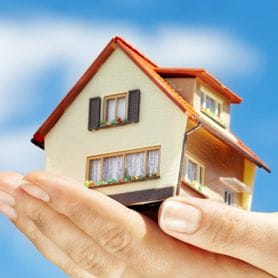 The aim of the game is for no one to enter the buying or selling domain as a blank canvas.

No matter how great the agent's track record is, Fredericks says this won't equip the client with everything they need to make their best property decision.

"We believe the lack of property information means Australians are making uninformed property decisions," says Fredericks.

"We also believe industry data is fragmented – there are multiple solo products being sold by agents, which results in inefficiency, a lack of transparency and inefficient costs for agents.

"Our strategy is about doing things differently, disrupting the way traditional solutions are being provided to agents, and empowering consumers with data."
BUILDING ON COMPETITION
Fredericks' business builds on competition such as the large listings-oriented companies that he says essentially function as online versions of newspaper classifieds.

His company has taken the market to the next level by making information accessible and transparent to all.

People like the delivery so much that OTH is now Australia's third largest consumer property website, and Fredericks says they are "aggressively taking ground off number one and two".

It is in keeping with the modern world – social media gives consumers a voice, OTH empowers them in the same fashion.

What's interesting is that Fredericks doesn't classify OTH as a property business.

OTH is an Australian-first, in a category of its own.

"It's very much a data play – we are a data, media and technology company operating in the real estate vehicle," says Fredericks.

Zillow is a similar business in the United States, and Zoopla in the United Kingdom, but OTH is serving the Australian market all on its own.
BECOMING AN OPEN HOUSE
Despite no direct competition, opening the doors of his business to the public wasn't easy by any means.

Firstly, Fredericks walked away from a high powered, high paying partner position at a law firm for the start-up.

He packed up his office, relocated to his garage, and started laying down the OTH business foundations in 2007.

Nevertheless, Fredericks says this challenge weighs in second to taking the company public.

The process of going public is convoluted at the best of times, but this was the worst of times. The GFC peaked midway through Fredericks' capital raising process.

"In typical start-up fashion, I raised early stage capital from friends and professional acquaintances, and also had to make a significant personal investment to fund the venture," says Fredericks.

"Then – the GFC hit, and a lot of the investment that was supporting us dried up.

"It was a challenge because the strategy really required substantial capital and investment, given that the company is a technology and data company of scale.

"There has been quite a lot of press coverage lately about the challenge of raising capital as a technology company in Australia, views I support entirely considering my own experience."

Fortunately, Fredericks attracted an angel investor and the financial backing of Brisbane broking firms including Morgans and Wilson HTM. He raised $60 million for OTH and listed on the ASX in 2011.

While maintaining an ASX presence is expensive, financially and time-wise, Fredericks believes it is paying off.

"Our bigger profile means we are reaping ancillary benefits such as securing Australia's Big Four banks as customers.

"However, it wasn't easy to get to our current position, and the process of listing on the ASX seriously shouldn't be taken lightly."
BUILDING A CULTURE
There have been other challenges too, namely managing a company that is growing so aggressively.

Five separate businesses in three different locations aren't brought together without some degree of difficulty.

Fredericks says the company "lives on screens" and management is constantly ferrying between offices to meet.

"Integrating teams is a challenge for anyone who manages a company," says Fredericks.

"I have found it's a two steps forward, one-step back process as the company will continue to change as you grow and adapt."
BRISBANE'S PROPERTY MARKET
Despite constant trips interstate, Fredericks is firm on keeping OTH in Brisbane (the Brisbane office is pictured above left).

As well as Brisbane being a good place to base a business, he also says it's a good place to buy property at the moment.

"We understand conflicting reports are sent out, but essentially Brisbane is in a great phase," says Fredericks, who is privy to an ongoing flow of data.

"Sales activity has increased in the past twelve months and our data is showing that Queensland is experiencing the highest growth in Australia at the moment at around 25 per cent.

"There have also been internal forecasts that a housing shortage will continue in Queensland, which maintains positive pressure.

"This is good news for everyone – clients, in the context of advertising demand, and revenue for our business too."
Help us deliver quality journalism to you.
As a free and independent news site providing daily updates
during a period of unprecedented challenges for businesses everywhere
we call on your support